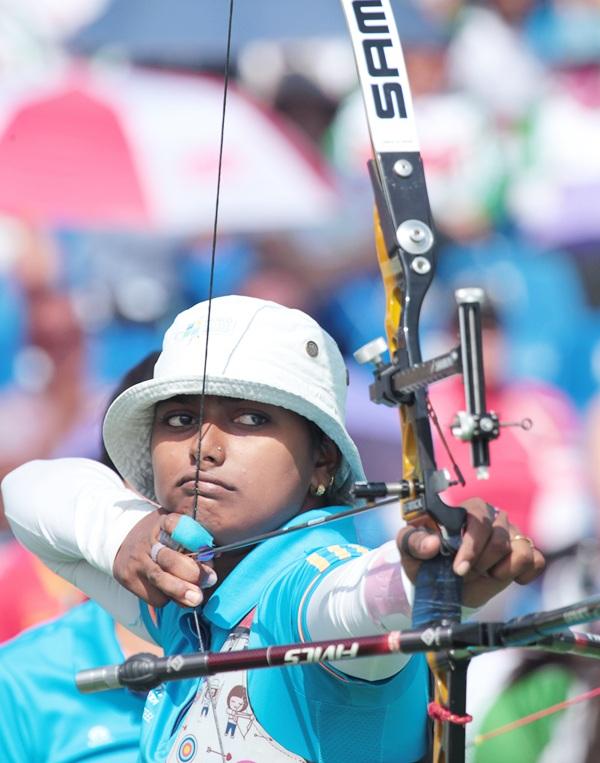 IMAGE: Deepika Kumari takes aim. Photograph: Dean Alberga/World Archery Federation via Getty Images
It was a disappointing finish at Rio Olympics for Indian women archers in Recurve archery ranking round after Deepika Kumari, who had maintained top spot in the early rounds, slipped to 20th, but qualified for the Round of 32 along with Laishram Bombayla Devi (24th).
The other Indian, Laxmirani (43rd) was out.
In the team event, India, who were at 5th spot midway in the Women Team Ranking round, finished in the 7th position.
Finishing amongst top 4 in Team ranking would have meant a direct entry to the Quarter-Finals.
India will play Columbia in the knockout round on Sunday.
In the team event, Deepika will go head-to-head against Kristine Esebua (45th), Bombayla Devi will face-off with Baldauff (41st), while Laxmirani Majhi will be up against Longova (22nd).
Women's individual #archery ranking round results
1. Choi Mi-sun
2. Chang Hye-jin
3. Ki Bo-Bae
Women's archery team ranking round results
1. South Korea
2. Russia
3. China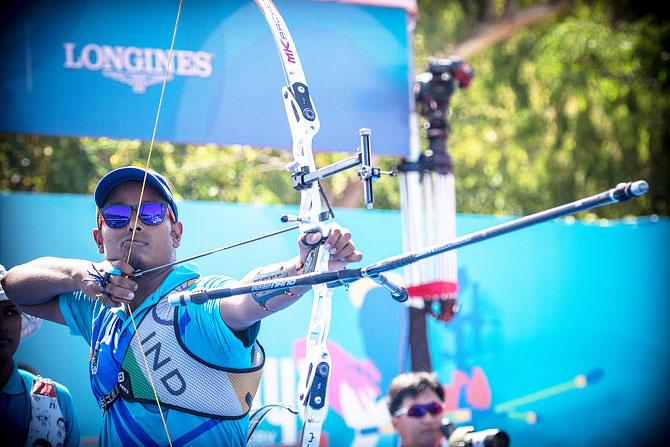 IMAGE: India's Atanu Das shoots. Photograph: Dean Alberga/World Archery Federation via Getty Images
India's Atanu Das showed fine composure and skill to bounce back from a poor start in his maiden Olympics to finish fifth in the qualification round as archery got the underway at the Rio Olympics in Brazil's historic Samba street in Rio de Janeiro on Friday.
Lying a lowly 10th after first 36 arrows, the 24-year-old Kolkata lad turned it around in style in the final set of 36 arrows by shooting 23 perfect 10s including 10 closest to the centre to finish fifth with 683 out of the possible 720.
Das is the lone male member in the Indian archery team and will compete only in the individual section as the men's team had failed to qualify from the World Championship.
Leading the qualification round was two-time World champion Kim Woo-jin who shot 700, for a world record on the opening day of the XXXI Olympiad.
The world champion's total of 700 points during the ranking round at the Sambodromo venue eclipsed the previous record of 699 set by compatriot Im Dong-hyun at the London Olympics four years ago.
Das had troubled Woo-jin in the World Cup Stage 3 in Antalya earlier in June where he led the Korean heavyweight 4-0 before losing 5-6 for the individual bronze medal.
But his impressive finish meant that Das, who will begin his elimination round against lowly 60th ranked Jitbahadur Muktan of Nepal, will avoid the top-seed Woo-jin unless he reaches the summit-clash.
Das will get an easy draw till the quarter-finals and his probable semi-final opponent may be the 4th ranked Dutchman Sjef van den Berg who won the World Cup individual gold in Shanghai.
Das's promising finish also meant he was ahead of London 2012 silver medalist Takaharu Furukuwa -- the Japanese finished 7th.
On a sunny day without breeze creating a problem, Das, taking mark for his first ever Olympics, shot a promising 58 that included four perfect 10s including two closest to the centre (X) to match the Korean heavyweight who also had begun with 58 with an identical four perfect 10s.
But the inexperienced Indian struggled to get another perfect 10 in the second set of six arrows that yielded just 53 points with five 9s and one eight to slip from the fine start.
Das gradually improved and finished in style nine perfect 10s out of the last 12 arrows.