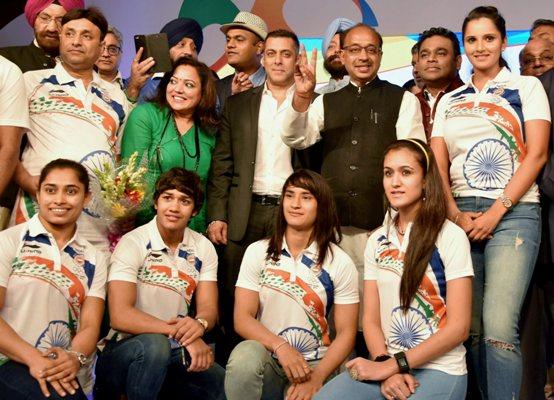 IMAGE: Sports Minister Vijay Goel, actor Salman Khan, music composer AR Rahman with Rio Olympics-bound players. Photograph: PTI.
A record 121 athletes, including 54 women, will represent India at the Rio Olympics.
The JSW Sports Excellence Program (SEP), the flagship endeavour of JSW Sports, is supporting 12 of these athletes, namely, OP Jaisha (women's marathon), Sudha Singh, Lalita Babar (both 3000m steeplechase), Sandeep Tomar (men's freestyle wrestling), Hardeep Singh (Greco-Roman wrestling), Vinesh Phogat (women's freestyle wrestling), Babita Kumari (women's freestyle wrestling), Sakshi Malik (women's freestyle wrestling), Vikas Krishan Yadav ( men's boxing), Avtar Singh (men's judo), Seema Punia (women's discus throw) and Narsingh Pancham Yadav (Men's freestyle wrestling).
"The Sports Excellence Program has put in a lot of effort to empower our athletes to consistently challenge the best athletes in the world. These 12 Olympic-bound athletes are an affirmation of the success and positivity that our Program has brought in," said Parth Jindal, Director (JSW Sports).
"Over the last year, our athletes have excelled in very consistent fashion on the international stage. We are confident that with the exhaustive training and conditioning programs that we have in place for each athlete, they have been given the best chance of peaking at the right moment and bring glory to the nation," added Mustafa Ghouse, CEO (JSW Sports).
As a tribute to the sporting spirit of all the Indian athletes, JSW Group has created a new Brand Campaign Rukna Nahi Hai.
The film defines the indomitable spirit of Indian contingent who have been chosen to represent the nation, and outlines their journey, challenges, opportunities and their undying spirit.
Check it out: