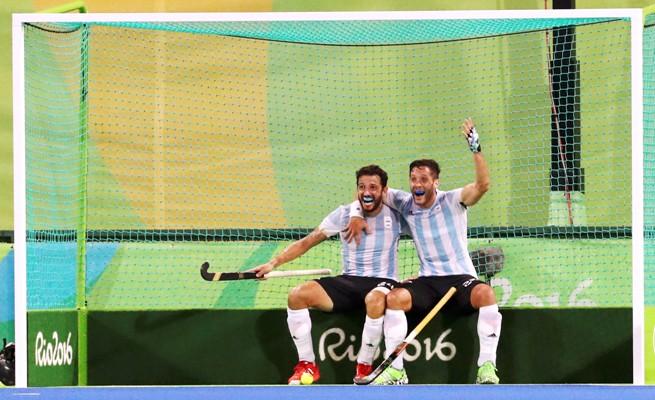 IMAGE: Argentina's Agustin Mazzilli (right) celebrates with teammate Manuel Brunet after scoring his team's fourth goal. Photograph: Vasily Fedosenko/Reuters.
Argentina beat Belgium 4-2 to claim the Olympic title and win their country's first Games medal in men's hockey, edging a close-fought match between two teams few expected to make the final.
Long playing in the shadow of a much-celebrated women's team, Argentina's men will leave Rio with their first Olympic hockey medal.
Belgium's sliver was their best finish at the Games in 96 years. They last took home bronze in Antwerp in 1920.
Both teams had beaten the odds in Rio to make their first Olympic final. Belgium eliminated world number two the Netherlands 3-1 on Tuesday, hours before Argentina routed defending champions Germany 5-2.
The Germans were reduced to scrapping it out for third place against the Dutch ahead of the main event, twice gold medallists Germany claiming the bronze after winning a penalty shootout 4-3 following a tense 1-1 draw at full time.