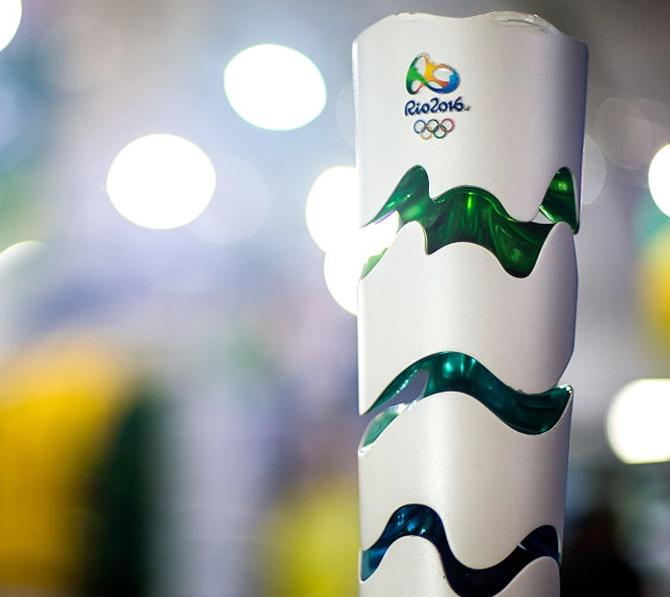 IMAGE: Rio 2016 Olympic torch is displayed during the opening of Rio 2016 Megastore at Copacabana beach. Photograph: Buda Mendes/Getty Images.
Barely a week before the Rio Olympics opening ceremony, organisers are scrambling to put the final pieces in place.
Rio's top security official has vowed to review security for the Olympic torch after rioting protesters blocked the relay ceremony and apparently extinguished the flame.
The violent clashes on Wednesday cast a shadow over final preparations for South America's first Olympics, which start August 5.
Chaotic scenes caught on video show a crowd of young people appearing to steal the torch from the procession and then extinguish it. In footage of the clashes shared online, someone can be heard shouting triumphantly: "The torch has been put out!" as the torch bearer, carrying an unlit torch, is hustled into the safety of a bus.
Local news reports said that the Brazilian military eventually disbanded the protests using tear gas and rubber bullets. The torch relay was temporarily halted.
Most Brazilians are pessimistic about impact on their country of the Olympic Games.
In another worry for organisers, Rio metro employees threatened to go on strike on the eve of the Games if they do not get a 9.83 per cent salary raise, raising the possibility of transport chaos for some 500,000 tourists expected to attend.
Concern about the games has grown in Brazil as the country falls deeper into its worst recession in decades, Olympic preparations have been delayed or scaled back, and evidence of widespread corruption in construction contracts for Olympic infrastructure has been uncovered by police and the courts.