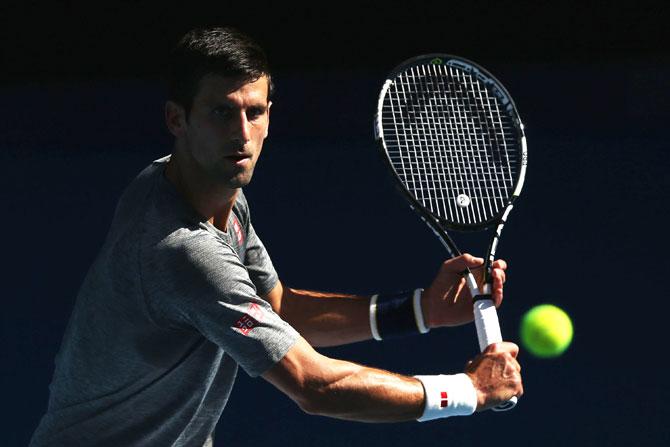 IMAGE: Novak Djokovic of Serbia hits a backhand volley during a practice session ahead of the 2016 Australian Open at Melbourne Park on Sunday. Photograph: Michael Dodge/Getty Images
World number one Novak Djokovic is a red hot favourite to overcome all opponents and clinch another Australian Open title this year, although extreme temperatures will be a wild card the Serb has to watch out for.
Djokovic opens the defence of his title on Rod Laver Arena on Monday against South Korea's rising talent Chung Hyeon, right about the time temperatures are expected to approach 37 Celsius (98.6 Fahrenheit) at Melbourne Park.
Djokovic famously withdrew from his quarter-final against Andy Roddick in 2009 due to heat exhaustion with temperatures at about the same level. He was the defending champion at the time.
"You got to get yourself ready for whatever is coming your way," Djokovic said on Sunday when asked about the possibility of the extreme heat.
"You spend the off-season training hard, getting your endurance level to that extent where you can actually handle these conditions.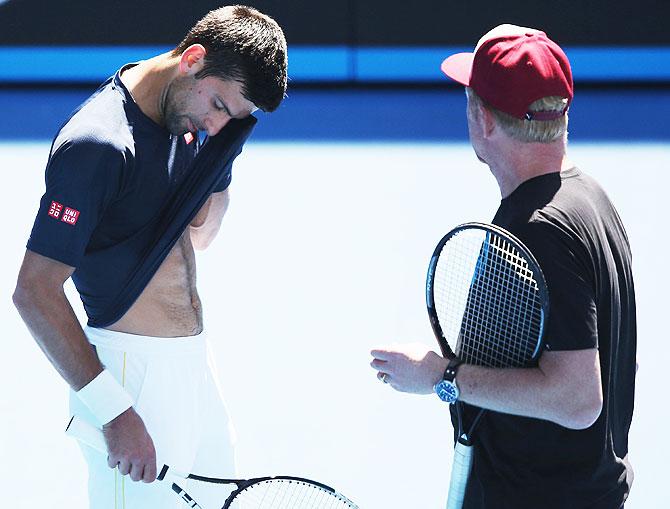 IMAGE: Novak Djokovic wipes away sweat as he talks with coach Boris Becker during a practice session. Photograph: Michael Dodge/Getty Images
"Of course, sometimes it's very difficult to handle them if it goes over 40 degrees.
"Whatever is coming our way tomorrow, I'll try to be ready for it."
Djokovic has been ready for it since his 2009 meltdown.
He is now considered one of the fittest players on the circuit, with his off-season workouts helping set the base for his four titles in the last five years at MelbournePark.
Fittingly, the defending champion will start as raging favourite for a sixth title at the year's first grand slam, continuing the domination of men's tennis that saw him win 11 tournaments last year and three of the four majors.
"2015 was the best season and best year of my life undoubtedly," he added.
"I enjoyed every moment spent on the court. I'll try to obviously carry that confidence and high level of performance that I've had, especially towards the end of the year, into the new season.
"(But) I'm here to start from the very beginning, to start from the scratch, and see where it takes me."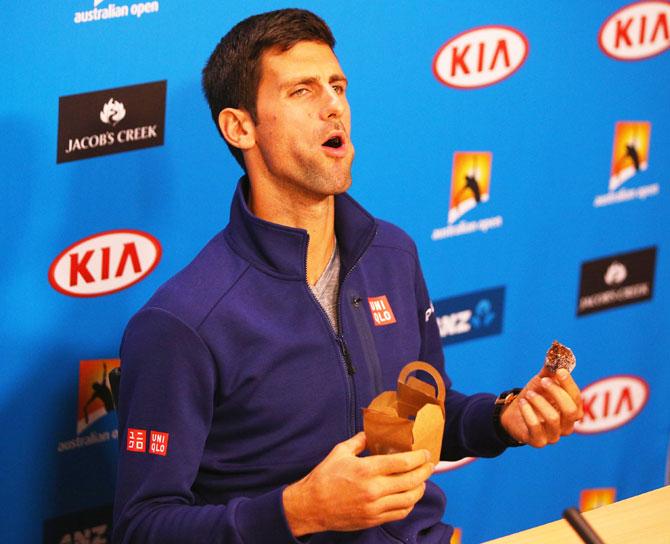 IMAGE: Novak Djokovic reacts when eating one of his chocalates that he gave away to media on Sunday. Photograph: Michael Dodge/Getty Images
Victory would enable Djokovic to join Australia's Roy Emerson as the only six-times winners of the tournament and his performance at the Qatar Open this month would have sent an ominous shudder through the rest of the men's field.
He demolished 14-times grand slam winner Rafael Nadal in straight sets in the final, a performance that was praised as "perfection" by the Spaniard and Djokovic admitted seeing the ball "as a watermelon".
"The opening week of the year in Doha went extremely well for me," Djokovic added.
"I've been preparing well, taking some time to really work on certain things, get a good foundation, good base for the long season."
Rising mercury, it seems, may not be enough.