Manchester United leapfrog to second spot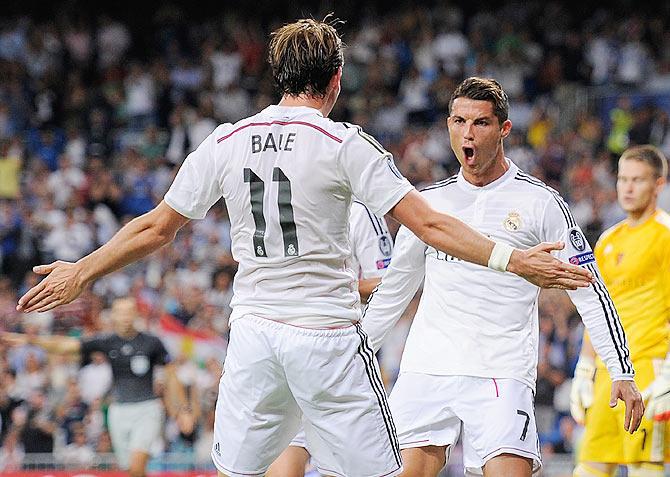 Cristiano Ronaldo celebrates with Gareth Bale. Photograph: Denis Doyle/Getty Images
A leap in commercial and broadcast revenue lifted Manchester United into second place behind Real Madrid on the list of the world's richest clubs in 2013-14, according to Deloitte's latest Football Money League.
Despite a poor season on the pitch, United's income surged to 518 million euros ($599.4 million), from 424 million the previous year, with commercial revenue rising 24 percent and broadcast income 34 percent, Deloitte said on Thursday.
Real topped the rankings for a 10th year, coinciding with the La Liga club's record-extending 10th European crown, with revenue of 550 million euros, up from 519 million.
Bundesliga champions Bayern Munich were third on 488 million, closely followed by Barcelona, who failed to win major silverware for the first time in six years, with 485 million.
United's strong performance is expected to continue thanks to a record seven-year shirt sponsorship deal with General Motors that started this season and a 10-year agreement with Adidas from 2015-16 worth $1.14 billion, Deloitte said.
The club had also benefited from a new cycle of Premier League broadcast contracts.
"Their absence this season from European competition will be felt in next year's Money League," said Austin Houlihan, a senior manager at the professional services firm.
"But if they can return to the Champions League in 2015-16 there is a strong possibility they could be top in two years' time," he added.
BROADCAST DEALS
Deloitte's latest figures, which exclude player transfer fees, VAT and other sales-related taxes, showed Real's dominance was again partly due to the way broadcast deals are negotiated in La Liga.
Unlike in other major European leagues, which have a system of collective bargaining and shared income, Spanish clubs agree contracts individually.
Real and Barca take about half the total La Liga pot of about 600 million euros between them, meaning they are better able to afford top players.
Real earned 204.2 million euros and Barca 182.1 million in broadcast revenue in 2013-14, compared with 162.3 million for United and Bayern's 107.7 million, Deloitte said.
Atletico Madrid's TV income surged 84 percent to 96.5 million euros thanks to 50 million from UEFA for their run to the Champions League final, which they lost to Real.
Ranked 15th in 2013-14 with total income of 170 million euros, the La Liga champions are the only other Spanish club in the top 20.
Following are the top 20 as compiled by Deloitte in its annual Football Money League:
Club Revenue in 2013-14 (million euros). 2012-13 ranking in parentheses.
1. (1) Real Madrid (Spain) 550
2. (4) Manchester United (England) 518
3. (3) Bayern Munich (Germany) 488
4. (2) Barcelona (Spain) 485
5. (5) Paris St Germain (France) 474
6. (6) Manchester City (England) 414
7. (7) Chelsea (England) 388
8. (8) Arsenal (England) 359
9. (12) Liverpool (England) 306
10. (9) Juventus (Italy) 279
11. (11) Borussia Dortmund (Germany) 262
12. (10) AC Milan (Italy) 250
13. (14) Tottenham Hotspur (England) 216
14. (13) Schalke 04 (Germany) 214
15. (20) Atletico Madrid (Spain) 170
16. (n/a) Napoli (Italy) 165
17. (15) Inter Milan (Italy) 164
18. (16) Galatasaray (Turkey) 162
19. (n/a) Newcastle United (England) 155
20. (n/a) Everton (England) 144
($1 = 0.8642 euros)