After missing the bus for the Beijing Olympics by three seconds, long distance runner Ram Singh Yadav achieved the qualifying mark set for this year's London Games by dipping more than a minute under the B standard in the Standard Chartered Mumbai Marathon.
The UP-born Army runner timed 2 hours, 16 minutes and 59 seconds, well under the 2:18 B standard qualifying time set for the 2012 Olympics while coming first among the Indian men competitors, and 12th overall, in the 42-km race won by Kenya's 29-year-old, 5-foot, 9-inch tall Laban Moiben in 2:10:68.
Yadav, who belongs to the Army Sports Institute in Pune, had clocked 2:18:23 in January, 2008 when the qualifying time for that year's Beijing Games was 2:18:20. He had finished a lowly 15th in 2:39:23 at the 2010 Asian Games in Guangzhou.
An emotional Yadav told reporters after becoming the top Indian finisher in the event that he was very hurt four years ago following the lack of support he received from all concerned, especially the Athletics Federation of India.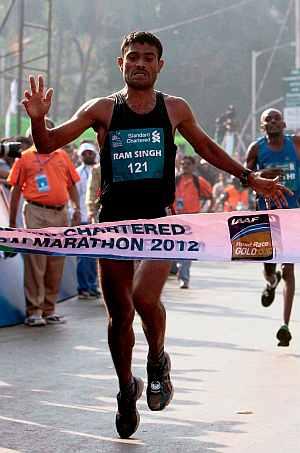 "I have been striving to make the Olympic berth since 2004. I was very hurt in 2008 when I was not supported enough when I missed by just three seconds to qualify (for Beijing Olympics). I am not running for my country any more but for my family only," said Yadav.
Army Sports Institute's Col Bishnoi said that Yadav had been fully supported by the institution but was referring to the fact that he was not sent overseas to try and qualify after having missed the bus four years ago.
"Some of the overseas marathons are easier to run and qualify. From our side we will be sending Elam Singh (who clocked 2:18:27 to finish second among Indians and 15th overall) as well as Yadav to the London Marathon in April where they would be bunched with 2:16 runners and get good competition," he said.
Yadav said that his army mates Elam Singh and Karan Singh, who ultimately faded out after being in the lead in the Indian bunch to finish 20th, had given him good competition after he tried to match the Kenyans initially.
"I started strongly and tried to keep pace with the Kenyan runners for 2-3 kms but realised that if I continued to do so I would fade out at the 21-22 km mark. Elam Singh and Karan Singh were hot on my heels and I was afraid I would be beaten too by them," said Yadav, who became the eight Indian athletes to attain the qualifying mark for the London Games.
"The weather was very helpful this time and there was no head wind too which also helped," Yadav added.