Beckham, Ronaldo, Messi, Nadal, Rooney, paid moving tribute to Paris victims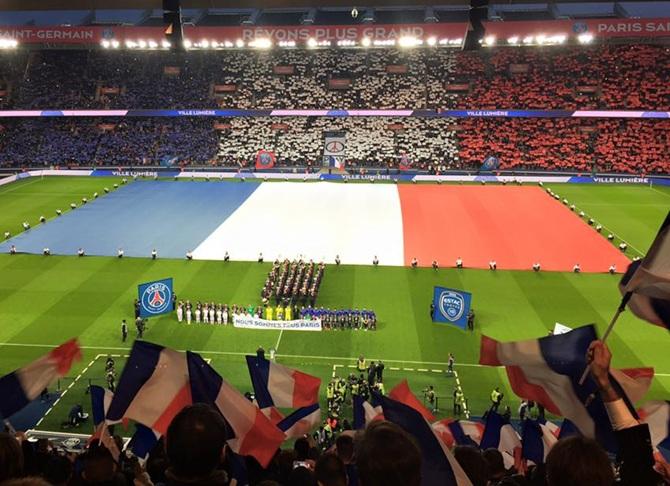 IMAGE: Paris expressed its solidarity with the victims of the attacks. Photograph: PSG/Facebook
French football club, Paris Saint-Germain, produced a touching tribute in the form of a video in the wake of the attacks on Paris.
The video included many of the world's biggest sports stars; from David Beckham, Wayne Rooney, to Mo Farah and Rafael Nadal to Cristiano Ronaldo, from Andre Agassi to Maria Sharapova, each taking it in turn to say Je Suis Paris (I am Paris).
A total of 52 stars joined in the video tribute ahead of the Ligue 1 side's match on Sunday night.
It was played before Paris Saint-Germain's first home football match since the attacks earlier this month.
The match was preceded by many tributes to the victims of the attacks which killed 130 people in Paris, with a huge French flag on the pitch and another formed by cards distributed to spectators.
Earlier, PSG players wore special shirts in to honour victims of the Paris attacks. The jerseys were embroidered with a special message Je suis Paris below the club's logo on the chest of the shirt.