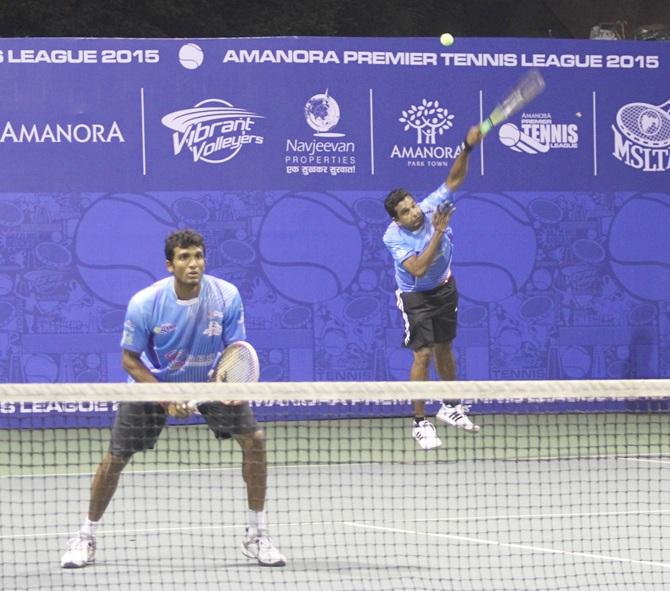 Arun Prakash of Accurate Aces serves as Sriram Balaji looks on
Saketh Myneni-led Baseline Bombers and Sriram Balaji-inspired Accurate Aces scored contrasting wins on the opening day of the 3rd edition of the Amanora Premier Tennis League at the Deccan Gymkhana courts, in Pune on Friday.
While Baseline Bombers completely vanquished Sharp Smashers winning 30-18 on games won in the five-match rubber, Accurate Aces sneaked through to 24-22 win over Vibrant Volleyers later in the evening.
In-form Saketh Myneni, who played for Pune team in the just concluded Champions Tennis League, fired aces after another to beat Davis Cupper Sanam Singh 6-3 that really underlined Baseline Bombers' prowess.
Bombers went on to win all their matches to register an empathic 30-18 win over Sharp Smashers.
Accurate Aces began well with Rishika Sunkara beating Natasha Palha 6-3 after surviving some tense moments, but Aces were left to wonder when Volleyers rallied brilliantly to eke out two straight wins to lead the match score midway through.
Chandril Sood's 6-1 win over Tejas Chaukulkar widened the gap a tad too much for Aces and then their star player Sriram Balaji lost to Ramkumar Ramanathan in tie-break to leave the match tantalizingly poised.
Both Balaji and Ramanathan played their hearts out to force the tie-breaker which Rananathan won 7-4.
Vishnu Vardhan brought Aces back into contention when he paired with Eetee Mehta and beat Anvit Bendre and Arantxa Andrady 6-4.
It all boiled down to the final men's doubles which without doubt turned out to be the most entertaining match.
Sriram Balaji and Arun Prakash took 5-1 lead before Prakash's service was broken. At 5-3, Balaji served out the set and the match for Aces' 24-22 win.
Results:
Accurate Aces beat Vibrant Volleyers 24-22
Rishika Sunkara beat Natasha Palha 6-3; Tejas Chaukulkar lost to Chandril Sood bt 1-6; Sriram Balaji lost to Ramkumar Ramanathan 5-6 (4-7); Vishnu Vardhan and Eetee Mehta bt Anvit Bendre and Arantxa Andrady 6-4; Sriram Balaji and Arun Prakash bt Ramkumar Ramanathan and VM Ranjeet 6-3
Baseline Bombers beat Sharp Smashers 30-18
Rashmi Teltumbde bt Sharmada Balu 6-4; Vijay Sundar Prashant btVijayant Malik 6-4; Saketh Myneni bt Sanam Singh 6-3; Rupesh Roy and Prarthana Thombare bt Aakash Wagh and Sowjanya Bawisetti 6-4; Saketh Myneni and Kedar Shah bt PC Vignesh and Sanam Singh 6-3.