Pune Pistons rode on their mixed doubles combination to beat Delhi Smashers 3-2 in the opening match of the inaugural Indian Badminton League, in Delhi, on Wednesday.
Ashwini Ponnappa and Joachim Fischer Nielsen came up with a brilliant showing in the decider, after the pairs had won a game each, to beat Jwala Gutta and Kien Keat Koo 21-19, 16-21, 11-3.
Earlier, up-and-coming Indian shuttler Sai Praneeth set the ball rolling for Delhi Smashers, scoring a stunning 21-16, 21-20 victory over World No 7 Tien Minh Nguyen of Vietnam.
But the hosts surrendered the lead when Pune's world No 2 Julaine Schenk of Germany scored an easy 21-15, 21-6 victory over Nichaon Jindapon of Thailand in the women's singles.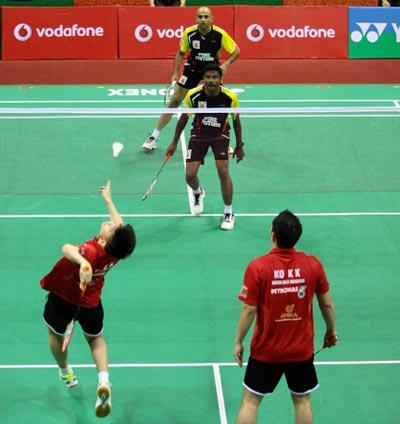 However, as expected, the World No 2 Malaysian combination of Kien Keat Koo and Boon Heong Tan regained the lead for Delhi Smashers by disposing off the Indian pair of Rupesh Kumar and Sanave Thomas 21-13, 21-16 in the men's doubles.
But the Pune side was not finished. They restored parity when Saurabh Verma beat HS Prannoy 21-16, 19-21, 11-5 in the second men's singles to enable the visitors level the scores 2-2.
- PHOTOS: Dazzling opening ceremony kicks off inaugural IBL
Ponnappa and Nielsen then displayed good understanding to clinch the issue in the deciding rubber.
Earlier, Praneeth lived up to his reputation of giant-slayer. He dished out an attacking game to unsettle Tien Minh, who won the bronze at the recently-concluded World Championships in China.
It was a brilliant display of defense and attack as Praneeth kept changing the pace of the game to lead for most part of the opening game.
Tien Minh clawed his way back at 13-13, but Praneeth moved ahead at 18-15 with the help of calculated pushes and some impeccable returns to pocket the game.
The World No 37 Indian, who had spoilt Taufik Hidayat's farewell at the Indonesia Open and stunned then world No 6 Hu Yun of Hong Kong in the Singapore Open, showed good temperament and adjusted to the new scoring quickly.
In the second game, he trailed 10-14, but fought back gallantly to catch up with the Vietnamese at 18-18.
He moved to match-point at 20-19 but slipped while returning a shot to allow his opponent level 20.
However, he did not let the opportunity slip away and clinched the next point to pocket the match.
Image: Sai Praneeth of Delhi Smashers.
Photograph: Indian Badminton League
- Schedule: Indian Badminton League