At the 1991 world championships, Mike Powell broke the record they said could never be broken -- Bob Beamon's 23-year-old long jump mark.
Powell leapt 8.95 metres in Tokyo to win an electrifying showdown with Olympic great and sworn "enemy" Carl Lewis.
His world record is still intact -- and the two Americans have even appeared as a double act on Japanese television during this year's world championships in Osaka.
"We were not friends back then. That was done purposely by myself," Powell told Reuters. "Carl is a living legend. One thing I noticed was that he got a lot of energy from the fact that everybody was pretty much afraid of him.
"People were just giving him the victory. It was like who's getting second or third. I thought 'If I'm going to beat this guy, I can't befriend him.'
"So I really demonised him in every single way. He was the enemy and I used that when we competed."
Powell added: "It was strictly because he was so great I had to use everything possible to beat him."
A thawing in relations between the men began in Atlanta in 1996 where Lewis won the last of his four Olympic long jump gold medals.
'MORE FRIENDLY'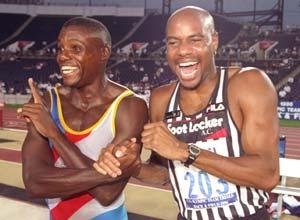 "By 1996
we started to become more friendly," said Powell. "Even at the '96 Olympics when he jumped 8:50, I walked over to him and said 'Where the hell did that comes from? You're not supposed to jump that far right now.'
"By that time it had started to wear off some."
Japan has been besotted with Lewis and Powell since that magical evening in Tokyo 16 years ago and both dusted down their spikes to appear in media events in Osaka last week.
"I long-jumped -- a smashing 6:49," laughed Powell. "I was a little nervous being in shorts in front of so many people for the first time in a long time."
Powell's world record -- five centimetres further than Beamon's leap at the 1968 Mexico Olympics -- looks safe for the time being.
But Powell, now a long jump coach at the University of California, Los Angeles, admitted that Cuban Ivan Pedroso had given him nightmares during the 1990s.
"I have a videotape of Pedroso jumping 9:15 on a foul!" he said. "Then when he jumped 8.96 that was beyond the world record in 1995, that hurt a lot.
"But for some reason that record wasn't ratified because a large man was standing in front of the wind gauge and it didn't count. I know I'm leading a blessed life."