Commonwealth Games gold-medallist Krishna Poonia produced an impressive season's best effort of 62.25m to win gold at Halloween Throws Meet at Portland, United States on Tuesday.
Poonia, who qualified for next year's London Olympics four days ago by attaining the 'B' qualification standard of 59.50m, today crossed the 'A' standard of 62m, in the last competition of her US training stint which started in July.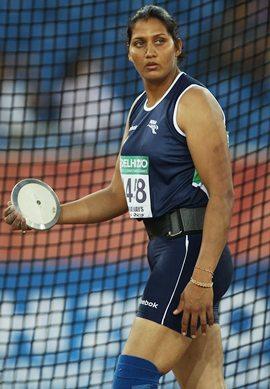 This was Poonia's second big throw since hurting her knee last year immediately after the Commonwealth Games in New Delhi. She threw 61.12m while clinching gold at the Fling Throw Meet at Portland on October 14.
Tuesday's effort though was below her personal best of 63.69m recorded in April last year at Chula Vista in California, United States.
Realising that this was going to be her last meet of the season, she went all out and did not disappoint her fans.
Poonia, who has been training at the Throws Centre at Concordia University at Oregon, Portland since July, went all out and crossed the magical mark of 62 meters in her last attempt. She had two fouls and two other 60 plus efforts in the process.
"If in her previous meet on Friday the target was to qualify for the 2012 London Olympics, today's goal was to test how much she has climbed out of low morale due to the knee injury in 2010," said her husband and coach, Virender Poonia.
"She can achieve throws in the 65 meter range if her knee holds up well during the intensive training leading up to the Olympics. To put things in perspective, bronze medal at the Beijing Olympics was won at 62.72 meters," said Virender.
Poonia and her husband will return to India in the first week of November.