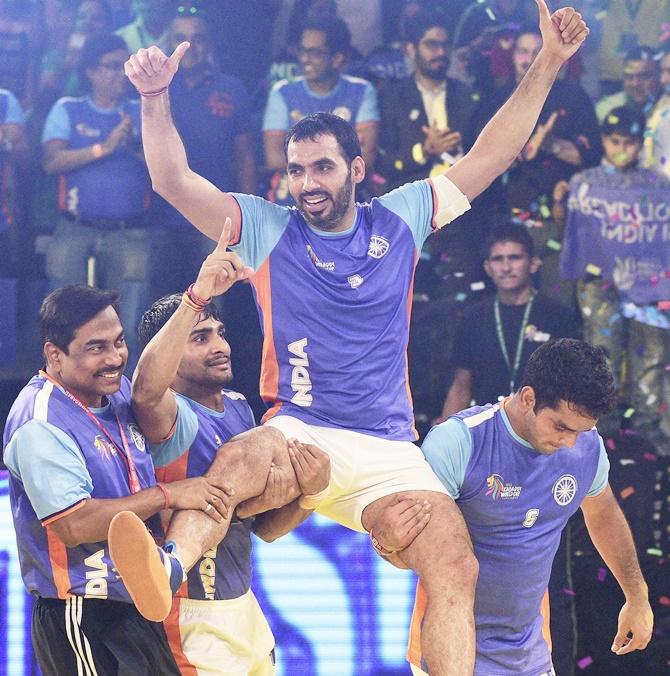 IMAGE: Indian captain Anup Kumar celebrate with team mates after beating Iran during the final of Kabaddi World Cup 2016 in Ahmedabad on Saturday. Photograph: PTI.
Prime Minister Narendra Modi led the accolades for the Indian kabaddi team after it triumphed in the 2016 World Cup, its third in a row, on the back of a memorable second-half fightback against Iran, in Ahmedabad, on Saturday.
India maintain dominance, win Kabaddi WC for 3rd straight time!
India defeated Iran 38-29, riding on Ajay Thakur's brilliant performance.
The country was prompt to react to the triumph.
"Congratulations to Indian team for winning the Kabaddi World Cup. The team showed exceptional skills, grit & determination. Well done!" PM Modi wrote on his Twitter handle.
Actor Shah Rukh Khan wrote, "Kabaddi…kabaddi…kabaddi. We are home. Congratulations India. Third title on the trot! Well done Anup, Ajay & the whole team. Champions!"
Sports Minister Vijay Goel expressed his delight with the achievement. "And our tigers have done it. Victors. Congratulations @IamAnupK & team! #OneBigBlue," Goel said.
The sporting fraternity too joined in praising the winning team.
Olympic medallist boxer Vijender Singh wrote, " Congratulation team #kabaddiworldcup2016 #IndVsIRN."
Cricketer Virender Sehwag wrote, "Yeh Jazba, yeh Spirit, Hamka De De Thakur. Ajay Thakur, you are a rockstar. Haar ke Jeetne waale ko Team India kehta hain Champions."
Suresh Raina wrote, "Congratulations #IndianKabaddiTeam for wonderful display of skills & winning eight World title.
Ace off-spinner Harbhajan Singh wrote, "Wah mere shero buraaaah chaaa Gaye.. so proud of you.. love u all... Champions! #INDvIRN #kabaddiworldcup2016. We are proud of u."
Shikhar Dhawan said, "What a turnaround, had me glued throughout. Ajay Thakur, YOU BEAUTY!! Congratulations #IndianKabaddiTeam, #Champions of @KabaddiWorldCup '16."
Shuttler Gutta Jwala tweeted, "#TeamIndia #2016KabaddiWorldCup Wooohoooo champions 2016."