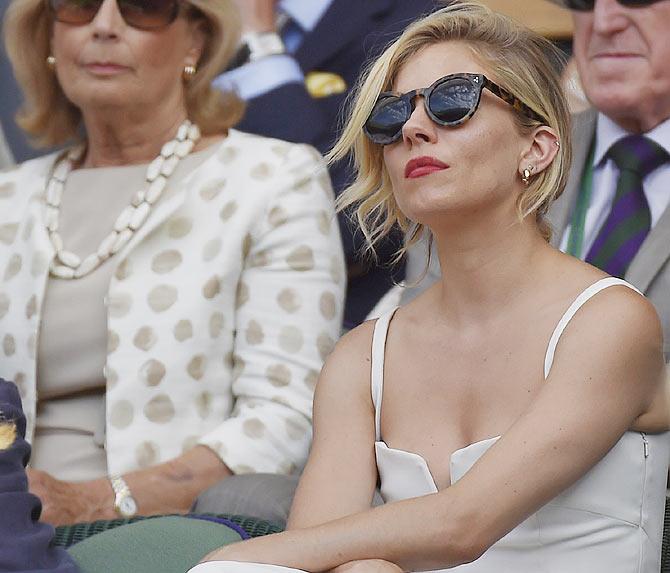 Hollywood actor Sienna Miller on Centre Court watches the Wimbledon semi-final in London on Friday. Photograph: Toby Melville/Reuters
Playing before a home crowd is supposed to be an advantage but it did not help Andy Murray as he lost to Roger Federer in their Wimbledon semi-final on Friday in front of an audience with divided loyalties.
The applause on Centre Court whenever the Briton won a point was distinctly louder at first than it was for Federer.
But as the match wore on and Murray's fate became clear, the fact that the 33-year-old Swiss has been voted the ATPWorldTour.com fan favourite 12 years running, began to show.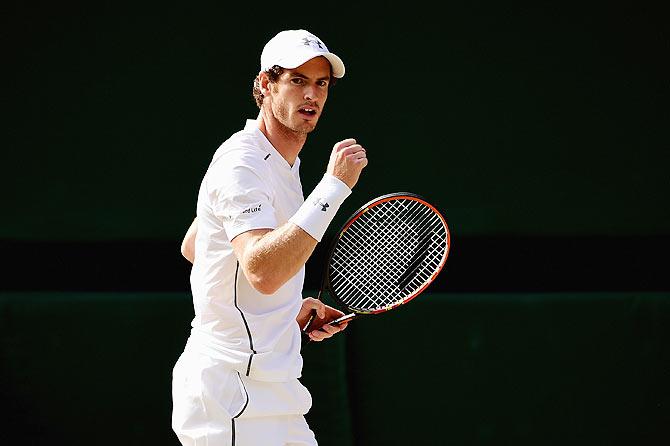 Great Britain's Andy Murray celebrates winning a point on Friday. Photograph: Shaun Botterill/Getty Images
"I think he (Federer) is such a great player, he's a legend and he's good with the children's charities. I respect the man," said Veronica Cuthbert of Cheshire, one of many Britons in the crowd rooting for the seven-times champion.
Murray was slightly vexed by a question at the post-match news conference that suggested the fans' loyalties were more divided than if he were playing anyone but Federer.
"I don't know if that was the case," he said.
"Out there I felt like the crowd were getting pretty pumped at the end of the second set.
"Any time I fist-pumped in their direction they responded very well."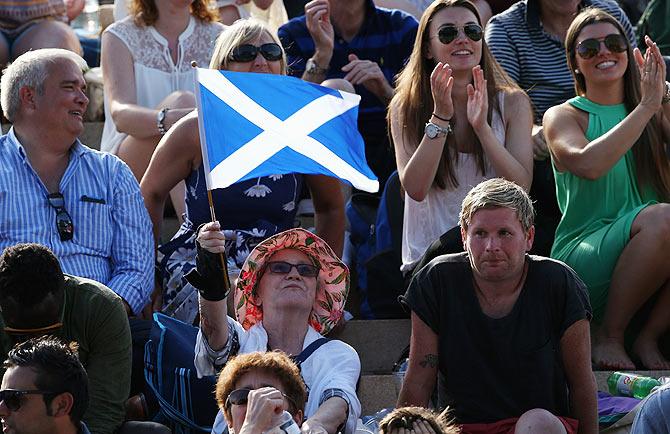 A fans waves a Swiss flag on Murray mound at the All England Lawn Tennis and Croquet Club in Wimbledon on Friday. Photograph: Ian Walton/Getty Images
Federer also sensed the fans had his back, though he wavered a bit on whether he thought they were more in his court than Murray's.
"I always expected the crowd to be maybe a little bit more on Andy's side because he's from around here," Federer said.
"People might not know how many more opportunities I'm going to have so they're going to be emotionally attached to me maybe more as well, as they were to (Andre) Agassi at the end of his career and other players.
"I appreciate that, it definitely also gave me a lift to see the crowd was actually evenly split."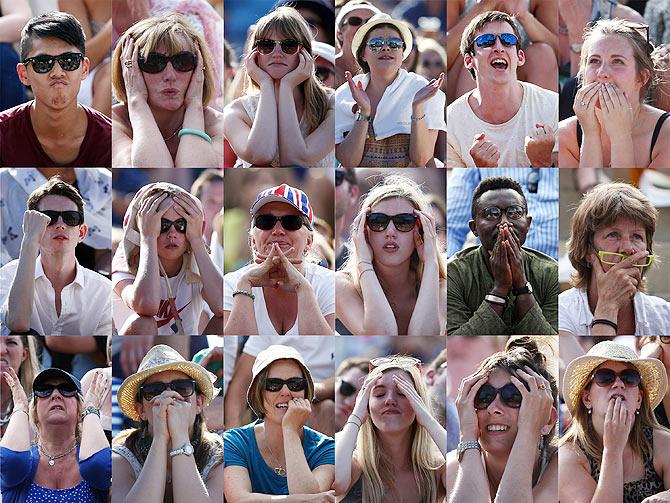 A composite image shows fans reactions on Murray Mound as they watch a large screen television showing Andy Murray lose to Roger Federer on Friday. Photograph: Carl Court/Getty Images
Some of the British spectators, either in Centre Court or watching on a big screen outside, were living proof of the conflicted loyalties that arise when they have to choose between Murray and Federer.
"We had a discussion this morning and we decided we would support Murray because we're British but we love Federer, he's a real gentleman and he's a bit of a legend," said Samantha Quinn who was watching on Centre Court with a group from Liverpool.
"It is a little bit tricky today."