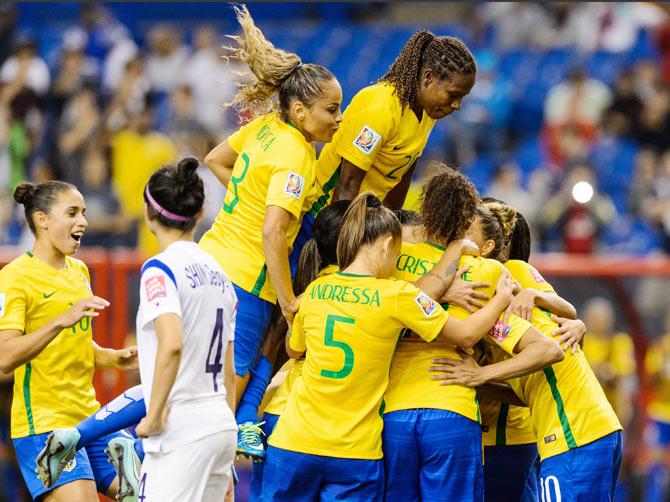 Marta #10 of Brazil celebrates a goal on a penalty kick with teammates during their 2015 FIFA Women's World Cup Group E match against Korea Republic at Olympic Stadium in Montreal, Quebec, Canada, on Tuesday. Photograph: Minas Panagiotakis/Getty Images
Marta became the all-time leading scorer at the women's World Cup on Tuesday as Brazil vaulted to the top of Group E with a 2-0 win over South Korea, while Eugenie Le Sommer's superb long-range strike gave France victory over England.
Marta's second-half penalty was her 15th career goal at the competition and moved her past retired German forward Birgit Prinz's mark.
Teammate Formiga, playing in her sixth World Cup, set a mark of her own, the 37-year-old becoming the oldest player to score at the tournament when she put Brazil 1-0 up in the first half in Montreal. The win moved Brazil top of Group E after Costa Rica and Spain drew 1-1 earlier in the day. In Group F, France earned a 1-0 win over England thanks to speedy forward Le Sommer's first-half goal.
Spain, Costa Rica draw 1-1 in near empty stadium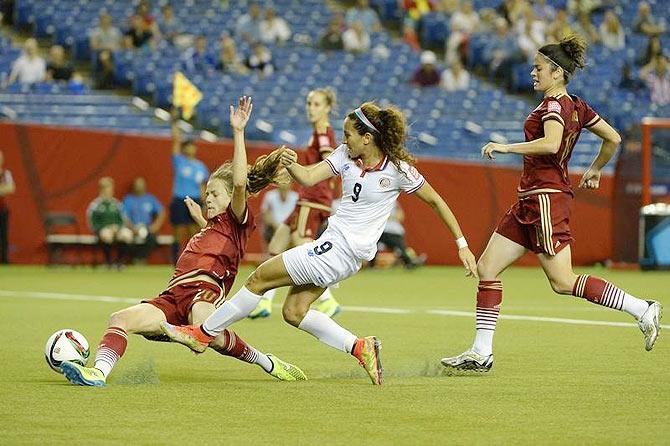 Spain defender Irene Paredes (20) dives as she tries to bock the kick of Costa Rica forward Carolina Venegas (9) during their Group E match Olympic Stadium. Photograph: Eric Bolte-USA TODAY Sports/Reuters
Women's World Cup debutants Spain and Costa Rica laboured to a 1-1 draw on Tuesday in a dreary Group E opener played in a near empty Montreal Olympic Stadium.
There was little to excite the sparse crowd beyond a two-minute span early in the opening half that produced both goals.
Midfielder Vicky Losada opened the scoring in the 13th minute to give Spain the early lead before 37th-ranked Costa Rica replied one minute later.
Defender Lixy Rodriguez worked the ball down the field before spotting an unmarked Raquel Rodriguez on the edge of the area for the 21-year-old striker to direct her pass into a gaping net for her 25th goal in 38 international appearances.
Spain, 14th-ranked, continued to dominate possession in the second half as they swarmed into the Costa Rican zone and tested goalkeeper Dinnia Diaz but they could not score a winner.
The Canadian Football Association had announced on Monday that the tournament sold more than one million tickets but apparently few were sold for the Goup E clash with a sparse crowd in the massive stadium built for the 1976 Montreal Olympics.
In contrast to the disappointing turnout in Montreal, the World Cup has seen sellouts and large crowds at many of the other venues.
A Canadian record crowd for a football match of 53,058 filled Edmonton's Commonwealth Stadium for the host's opener on Saturday against China while the United States and Australia played to a full house of over 31,000 in Winnipeg.
France beat England 1-0 in opener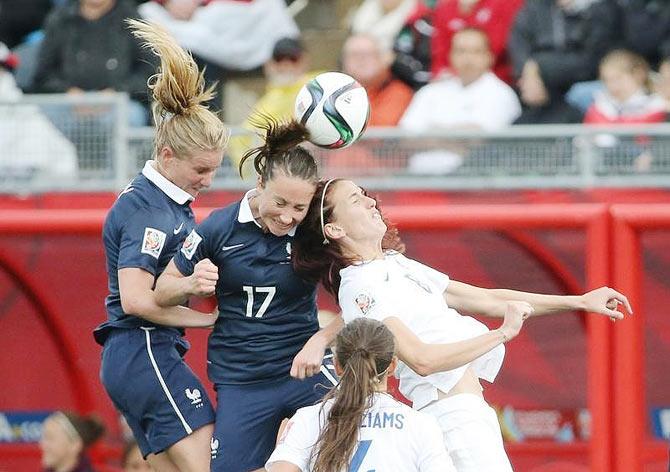 England midfielder Jill Scott (8) goes up for a header against France's Amandine Henry (left) and Gaetane Thiney (17) during their Group F match at Moncton Stadium in New Brunswick, on Tuesday. Photograph: Matt Kryger-USA TODAY Sports/Reuters
Speedy forward Eugenie Le Sommer struck with a superb long-range goal in the first half to set up a 1-0 victory for France over England in their Group F Women's World Cup opener in Moncton on Tuesday.
Le Sommer, the French League's top player, took advantage of a defensive mix-up by Katie Chapman and Laura Bassett and fired in a thunderous shot from the edge of the area in the 29th minute.
England struggled to create chances in wet and windy conditions while Les Bleues, who finished fourth at both the 2011 World Cup and 2012 London Olympics, posed a continual threat with Le Sommer leading the way.
England's best scoring opportunity came late in the first half when France goalkeeper Sarah Bouhaddi misjudged a cross by Alex Scott but midfielder Chapman's attempted lob sailed wide.
France, ranked third in the world, will next play Columbia while sixth-ranked England take on Mexico in Moncton on Saturday.
Late Colombia goal denies Mexico first World Cup win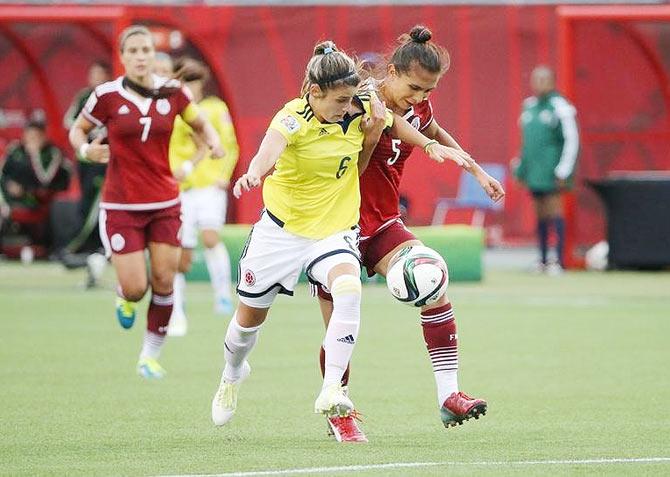 Mexico defender Valeria Miranda (5) and Colombia midfielder Daniela Montoya (6) battle for the ball during their Group F match at Moncton Stadium in New Brunswick. Photograph: Matt Kryger-USA TODAY Sports/Reuters
A late goal from Daniela Montoya allowed Colombia to escape with a 1-1 draw against Mexico in their Group F opener at the Women's World Cup in Moncton on Tuesday.
Taking a back pass from Tatiana Ariza, Montoya drilled home a shot from just outside the penalty area that rang off the crossbar in the 82nd minute to deny Mexico a first World Cup win. Mexico was the better team dominating possession, grabbing the early lead on a brilliant 36th minute strike from midfielder Veronica Perez.
El Tri thought it had pulled out a miracle finish in injury time when striker Charlyn Corral's shot rolled across the goal line only to have it waved off when teammate Stephany Mayor was called for a foul on Colombia's Angela Clavijo.
Ranked 26th in the world, Mexico will play England in its next game, while number 28 Colombia will face France.