'When the history books are written, it was worth the wait'
'Manny Pacquiao is a hell of fighter, I see now why he is at the pinnacle of boxing'
'My next fight in September will be my last and I will retire 49-0'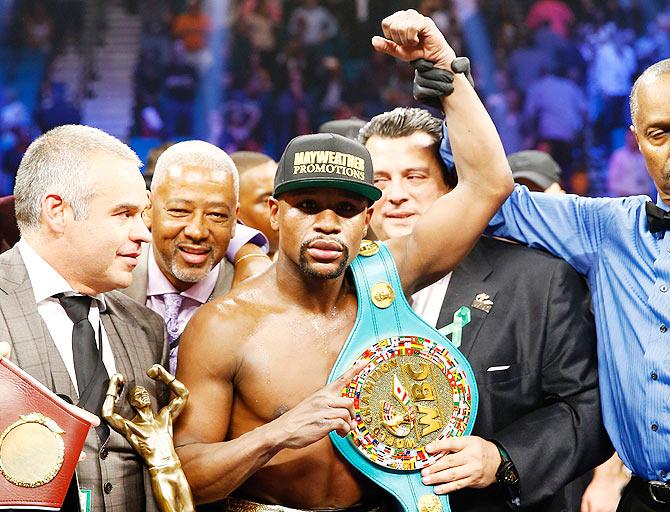 Floyd Mayweather Jr. celebrates the unanimous decision victory after defeating Manny Pacquiao during the welterweight unification championship bout at MGM Grand Garden Arena in Las Vegas, Nevada, on Saturday. Photograph: Al Bello/Getty Images
Floyd Mayweather Jr. cemented his place among the pantheon of boxing greats by improving to 48-0 with a unanimous decision over Manny Pacquiao on Saturday in a fight that lived up to its immense hype and price tag.
Mayweather weathered an early assault by the Filipino southpaw and then won the later rounds to finish ahead on all three judges' scorecards in a welterweight showdown that is expected to be the top grossing prize fight of all-time.
"When the history books are written, it was worth the wait," Mayweather said in the ring after a fight that was over five years in the making.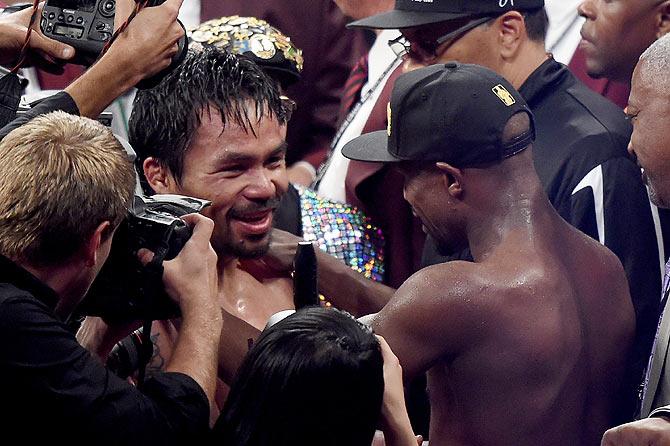 Floyd Mayweather Jr. hugs Manny Pacquiao after their bout. Photograph: Harry How/Getty Images
Though Pacquiao repeatedly forced Mayweather to backpedal, the wily American blunted his opponent's best efforts by using his renowned defensive skills while getting in several telling jabs and punches of his own.
Mayweather and Pacquiao had promised to deliver on years of hype and give fans their money's worth and were true to their word in delivering everything but a knockout.
"Manny Pacquiao is a hell of fighter, I see now why he is at the pinnacle of boxing," Mayweather said after an emotional embrace with Pacquiao. "I'm a smart fighter, I outboxed him.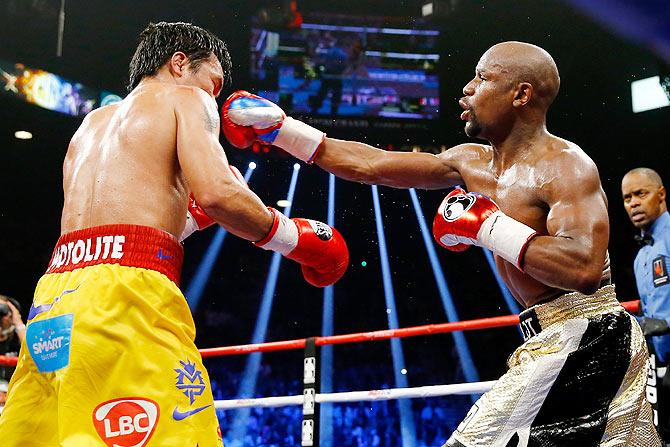 Floyd Mayweather Jr. throws a right jab at Manny Pacquiao. Photograph: Al Bello/Getty Images
"We knew what we had to do. He's a tough competitor ... a very awkward fighter and I had to take my time and watch him closely."
The fight between the two greatest boxers of their generation was one that appeared might never happen as Pacquiao resisted Mayweather's demands for blood-testing for five years.
When the two camps finally hammered out a deal, it was the richest in boxing history, setting new records for pay-per-view (PPV) buys and gate receipts.
The fighters were also paid royally for their night's work, with Mayweather guaranteed $120 million and Pacquiao $80 million although both men could pocket much more depending on the number of PPV purchases.
For Mayweather, the fight was one that will shape his legacy.
Even if he were to have retired unbeaten there would have forever been a question mark hanging over his career without at least one meeting against his Filipino rival.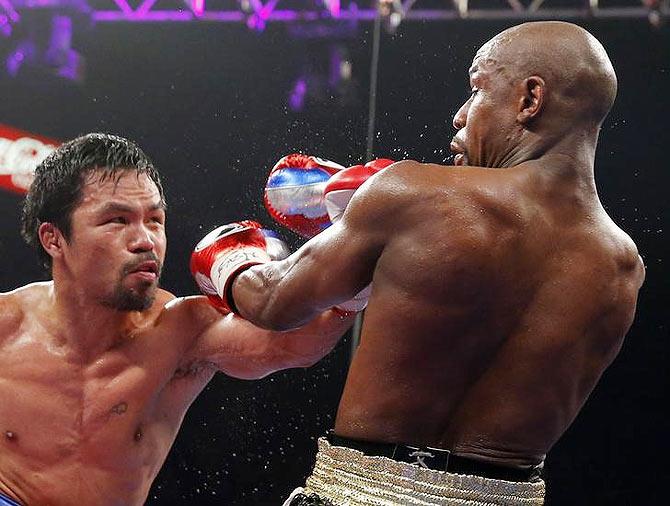 Manny Pacquiao lands a punch against Floyd Mayweather, Jr. (right). Photograph: Steve Marcus/Reuters

Mayweather said in the ring that he would fight again but that his next bout would be his last.
"My last fight is in September, it will be my last and I will retire 49-0 and then it is time for me to hang it up," Mayweather added.
"I am almost 40 years old now, I have been in the sport 19 years, I have been world champion 18 years" said the 38-year-old American.
"I am truly thankful and I am blessed."
Dubbed the "Fight of the Century" the MGM Grand Garden Arena crackled with energy as the rich and famous settled into their ringside seats.
Actors Clint Eastwood, Robert De Niro, Mark Wahlberg and Denzel Washington rubbed shoulders with sports celebrities such as Michael Jordan, New England Patriots quarterback Tom Brady and billionaire Donald Trump.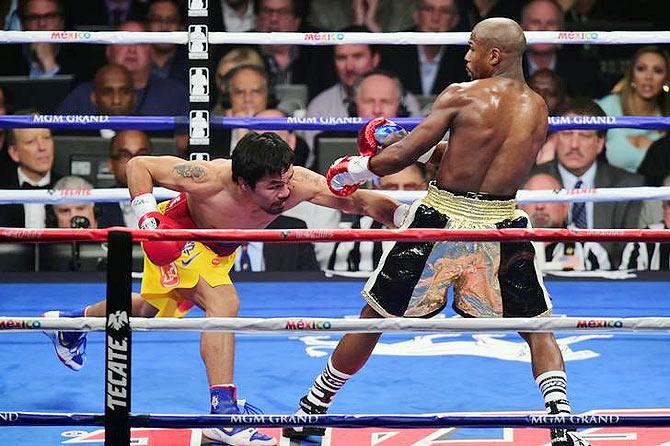 Floyd Mayweather and Manny Pacquiao (Yellow/Red trunks) box. Photograph: Joe Camporeale-USA TODAY Sports/Reuters
With prime seats commanding six-figure sums on the resale market even the very wealthy and very famous were forced to call in favours to secure a golden ticket while an estimated 150,000 to 200,000 fight fans flooded into the desert gambling capital to be part of the buzz.
Wearing a simple white T-shirt, Pacquiao knelt in his corner for a prayer as boos filled the hall when Mayweather appeared on the giant screens.
There were no smiles from the stone-faced American as he entered the ring wearing black white and gold trunks and sporting a $23,000 mouth guard infused with flecks of gold and pieces of a hundred dollar bill.
Five years of hype then reached a climax when famed announcer Jimmy Lennon stood in the centre of the ring and told the crowd, "the wait is over, it's go time".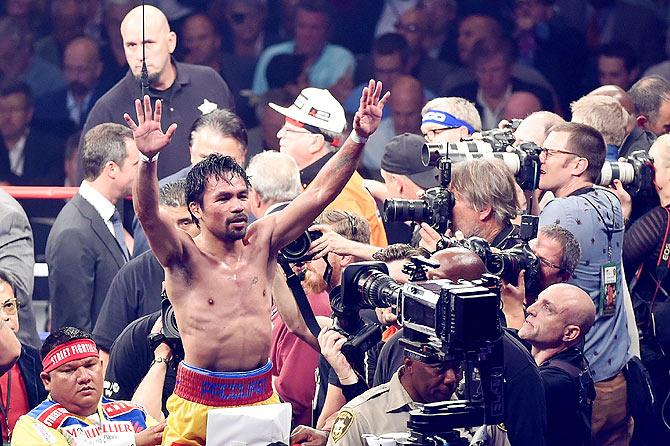 Manny Pacquiao gestures to the crowd after losing to Floyd Mayweather Jr. Photograph: Jason Merritt/Getty Images
The bout marked Mayweather's 11th consecutive fight at the MGM but it was Pacquiao who enjoyed a massive edge in support as he appeared in the arena.
"It is a good fight. I thought I won the fight. He didn't do nothing. He always moved outside," said Pacquiao, who dropped to 57-6-2.
"I did my best but my best wasn't good enough."