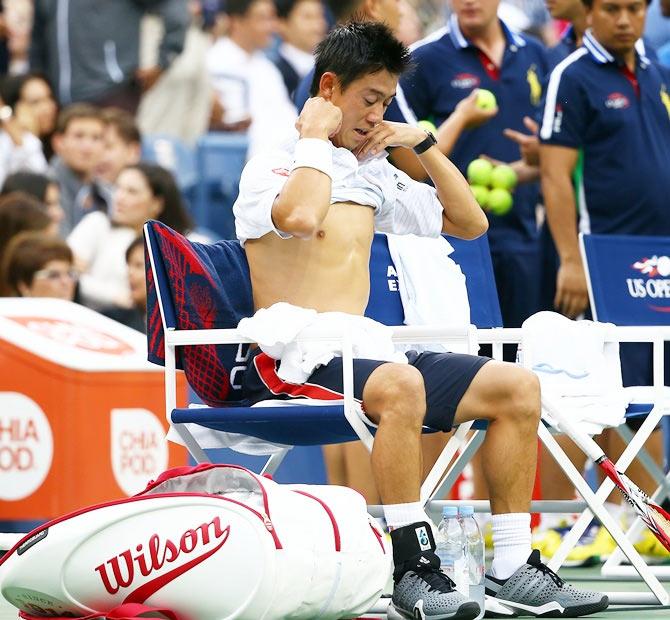 Kei Nishikori of Japan changes his shirt during a change over at the US Open final on Monday. Photograph: Streeter Lecka/Getty Images
Already ranked ninth in Forbes' list of top tennis earners, Japan's Kei Nishikori is due for a bigger share of the off-court largesse despite losing Monday's final at the US Open, US marketing experts say.
"He has great marketing potential not only in Japan, which is a no-brainer, but also I think he can be a very, very significant new athlete here in the U.S.," Neal Pilson, former president of CBS Sports and owner of a communications consulting firm told Reuters.
Though his dream of a maiden Grand Slam title was dashed in straight sets by Croatia's Marin Cilic, the 24-year-old Nishikori became the first man from an Asian country to reach a major singles final when he shocked world number one Novak Djokovic in the semi-finals at Flushing Meadows.
"Kei has long been huge in Japan. There are entire magazines devoted to him," Dan Kaplan, tennis writer for SportsBusiness Journal, told Reuters.
"He is already very well compensated, but obviously this takes it up even more."
Nishikori already has nine major sponsors including casual-wear brand Uniqlo, racquet manufacturer Wilson, sportswear firm Adidas, Delta Airlines and Swiss watch brand Tag Heuer.
He earned $11 million, including $9 million in endorsements, between June 2013 - June 2014, according to a survey of the game's top earners published by Forbes.com last month.
'In terms of his gradual improvement through the years, he's been very impressive'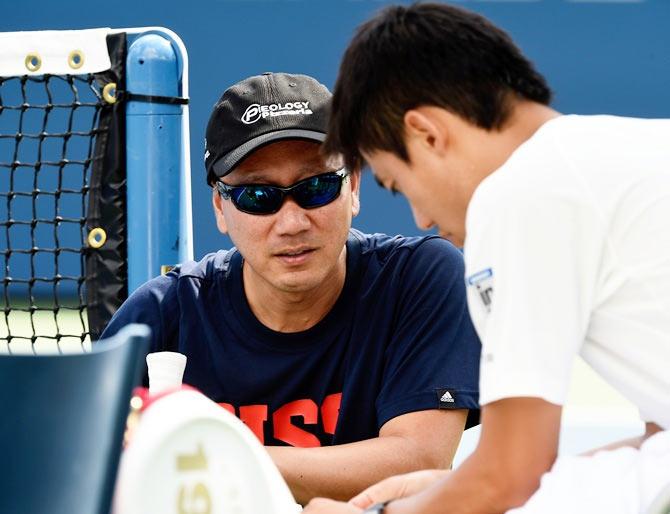 Kei Nishikori, right, of Japan talks with Coach Michael Chang during a practice session. Photograph: Alex Goodlett/Getty Images
It's a long way from the $56.2 million made by 17-times Grand Slam winner Roger Federer, who pockets a cool $52 million from endorsements to lead the list.
But with Nishikori just beginning to make his name in North America, the marketing of the gifted Japanese player may be about to shift into a higher gear.
"He's come across as a hard-working, very talented player," Courtney Brunious, associate director of the University of Southern California Sports Business Institute, said in an interview with Reuters.
"You haven't heard a lot about him outside of tennis but in terms of his gradual improvement through the years and his ability to stand in there and play toe-to-toe with some of the top players in the game, he's been very impressive."
Pilson, whose Pilson Communications, Inc. has advised clients including the International Olympic Committee, NASCAR and the Rose Bowl on maximising television exposure, thinks Nishikori has the right stuff.
'He has all of the ingredients for launching a marketing campaign'
Kei Nishikori of Japan speaks to the media. Photograph: Matthew Stockman/Getty Images
"He's an attractive young man, well spoken," said Pilson, who steered CBS Sports in the 1980s and '90s.
"Seems to be a good interview. He projects well. Smiles a lot. He's self-effacing.
"All of the ingredients, I think, for launching a marketing campaign here in the United States and around the world.
"I would think his phone is ringing off the hook.
"It's a great opportunity for him. I think we are being treated to the beginning of a change in the top leadership of men's tennis."
Brunious said Nishikori might even unleash a tennis version of the 'Linsanity' craze that Jeremy Lin, an American-born NBA player with Taiwanese heritage, inspired at the New York Knicks in the 2011-2012 season.
"It's obviously not going to be same level as 'Linsanity', as basketball is generally more popular in the United States than tennis," he added.
'Nishikori in the final is aspirational for younger players that are just getting into the game'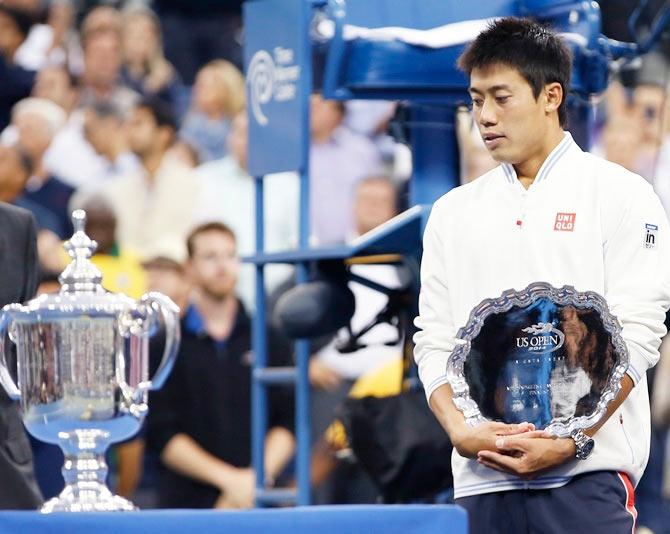 Kei Nishikori of Japan holds his runner up trophy as he looks at the winner's trophy after being defeated in the men's singles final match by Marin Cilic of Croatia at the US Open. Photograph: Mike Segar/Reuters
"When there is an international star of a certain background that does well in the United States there is natural inclination for that group to pay more attention to him.
"He could be a brand ambassador on the Japanese side when it comes to tennis, not only for the sport but for whatever brands are attached to him."
Brunious said becoming the first Asian man into a Grand Slam final should also have a positive impact on Japanese tennis.
"His arrival in the finals of the U.S. Open is huge for Japanese tennis," he said.
"You had a ton of people waking up to watch the matches and bring a type of excellence and spotlight on tennis in Japan that maybe wasn't there before.
"That's something aspirational for younger players that are just getting into the game. They see Nishikori out there succeeding at a high level, it gives them a little more of a push."