Photos from matches played Day 7 of the Australian Open at Melbourne Park on Sunday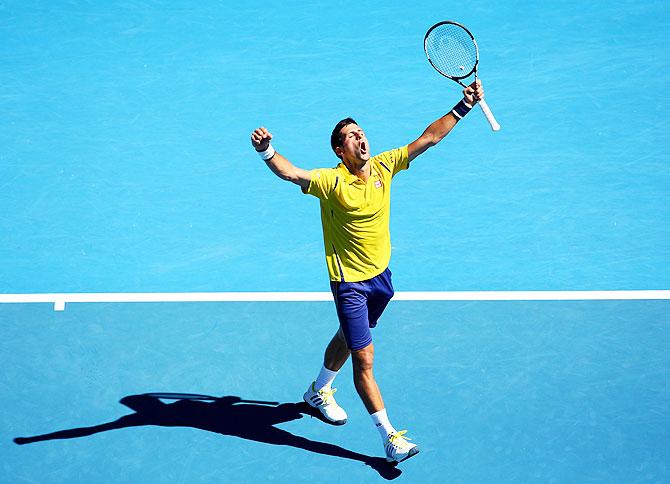 IMAGE: Serbia's Novak Djokovic celebrates a point in his fourth round match against France's Gilles Simon at the 2016 Australian Open at Melbourne Park on Sunday. Photograph: Quinn Rooney/Getty Images
World No 1 Novak Djokovic was put to the test by Frenchman Gilles Simon before he staggered into the quarter-final of the Australian Open after a four hour-and-32-minute encounter at the Rod Laver Arena on Sunday.
Djokovic beat Simon 6-3, 6-7 (7-1), 6-4, 4-6, 6-3 in a marathon encounter to enter his 27th straight quarter-final at a grand slam.
Djokovic committed 100 unforced errors in the match and a string of wrongly executed drop shots.
But the Serb's iron-willed composure returned quickly in the deciding fifth set as he broke Simon early and motored to a 5-1 lead.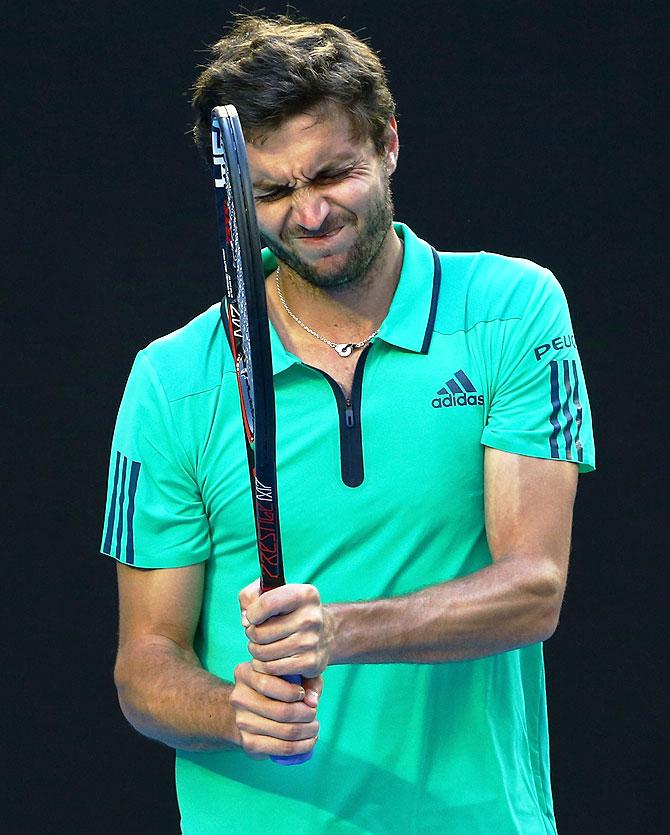 IMAGE: Gilles Simon reacts in his fourth round match against Novak Djokovic. Photograph: Quinn Rooney/Getty Images
Simon rallied with a final flourish, regaining a service break and saved two match points before holding to raise thunderous cheers from a raucous crowd firmly in his corner.
But after raising a third match point with an ace, Djokovic sealed the match with an imperious backhand down the line and after shaking hands with his opponent, was glad to slump into his chair.
"Playing against a player like Gilles you can expect long rallies, he makes you play that and extra shot. I'm glad to get out of this one," Djokovic said after his match.
"He is one of the best, if not the best counter-punchers on the tour. He is not overwhelmed and credit to him for a great fight," the World No 1 added.
Djokovic will face Japan's Kei Nishikori in the quarters.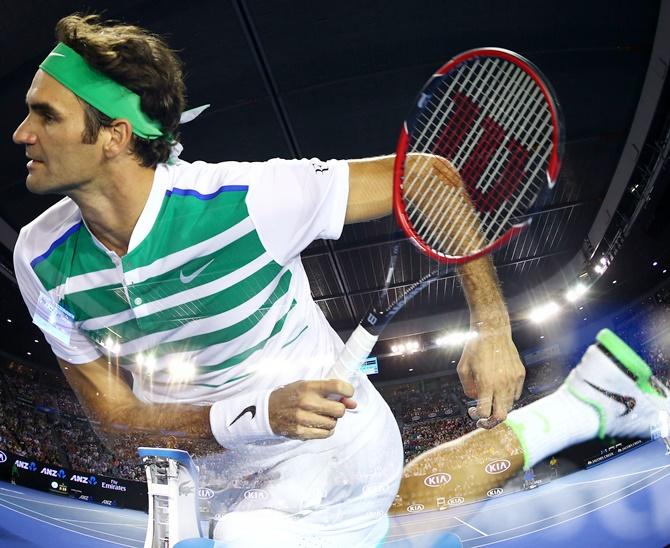 IMAGE: Switzerland's Roger Federer serves. Photograph: Ryan Pierse/Getty Images
Four-time champion Roger Federer was in no mood to extend his Sunday too far into Monday as he raced into the Australian Open quarter-finals with a 6-2, 6-1, 6-4 victory over David Goffin.
Federer was the last match on the main showcourt in Rod Laver Arena on Sunday but because of an earlier lengthy five-set clash between Novak Djokovic and Gilles Simon, he did not begin his fourth round match with Goffin until 2248 local (1148 GMT).
The 17-time Grand Slam champion established the tone for the match in the first set, which he roared through in 21 minutes as he conceded just two points on his own serve and broke the Belgian twice.
The Swiss continued to dominate on his own serve, winning more than 90 per cent of his first service points for much of the match and hitting winners at will to seal a quarter-final against Czech sixth-seed Tomas Berdych in 88 minutes.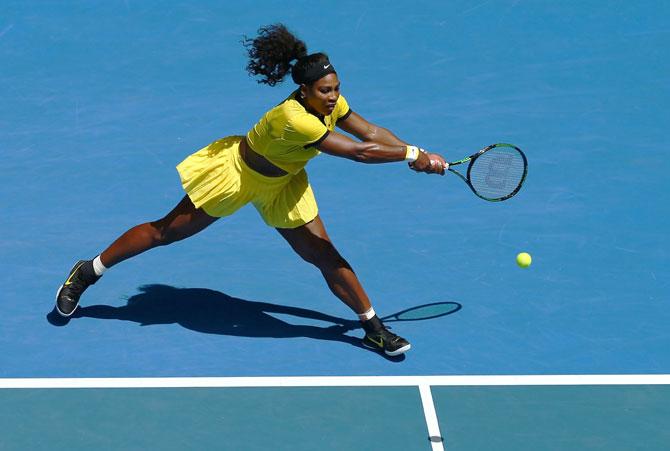 IMAGE: USA's Serena Williams plays a backhand in her fourth round match against Russia's Margarita Gaspatryan at the 2016 Australian Open at Melbourne Park on Sunday. Photograph: Cameron Spencer/Getty Images
World number one Serena Williams wasted little time in swatting aside Russia's Margarita Gasparyan 6-2 6-1 on Sunday, setting up an Australian Open quarter-final showdown with Maria Sharapova.
Williams was broken in the first game of the fourth round match, only the second time she had dropped serve in the tournament, before she rattled off the next four games and went on to seal the set in 30 minutes.
The 34-year-old defending champion barely got into second gear against Gasparyan and breezed through the second set to seal the match in less than hour.
Williams has now had three relatively straightforward matches after being pushed by Camila Giorgi in the first round, and should be well rested when she faces Sharapova, who she beat in last year's final.
On facing Sharapova in the quarters, Serena said: "I had no idea who I was playing. She had a really good match earlier but I've got nothing to lose and will just do my best."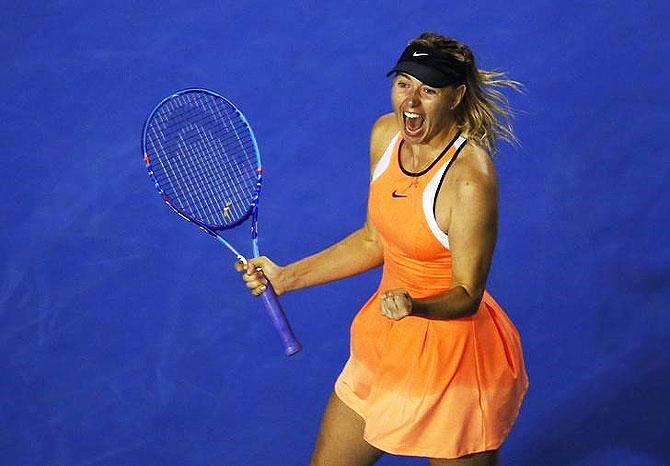 IMAGE: Russia's Maria Sharapova celebrates after winning her fourth round match against Switzerland's Belinda Bencic. Photograph: Jason O'Brien Action Images via Reuters
Sharapova served up a storm to slap down teenage firebrand Belinda Bencic 7-5, 7-5 and become the first woman through to the Australian Open quarter-finals on Sunday.
The 2008 champion fired 21 aces in her most impressive serving performance of the tournament to keep the rising Swiss at bay in the early match at Rod Laver Arena.
Biding her time before breaking the 18-year-old in the 12th game of each set, Sharapova sealed the tie on the second match point with a sizzling backhand that clipped the baseline, before squealing in delight towards the crowd.
On her win, Sharapova said: "I was really focused today ... it's always great to play a player that's coming up for the first time."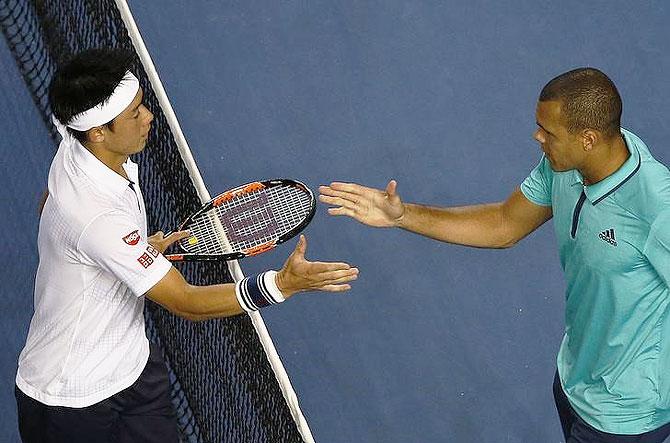 IMAGE: Japan's Kei Nishikori (left) shakes hands with France's Jo-Wilfried Tsonga after winning the fourth round match. Photograph: Jason Reed/Reuters
Japan's Kei Nishikori reached the quarter-finals of the Australian Open for the third time when he eased past Jo-Wilfried Tsonga 6-4, 6-2, 6-4 on Sunday.
The seventh seed hit 31 winners and sealed his place in the last eight when Tsonga, seeded ninth, made his 36th unforced error by slashing a forehand wide to end the 122-minute contest on Rod Laver Arena.
Nishikori, who was beaten on both his previous visits to the quarter-finals at MelbournePark, will next face reigning champion Novak Djokovic or Gilles Simon.
The former US Open finalist's victory avenged his defeat to Tsonga, runner up at MelbournePark in 2008, in a five-set thriller at the French Open last year.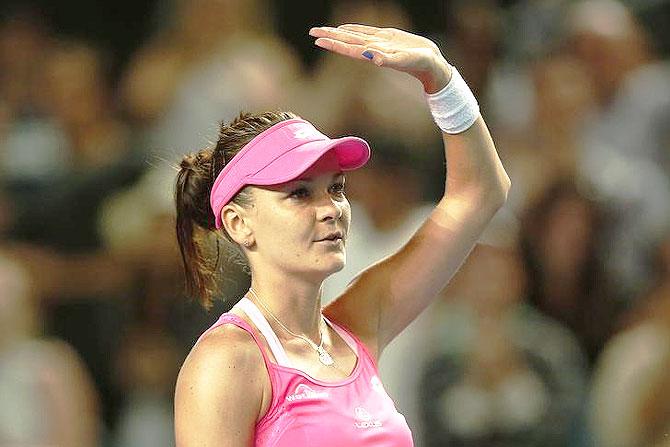 IMAGE: Poland's Agnieszka Radwanska waves after winning her fourth round match against Germany's Anna-Lena Friedsam. Photograph: Brandon Malone/Reuters
Anna-Lena Friedsam's giant-killing run at the Australian Open ended in tears and injury on Sunday after a thigh ailment allowed world number four Agnieszka Radwanska to snatch a 6-7 (6) 6-1 7-5 fourth round win.
The 21-year-old German, who had never been past the second round of a grand slam before this year's tournament, had Radwanska on the ropes when she led 5-2 in the deciding set before injury cruelly struck at 5-4.
The 82nd-ranked German, who beat US Open finalist Roberta Vinci in the third round, then took an injury time out and had strapping applied to her left leg.
Radwanska held serve, but Friedsam appeared to exacerbate her injury.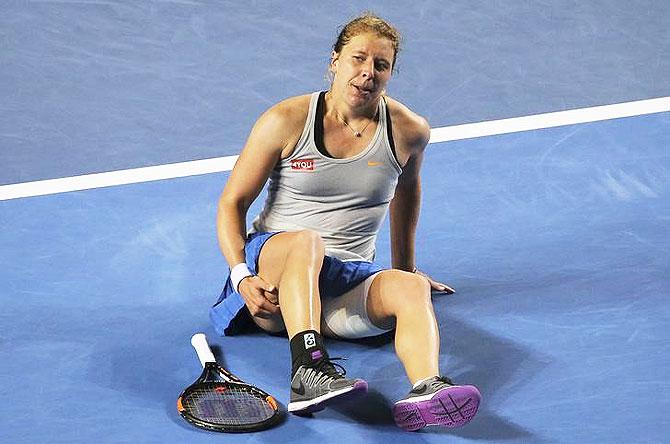 IMAGE: Anna-Lena Friedsam lies on the court as she suffers from an injury during her fourth round match against Agnieszka Radwanska. Photograph: John French/Reuters
The German was given a time warning on the first point of the next game when she was unable to serve and broke into tears. She managed to play on and was 15-40 down when she appeared to strain her right hamstring.
Chair umpire Felix Torralba then sanctioned her again for exceeding the time limit and awarded Radwanska a point that sealed the game and gave her a 6-5 advantage.
The trainer again visited Friedman, who was in constant tears on her chair, but she managed to hobble out and complete the match and was given a massive cheer by the Hisense Arena crowd for her efforts.
Radwanska will now meet either Spain's Carla Suarez-Navarro or Australia's Daria Gavrilova in the last eight.