New Zealand rugby union great Jonah Lomu died, aged 40, in Wellington on Wednesday.
Lomu, who scored 37 tries in 63 matches for New Zealand between 1994 and 2002, had been diagnosed with a rare kidney condition by 1996. He forced to quit the game following the diagnosis and underwent a kidney transplant in 2004, but the organ stopped functioning in 2011.
Lomu's family spokesman John Mayhew said, "It was totally unexpected, Jonah and his family arrived back from the UK last night and he suddenly died this morning."
Unfortunately, Lomu is not the only sportsman whose life was cut short at an early age.
F1 legend Ayrton Senna and cricketers Ben Hollioke and Phillip Hughes, among others local and international sport stars, left this world way before their time. Rediff.com lists 10 athletes who 'left the field' much too soon.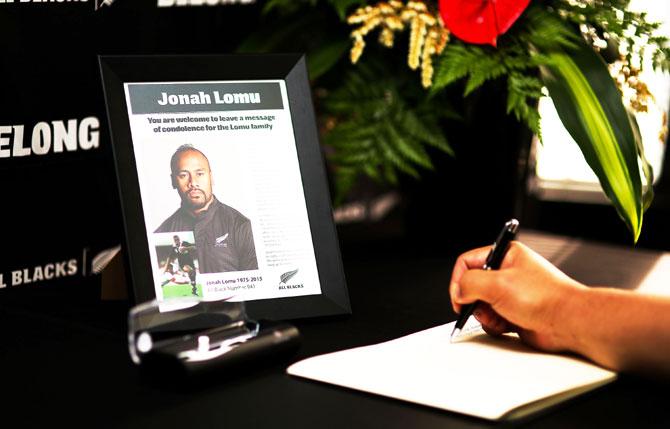 IMAGE: A well-wisher signs a condolence book at New Zealand Rugby Union headquarters following All Black legend Jonah Lomu's death in Wellington on Wednesday. Photograph: Hagen Hopkins/Getty Images
Brazil F1 legend Ayrton Senna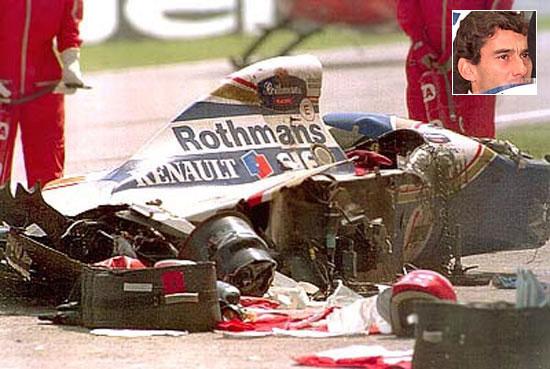 IMAGE: The Rothmans Williams car of Ayrton Senna lies shattered on the track after he crashed into the concrete barrier. Photograph: AFP/Getty Images
Considered and voted as one of the greatest Formula One drivers of all-time, Ayrton Senna died on May 1, 1994, after his car crashed into a concrete barrier during the San Marino Grand Prix at the Autodromo Enzo e Dino Ferrari in Italy.
Driving for Williams, the Brazilian had expressed his concerns about the safety of the car and his discomfort while driving it.
The race was doomed right from the start with Pedro Lamy and JJ Lehto involved in an accident early on.
Then on lap 7, Senna's car left the racing line at the 190 mph Tamburello corner, ran in a straight line off the track and struck a concrete barrier. He died of fatal skull fractures.
A 500-page report officially blamed failure of the steering wheel for Senna's death.
Australian cricketer Phillip Hughes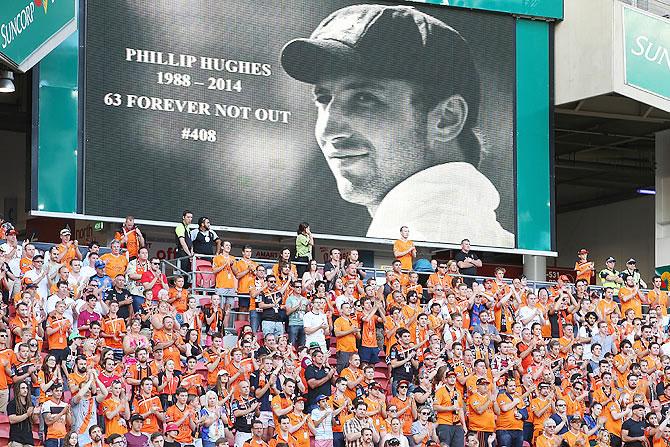 IMAGE: The crowd clapped at the 63rd minute of an A-League match between Brisbane Roar and Perth Glory at Suncorp Stadium in Brisbane as a tribute to Australian Cricketer Phillip Hughes. Photograph: Chris Hyde/Getty Images
Australian cricketer Phillip Hughes died in hospital in Sydney on November 27, 2014, two days after the international batsman was struck on the head by a ball during a domestic match.
The Australian flag was lowered to half-mast over the Sydney Cricket Ground where Hughes suffered the horrific when batting for state side South Australia.
The 25-year-old was struck on the head by a short-pitched delivery from New South Wales paceman Sean Abbott, a devastating blow that experts compared to the trauma suffered by car crash victims.
After being treated at the stadium, Hughes, who played 26 Tests and 25 one-day internationals, was rushed to St Vincent's Hospital in Sydney to have emergency surgery to relieve pressure on his brain.
He was placed into an induced coma and was in intensive care in a critical condition. He died, having never regained consciousness, three days before his 26th birthday.
Indian cricketer Raman Lamba
The former India international was hit on the head while fielding during a club match in Dhaka.
Standing at short-leg without wearing a helmet, the opener sustained serious brain injuries and went into a coma three days after the incident before being pronounced dead.
As well as India, Lamba represented Ireland in unofficial ODI matches.
India domestic cricketer Ankit Keshri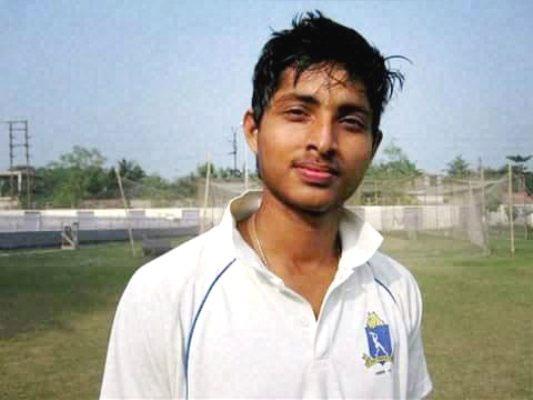 File Photo of Bengal's under-19 cricketer Ankit Keshri, who died in Kolkata after sustaining a head injury during a match on April 17. Photograph: PTI
Ankit Keshri died on April 20, 2015, following a freak on-field collision during a Cricket Association of Bengal's senior one-day knock-out match on April 17.
Keshri, a former captain for his state's under-19 team, battled for three days before passing away at a Kolkata hospital.
The incident happened at the SaltLake ground during a one day match between local giants East Bengal and Bhowanipore club.
Keshri, a right-handed batsman and leg-spinner, came on as a substitute fielder for his club and collided with a teammate as both players went for a high catch.
Keshri briefly lost consciousness but was resuscitated by a teammate, following which, he was rushed to hospital.
According to doctors, Keshri's condition was stable but he suffered a cardiac arrest around midnight a day before he died.
F1 driver Jules Bianchi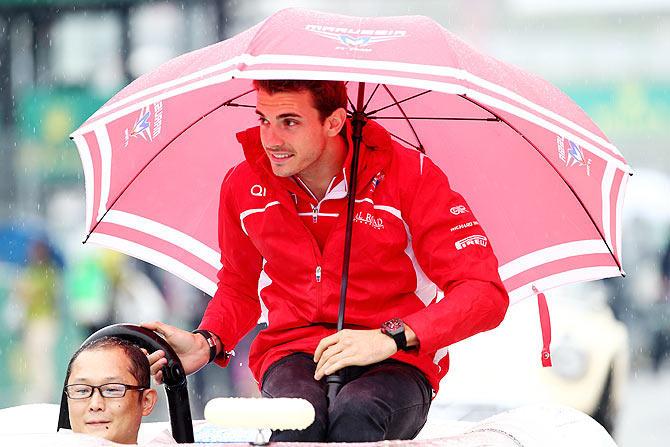 IMAGE: Jules Bianchi of France and Marussia. Photograph: Clive Rose/Getty Images
On July 17, French Formula One driver Jules Bianchi died of critical head injuries sustained at the Japanese Grand Prix in 2014. He was 25.
Bianchi had been in a coma since the accident at Suzuka last October. He passed away at a hospital in Nice, near his parents' home in the south of France.
Bianchi was the first driver since Brazilian triple world champion Ayrton Senna, at Italy's Imola circuit in May 1994, to die from injuries sustained during a grand prix weekend.
The Frenchman suffered severe head injuries when, in wet conditions and fading light, his Marussia slammed into a recovery tractor while it was attempting to remove Adrian Sutil's crashed Sauber.
Television images of the October 5 accident, which were not publicly broadcast but have since been posted on the internet, showed the Marussia's roll hoop had been entirely ripped off in the massive impact.
The race was stopped and the unconscious driver was extracted from the wrecked car and taken by road ambulance to the nearby hospital.
Japan footballer Naoki Matsuda
Matsuda was a popular Japanese footballer who wore national colours on 40 occassions and represented the country at the 2002 World Cup.
Apart from a successful career in the Japan national side, Matsuda made 385 appearances for Japan's 1st division club Yokohama F-Marinos, helping them win back-to-back JLeague titles in 2003 and 2004.
But the 34-year-old tragically met his fate while training with his third division side Matsumoto Yamaga, when he collapsed.
Medical personnel had rushed to Matsuda's aid after he collapsed with suspected heatstroke. Yamaga later said the player had gone into cardio-respiratory arrest.
He breathed his last three days later.
IndyCar driver Justin Wilson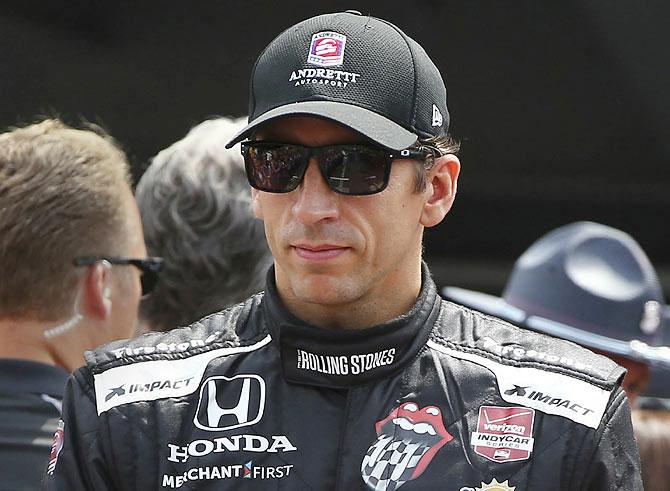 IndyCar Series driver driver Justin Wilson. Photograph: Mark J. Rebilas-USA TODAY Sports/Reuters
British IndyCar driver Justin Wilson died on August 25 after suffering a severe head injury during a wreck in the closing laps of a race the previous day at Pocono Raceway in Pennsylvania, IndyCar officials said. He was 37.
Wilson, a former Formula One driver and seven-time winner in IndyCar racing, had been in critical condition in a coma at a hospital in Allentown, Pennsylvania, before his death.
Wilson's car careened out of control and into a wall after he was hit by a large piece of debris from the car of Sage Karam on the track in Long Pond, Pennsylvania.
Wilson was the first IndyCar driver to die following a race accident since fellow Briton, Dan Wheldon, was killed in a fiery crash in Las Vegas in October 2011.
Manchester United footballer Marc-Vivienne Foe
The Cameroon international, who wore the Machester United jersey in the 2002-03 season, died of heart failure after collapsing during his country's Confederations Cup semi-final against Colombia on June 26, 2003.
Foe was carried off on a stretcher after collapsing towards the end of the match, won 1-0 by Cameroon.
FIFA, who said there would be an autopsy to determine the circumstances of the death, later issued a statement saying Foe had "collapsed to the ground in the second half, around the 72nd minute, for no apparent reason.
"The player was still alive when he was taken to the medical centre in Gerland Stadium in Lyon, where he died. Doctors performed cardiac resuscitation for 45 minutes without success."
Germany goal-keeper Robert Enke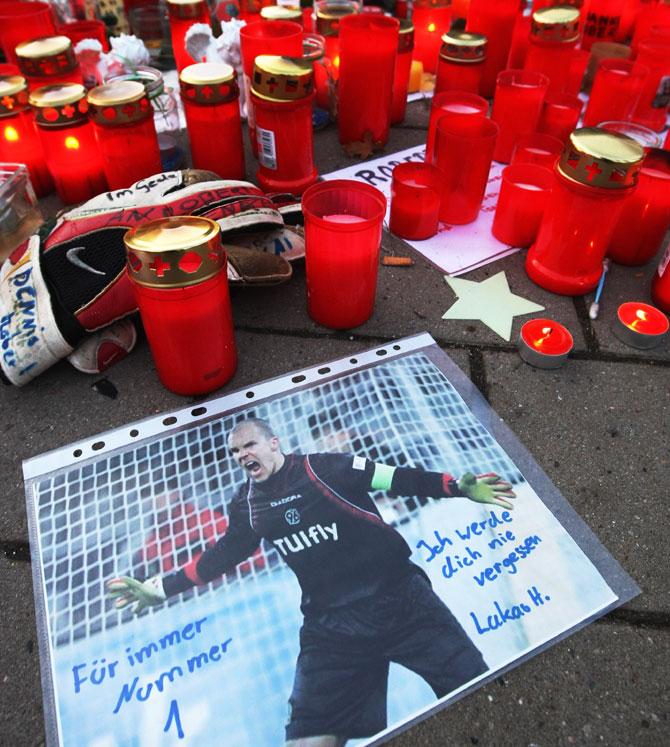 IMAGE: A hand-scrawled note that reads: 'I will never forget you. Forever Number 1' on a pictuire of deceased Hannover 96 goalie Robert Enke lies among a sea of candles before a memorial service prior to Enke's funeral at AWD Arena on November 15, 2009 in Hanover. Photograph: Sean Gallup/Getty Images
Germany and Hanover 96 goalkeeper Robert Enke died after being hit by an express train in an apparent suicide near Hanover, on November 10, 2009.
Enke, 32, won eight international caps.
Enke, who had spells with clubs in Spain, Turkey and Portugal before signing for Bundesliga team Hanover in 2004, experienced a difficult time with depression, months before his death, as he battled to secure his place in Germany's team.
Some reports had suggested that the 'keeper had committed suicide because he feared his adopted daughter would be taken away from him.
In 2004, the footballer's first child Lara had died from a heart condition at the age of two.
Also see