Paralympic star Oscar Pistorius is set to face a fresh charge of possessing unlicensed ammunition after firearm was recovered from his home by the police during the investigation into the death of his girlfriend, Reeva Steenkamp, the Pretoria Magistrate's Court heard.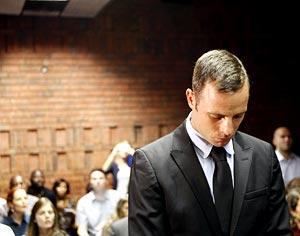 The charge has been added following the discovery of a .38 special firearm in a safe in Pictorius' room, Sport24 reports.
According to the investigating officer Hilton Botha, Pistorius had the license for a 9mm pistol, which was incidentally the firearm mentioned in Pistorius' affidavit on Tuesday when he said that he had shot Steenkamp.
On Wednesday, South African police found two containers of testosterone and needles in the bedroom of Pistorius.
Photograph: Siphiwe Sibeko/Reuters