A round-up of all the results from the 17th World Athletic Championships in London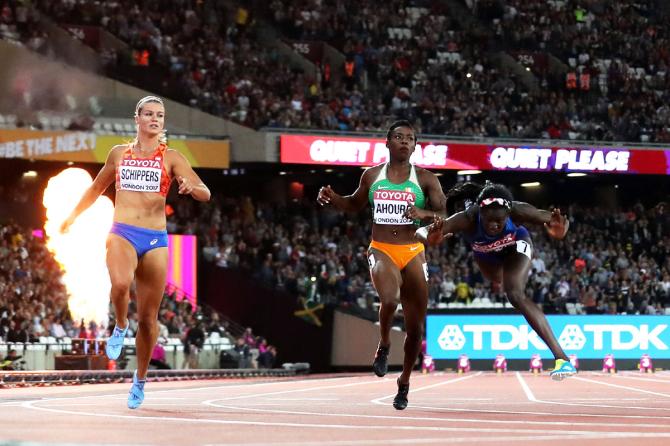 IMAGE: Tori Bowie of the United States trips as she crosses the finish line to win the Women's 100 Metres Final at the 16th IAAF World Athletics Championships at The London Stadium in London, United Kingdom, on Sunday. Photograph: David Ramos/Remote/Getty Images
America's Tori Bowie delivered a finish line masterclass when she timed her dip perfectly to win the women's 100 metres world championship gold in spectacular style on Sunday, leaving Ivory Coast's Marie-Josee Ta Lou with a consolation silver.
The momentum of 26-year-old Bowie's exemplary dip sent her sprawling onto the track but by the time she recovered enough to look at the big screen she saw that she had won by one hundredth of a second and denied Ta Lou the chance to claim Ivory Coast's first world title in any event.
Olympic champion and race favourite Elaine Thompson never got going and finished fifth, as Dutchwoman Dafne Schippers took bronze.
Ta Lou appeared to have the race sewn up but fatally failed to throw herself at the line and there were moments of suspense before the result appeared on the stadium scoreboard.
The 26-year-old Bowie, who finished in 10.85 seconds, went one better than her silver medal at the Olympic Games in Rio de Janeiro last year while Ta Lou was left to ponder another desperately unlucky finish.
"I never give up until I'm over the line," Bowie said.
"Ta Lou went away fast but she always does. It didn't bother me and I just kept pumping my legs and arms until the finish.
"The dive doesn't feel too good now. But that has saved me at championships in the past. I've got a couple of days to recover before the 200 heats so I'll be okay."
Ta Lou was also unlucky not to walk away with a bronze medal in Rio after being denied a place on the podium by the rarely-resorted to thousandths measurement.
"I am just happy to have this medal, it is a dream come true," she said. "I didn't expect to be in the top three because all the girls have the power and the talent to make the podium."
Thiam adds world heptathlon title to Olympic crown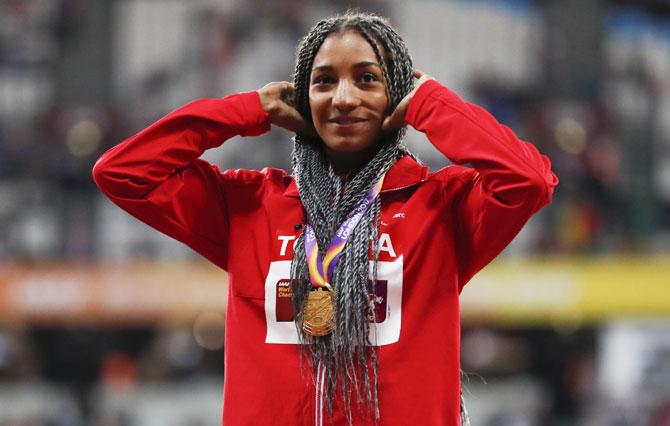 IMAGE: Nafissatou Thiam of Belgium (Gold) poses with the medal on the podium after winning the women's heptathlon final on Sunday. Photograph: Matthew Childs/Reuters
Nafi Thiam of Belgium eased her way to heptathlon gold at the World Championships on Sunday to go with the Olympic title she claimed in Rio last year.
The Belgian went into the final event, the 800 metres, with a 172-point lead over Germany's Carolin Schafer -- roughly 12 seconds on the track in the London Stadium.
That meant Thiam could take it relatively easy and that is exactly what she did.
The 22-year-old has a personal best of 2:15.24 in the 800m but she fell towards the back of the chasing group in the third heat and came in last in a time of 2:21.42.
It was still enough to secure her first world title as she finished on 6,784 points.
"I'm super happy," Thiam said.
Schafer was in a more perilous position and needed to make sure she did better than Anouk Vetter of the Netherlands, who was behind her in the standings by just three points.
Although Vetter achieved a season best time of 2:19.43, it was not enough to reel in Schafer who finished four seconds ahead of her to secure silver with 6,696 points, the German's first senior medal.
Vetter thrilled the crowd earlier on Sunday with her championship best javelin throw of 58.41 metres which proved crucial in helping her win the bronze medal on 6,636.
Stefanidi completes collection of major pole vault titles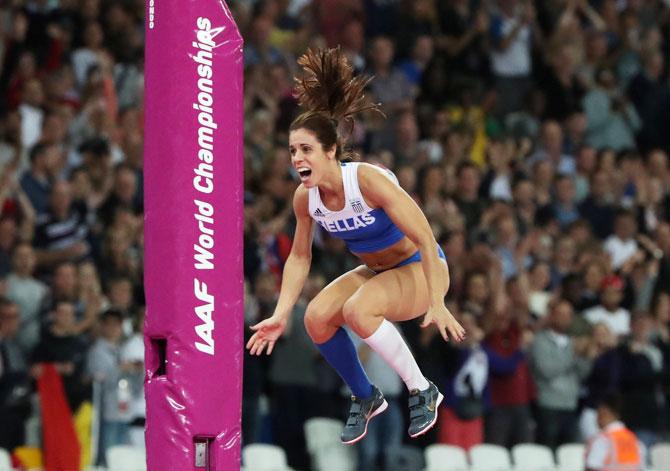 IMAGE: Ekaterini Stefanidi of Greece reacts after winning the women's pole vault final in London on Sunday. Photograph: Kevin Coombs/Reuters
Greece's Ekaterini Stefanidi, the new queen of the pole vault, added the one missing gold medal to her big-event collection when she soared to the world title with the best vault of her life on Sunday.
In a repeat of last year's Olympic final in Rio de Janeiro, the destination of the gold came down to a straight fight between the ever-consistent 27-year-old Stefanidi and American Sandi Morris.
In Rio, Stefanidi had won on countback but this time the victory was much more emphatic as she had 16 centimetres to spare over Morris, clearing a national record 4.91 metres to her rival's 4.75m.
It meant that Stefanidi, who has been winning championships since she took the world youth title 12 years ago and has been unbeaten in eight competitions this summer, added the world crown to her Olympic and European titles.
She wrapped up her latest victory with a first-time clearance at 4.82m, having brushed the bar faintly, as Morris, having failed once at that height, then gambled on pushing the bar up to 4.89m and failed twice.
Freed to enjoy herself, Stefanidi had the bar raised to 4.91m which she cleared, again brushing the bar, to add five centimetres to her national record and record the best leap in the world this year.
Then, she tried to break Yelena Isinbayeva's championship record but had three failures at 5.02m. Still, it did not stop her having fun, parading with the national flag as the strains of Zorba the Greek rang round the stadium.
Cuba's defending champion Yarisley Silva and Venezuela's Robeilys Peinado were both awarded bronze medals. The pair could not be separated on countback, having both cleared 4.65m. Peinado's vault equalled her national record.
New Zealand's Walsh follows in Adams footsteps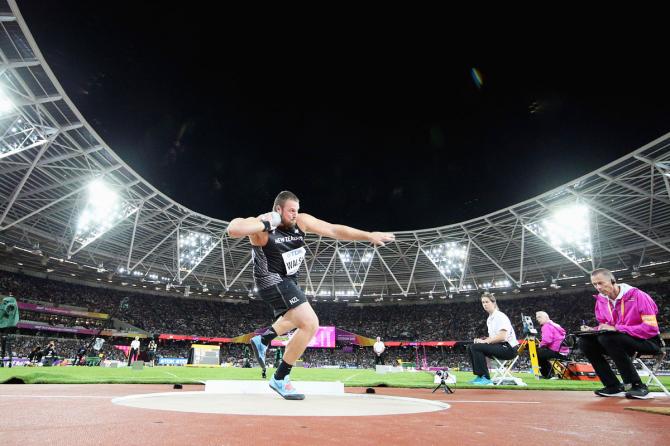 IMAGE: Tomas Walsh of New Zealand competes in the Men's Shot Put final on Sunday. Photograph: Patrick Smith/Getty Images
Having watched compatriot Valerie Adams dominate women's shot for a decade Tomas Walsh struck a blow for New Zealand's men on Sunday when he took gold in the world championships with a superb series of throws.
Adams has won four world titles and two Olympic golds but Walsh's medal was the first of any hue for a New Zealand man at the worlds, coming a year after he won Olympic bronze in Rio.
Walsh was already guaranteed gold on Sunday thanks to his third-round put of 21.75 metres but finished with a flourish by hurling the weight 22.03m on his final attempt.
All six efforts were well over 21 metres in a remarkable display of consistency.
He did have a scare, though, when American Joe Kovacs thought he had snatched victory to retain his title with his last attempt which was measured at 22.08 metres.
It was ruled as a foul, however, with Kovacs adjudged to have put his foot on the top of the throwing circle perimeter.
The US team appealed against the decision but it was overturned.
Kovacs took silver with his third attempt of 21.66m and bronze went to Stipe Zunic of Croatia with 21.46. It was the first senior medal for the 26-year-old, who celebrated by rolling on the infield of the London Stadium.