Check out the gold medallists on Day 11 of the 2016 Olympic Games in Rio de Janeiro on Tuesday:
China's Cao wins gold in 3 metre springboard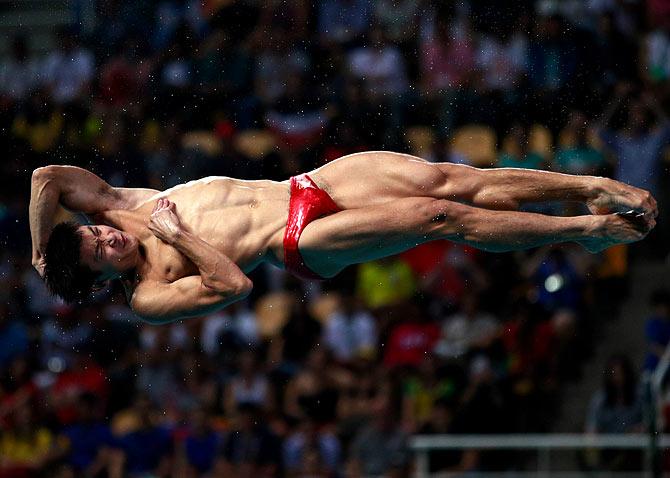 IMAGE: Yuan Cao of China competes in the men's Diving 3m Springboard. Photograph: Adam Pretty/Getty Images
Cao Yuan easily won the men's individual 3 metre springboard event on Tuesday and gave his dominant Chinese team its fifth diving gold medal of the Olympic Games.

The 21-year-old Cao topped his group in both the preliminaries and semi-finals and led the final 12 from his first to his sixth dive for a score of 547.60.

It is Cao's first individual Olympic title and the second gold of his career after his synchronised platform win in London 2012.

Britain's Jack Laugher, also 21, took the silver after winning the gold in synchronised 3 metre springboard here.

Germany's Patrick Hausding, who placed fourth in London, won the bronze and had the highest scoring dive of the finals at 98.80.

The water in the diving pool was back to a light, albeit slightly murky, blue on Tuesday after a treatment fixed the hydrogen peroxide dump that turned it green for most of the competition.
Russian 'mermaids' swim their way to gold again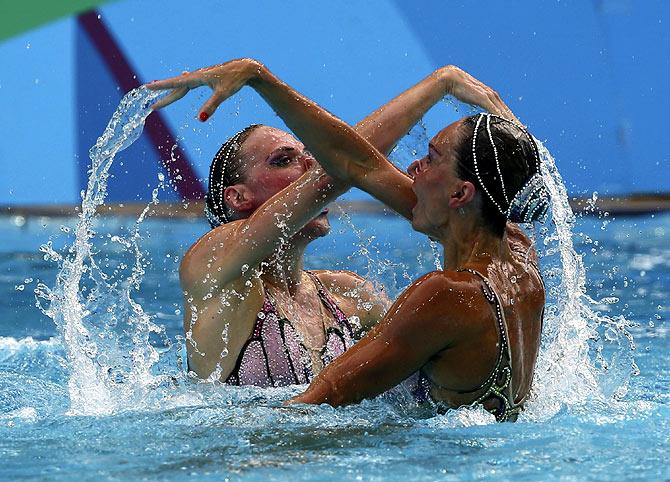 IMAGE: Natalia Ishchenko and Svetlana Romashina of Russia compete in the Synchronised Swimming Duets Free Routine final on Day 11 of the Rio 2016 Olympic Games. Photograph: Michael Dalder/Reuters
Russia's Natalia Ishchenko and Svetlana Romashina have dominated synchronised swimming with their creative routines for so long that people joke they are mermaids and ask whether they have gills.

In Tuesday's free routine duet final at the Rio 2016 Olympics, they at least pretended to.

Wearing scale-inspired swimsuits and batting their legs out of the water, feet sticking out to look like tails, they collected gold - as expected - and came even closer to sealing their status as sirens.

"Sometimes everyone calls us mermaids and asks us if we have gills, so we are really comfortable in this performance," said Romashina after their routine, as she took bobby pins out of her heavily gelled-back hair.

The Russians earned a final score of 194.9910, while China's pair pocketed silver with 192.3688 and Japan took bronze with 188.0547.

Russians, bringing a tradition of ballet to the pool, have taken home the Olympic gold for duets since Sydney in 2000, earning a reputation for extreme precision and ever more original routines.

The mermaid choreography was so special for the Russian pair, which also won gold at London 2012, that they had the enticing music specially written for the Games.

Ishchenko and Romashina said they would take a "short break" to think about whether to continue in the discipline. But they declined to shed light on how they came to dominate it.

"It's our secret!" joked Romashina.

Briton Trott defends omnium to win fourth gold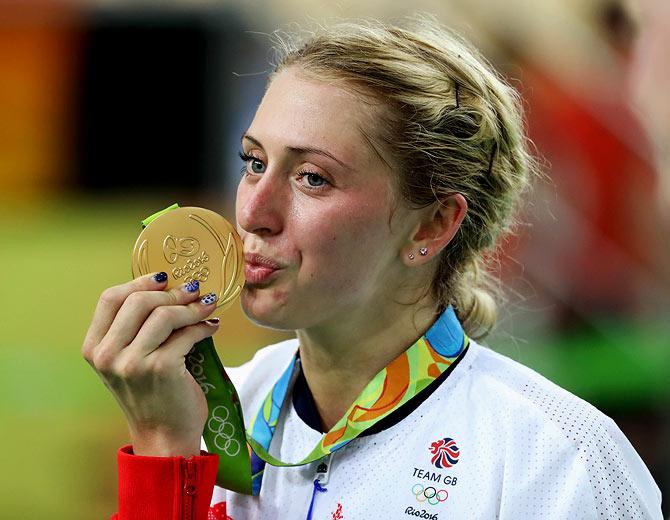 IMAGE: Gold medallist Laura Trott of Great Britain celebrates during the medal ceremony after the women's Omnium Points race on Day 11 of the Rio 2016 Olympic Games. Photograph: Rob Carr/Getty Images
Britain's Laura Trott won her fourth Olympic gold medal with a masterful ride in the track cycling omnium on Tuesday, leaving her rivals fighting for podium places as she defended her title with ease.

Trott, the first British woman to claim three Olympic golds when leading the team pursuit home last week, held a commanding lead going into the points race, the sixth discipline of the event, and turned it into a procession.

As the 24-year-old ticked off the 100 laps without incident, picking up early sprint points for insurance, the real battle was for silver between American Sarah Hammer and Belgium's Jolien D'Hoore.

Hammer finished runner-up, as she did in London four years ago while D'Hoore had to settle for bronze.

Vogel wins individual sprint gold for Germany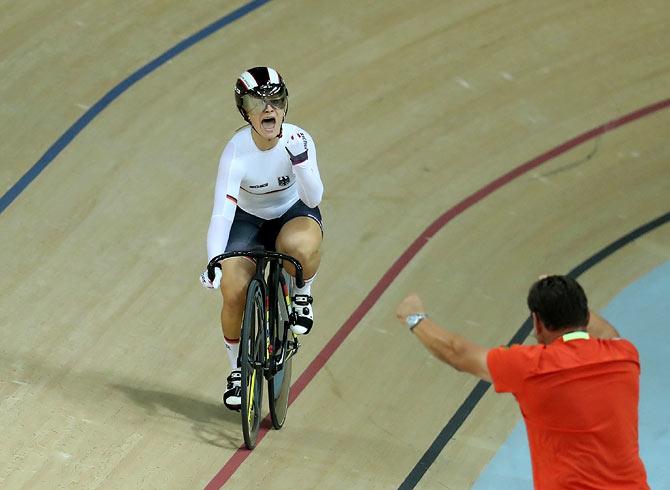 IMAGE: Kristina Vogel of Germany celebrates after winning gold during the women's Sprint Finals on Day 11 of the Rio 2016 Olympic Games. Photograph: Rob Carr/Getty Images
Germany's Kristina Vogel won the individual sprint gold medal at the Olympic velodrome on Tuesday after beating Rebecca James in both heats of the final.

Vogel, 25, made the first move in both sprints and narrowly pipped her rival at the line on both occasions.

The former world champion won the team sprint in London four years ago but had never claimed the individual title.

Vogel, who returned to the sport after a crash involving a minibus during a training session in 2009 left her in a coma, was overcome at the end, lying prone on the boards.

Britain's Katy Marchant took the bronze after edging out keirin champion Elis Ligtlee of the Netherlands.
Gymnastics: Hambuechen wins horizontal bar gold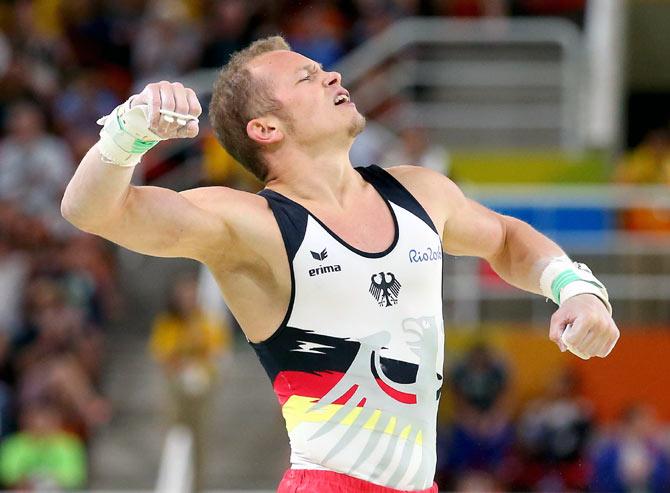 IMAGE: Fabian Hambuechen celebrates after competing on the Horizontal Bar Final on Day 11 of the Rio 2016 Olympic Games. Photograph: Alex Livesey/Getty Images
Germany's Fabian Hambuechen soared past his rivals with a heart-stopping routine on the horizontal bar to win the Olympic gold on Tuesday.

The 28-year-old finally claimed the top prize at his fourth Olympics, triumphing with a score of 15.766. American Danell Leyva picked up his second silver of the day after also finishing second on the parallel bars, while Britain's Nile Wilson took the bronze.

Epke Zonderland's hopes of back-to-back golds ended when he suffered a crash landing midway through his routine. He finished seventh out of eight finalists with 14.033.

Gymnastics: Biles wins record-equalling fourth gold with floor victory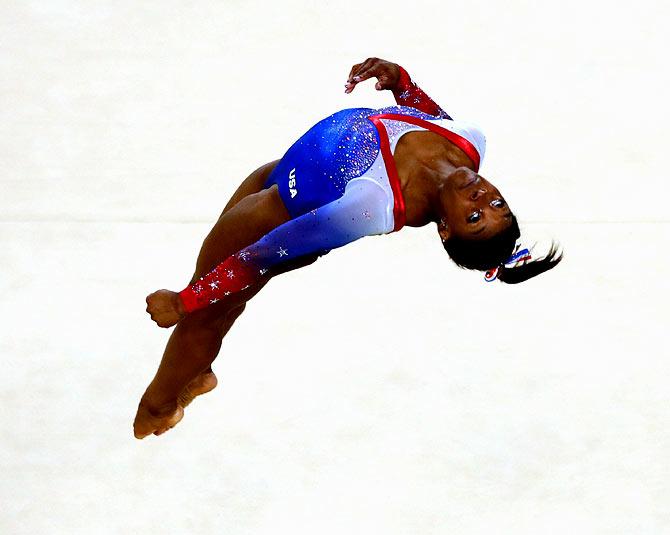 IMAGE: Simone Biles competes in the women's Floor final on Day 11 of the Rio 2016 Olympic Games. Photograph: Julian Finney/Getty Images
Simone Biles showed off her sassy moves and explosive tumbles on the floor exercise to win a record-equalling fourth gold at the Olympics on Tuesday.

A day after a wobbly performance on the beam ended the American's hopes of leaving Rio with a record haul of five golds for a female gymnast, she was back on form to capture the floor title with 15.966 points.

Aly Raisman completed a 1-2 for the United States by earning 15.500, while Briton Amy Tinkler's crowd-pleasing routine to Pretty Woman earned her bronze.

Biles becomes the first woman to win four gymnastics golds in one Olympics since 1984.

Sailing: Australia's Burton takes Laser gold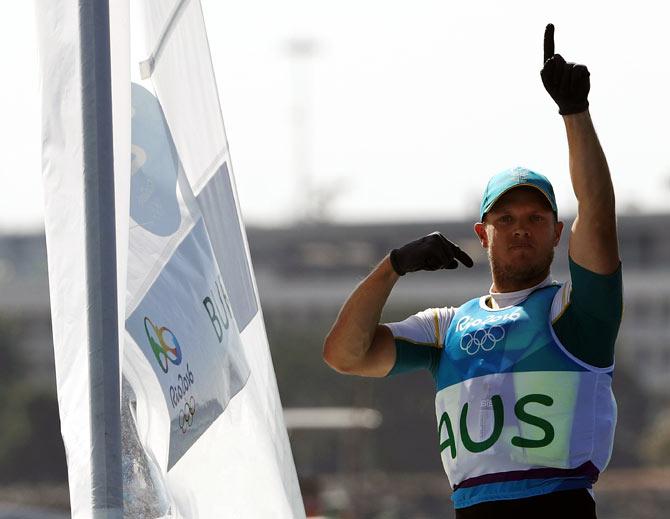 IMAGE: Tom Burton celebrates winning the gold medal in the men's Laser class on Day 11 of the Rio 2016 Olympic Games. Photograph: Clive Mason/Getty Images
Australia's Tom Burton used a tense pre-start battle on Tuesday to snatch the gold medal from Croatia's Tonci Stipanovic who had led the Olympic Laser regatta for 10 straight tests before the final medal race.

Stipanovic, forced by Burton into an illegal bump with the Australian boat, had to take a penalty turn and finished ninth, ending up with silver rather than gold. Both Burton and Stipanovic had ensured themselves one of the top two podium spots on points before the medal race.

Bronze was won by New Zealand's Sam Meech, who managed a third in the medal race, just enough to kill off Brazilian Robert Scheidt's hopes of a record sixth sailing medal in six Olympic games.

Scheidt, 43 and Brazil's greatest Olympian, sailed one of the best races of his life to win the medal race but the nine-times Laser world champion's performance was not enough to slip past Meech in the overall points total.

As a result, Scheidt, one of only three sailors to win five Olympic sailing medals, missed his first podium in a 20-year Olympic career that began in 1996 in Atlanta.

Sailing: Britain's Scott wins Finn gold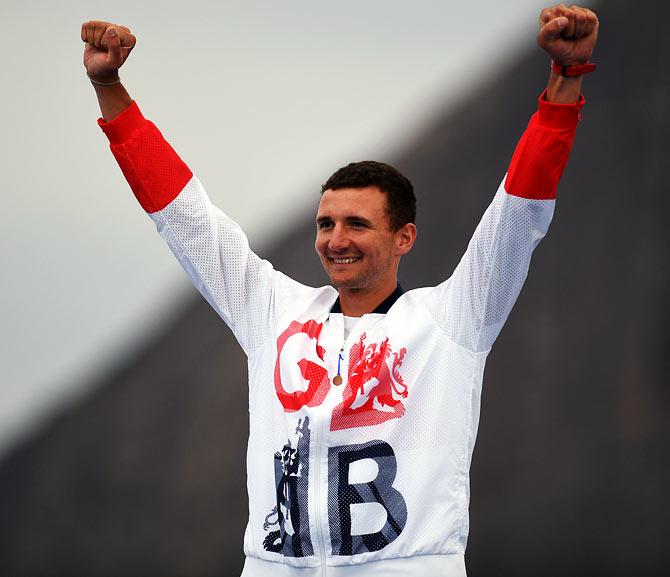 IMAGE: Giles Scott of Great Britain celebrates winning the gold medal in the Finn class on Day 11 of the Rio 2016 Olympic Games. Photograph: Laurence Griffiths/Getty Images
Britain's Giles Scott, who has carried the bulk of his country's medal hopes since the legendary Ben Ainslie retired from Olympic sailing, secured the Finn gold in the medal race on Tuesday that he was already assured on points.

In a tough battle for the other podium spots in near-perfect wind conditions, Slovenia's Vasilij Zbogar was able to use a medal-race eighth to ensure silver.

Caleb Paine of the United States pulled off one of his best races of this Olympic regatta to come in second, allowing him to jump from fourth overall and onto the podium with bronze.

Paine's medal is the first for a U.S. team that has so far had a weak showing at the Rio Olympics. Several of its top hopes have put in less than consistent performances in the difficult and tricky winds and currents of Guanabara Bay, and the high waves and heavy blows of Rio's open-ocean courses.

Sailing: Argentina's Lange and Saroli win Nacra catamaran gold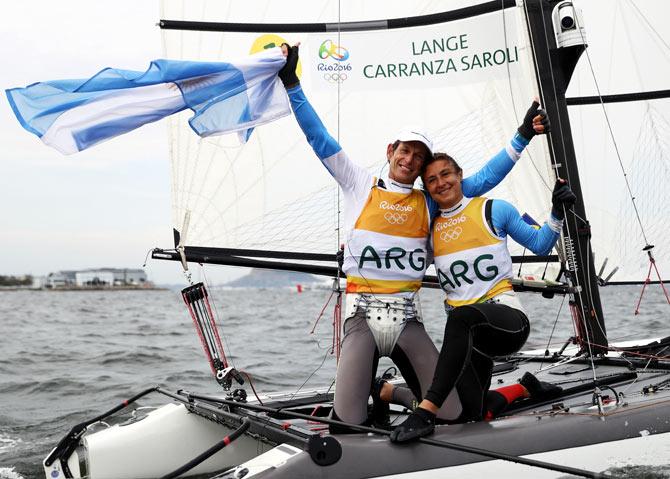 IMAGE: Santiago Lange and Cecilia Carranza Saroli celebrate winning the gold medal in the Nacra 17 Mixed class on Day 11 of the Rio 2016 Olympic Games. Photograph: Clive Mason/Getty Images
Argentine helmsman Santiago Lange and crew Cecilia Carranza Saroli won gold in the Nacra 17 mixed-sex catamaran class at the Rio Games on Tuesday after a fast medal race that saw wind pick up smartly on Guanabara Bay's Pao de Acucar course.

Jason Waterhouse and Lisa Darmanin of Australia, came within a single point of gold but their second-place finish was not enough to close the overall point gap built up with Lange and Carranza Saroli in the 12 preliminary races before the medal round.

Their silver also came as a result of a tie break with Thomas Zajac and Tanja Frank of Austria, who finished the regatta with the same amount of points as Australia, 78, but took bronze instead because they finished third in the medal race, one spot behind Waterhouse and Darmanin.

Sailors receive points equal to their finish position in each preliminary race. In the medal race those points are doubled. The crew with the lowest score wins.

The results were the tightest of the Rio 2016 Olympic regatta. A day of steady and firm to strengthening winds allowed organizers to complete four medal races, two of them - the men's Laser and women's Laser Radial classes - having been postponed on Monday.

The other race was in the men's Finn class heavy single-person dinghy.

Organizers had originally expected to move the Nacra 17 medal race to Wednesday.


Ukraine's Verniaiev wins parallel bars gold at Rio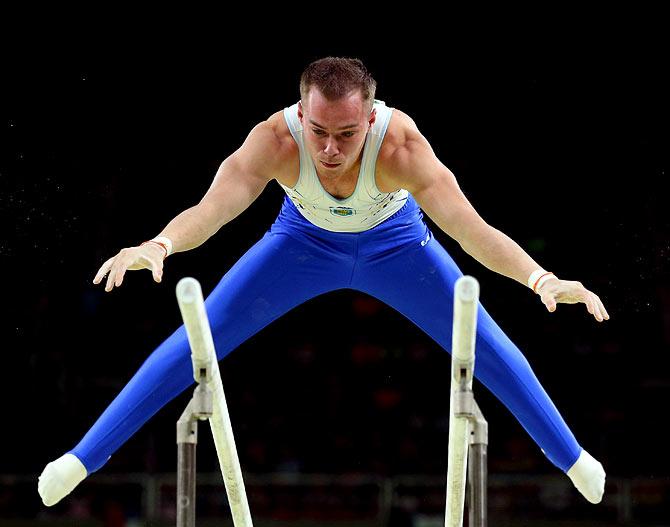 IMAGE: Oleg Verniaiev competes in the Parallel Bars final on Day 11 of the Rio 2016 Olympic Games. Photograph: Alex Livesey/Getty Images
Ukrainian Oleg Verniaiev made up for his near miss in the all around competition by winning the parallel bars gold at the Olympics on Tuesday.

Verniaiev, who came agonisingly close to ending the all around reign of Japan's Kohei Uchimura before missing out on gold by 0.099 of a point, finally got his hands on the top prize by winning the bars with a total of 16.041.

He beat American silver medallist Danell Leyva by 0.141 of a point. Russia's David Belyavskiy had to settle for bronze.

The Chinese men's gymnastics team will leave Rio without a gold medal after world champion You Hao and Deng Shudi finished out of the medals.

German titan Brendel retains title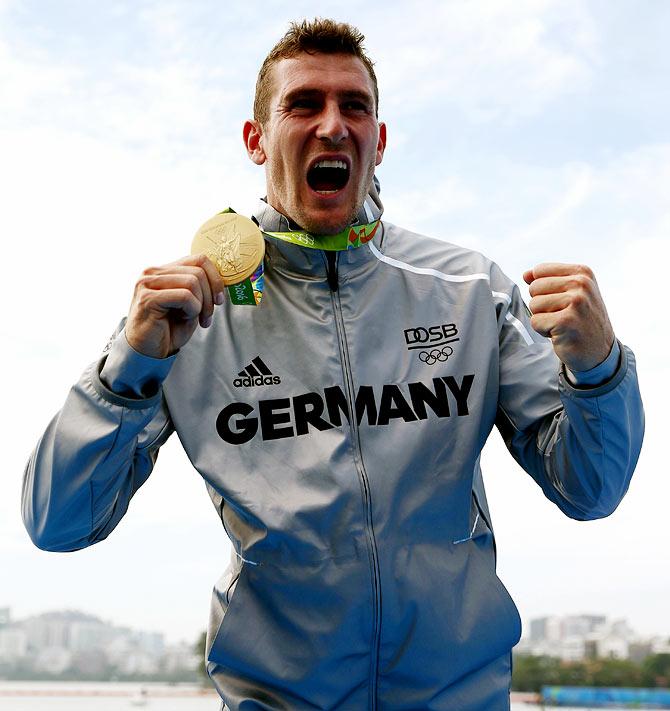 IMAGE: Sebastian Brendel of Germany celebrates on the podium after winning gold in the men's Canoe Single 1000m Final A on Day 11. Photograph: Buda Mendes/Getty Images
Germany's Sebastian Brendel fought off a tough challenge from Brazil's Isaquias Queiroz dos Santos to retain his canoe single 1000-metre Olympic title and underline his position among the world's greatest paddlers.

Brendel, 28, took gold in 3:56.926, finishing a little over a second-and-a-half ahead of 22-year-old Queiroz dos Santos, who claimed Brazil's first Olympic medal in the sport, and Moldova's Serghei Tarnovschi.

Brendel said he was proud of his performance, pointing out that his long career means he "copes quite well" with the pressure of high-level competition.

"From the beginning to the end, it was my best race ever," said Brendel. "The Brazilian was very tough today, it was intense between me and him."

Brendel and Queiroz dos Santos were locked in a two-way battle for gold in the last 250 metres, as a home-country crowd cheered wildly, chanting "Brazil! Brazil! Brazil!"

But the cheers couldn't stop Brendel, who took a commanding lead in the final metres to win the 17th of his last 19 major races.

American Taylor leaps to second Olympic gold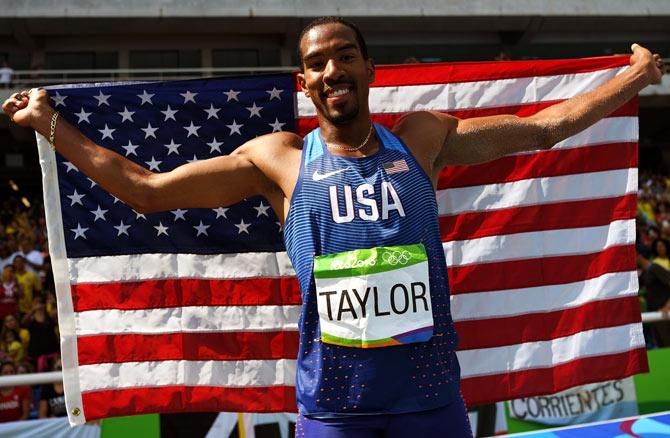 IMAGE: Christian Taylor poses after winning the gold medal in the men's Triple Jump Final on Day 11 of the Rio 2016 Olympic Games. Photograph: Shaun Botterill/Getty Images
Christian Taylor of the United States retained his Olympic men's triple jump title on Tuesday by jumping further than anyone else has recorded this season.

Taylor, the defending Olympic and world champion, made his mark of 17.86 metres at the first attempt, staking a claim for the podium top spot his rivals were unable to match.

His American team mate Will Claye leapt 17.76 metres to take silver. China's Dong Bin went home with bronze after jumping 17.58 metres on his first attempt and failing to make a mark for the rest of the competition.

Dutchman Weertman wins marathon in photo finish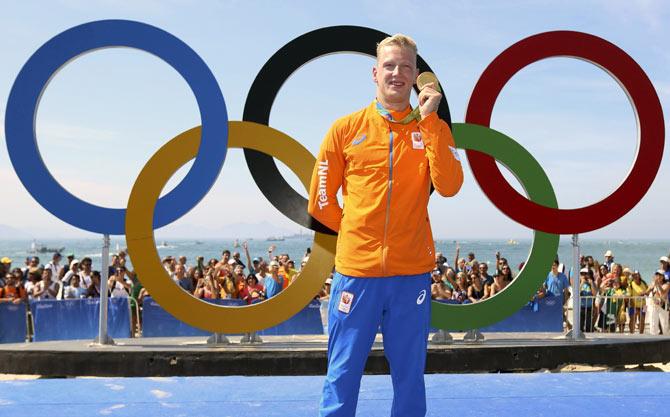 IMAGE: Ferry Weertman of the Netherlands poses with his gold medal. Photograph: Kevin Lamarque/Reuters
Ferry Weertman of the Netherlands won the men's marathon swimming event in a photo finish off Rio's Copacabana Beach on Tuesday.

After covering a distance of 10 km, the 24-year-old Weertman touched the electronic pads at the finish line just before Spiros Gianniotis of Greece, giving the Dutchman his first gold medal in his first Olympics.

The official results showed the first two swimmers with the same time.

Marc-Antoine Olivier of France won the bronze medal.

Tuesday's race is the first of three editions to take place in the ocean. The water temperature was a comfortable 21 C under sunny skies.

Croatia's Perkovic bags gold in women's discus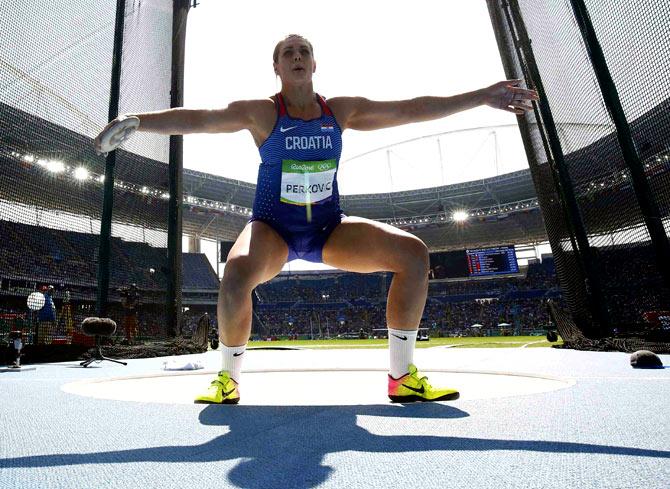 IMAGE: Sandra Perkovic competes in the women's Discus Throw final. Photograph: Kai Pfaffenbach/Reuters
Croatia's Sandra Perkovic overcame nerves and early fouls to successfully defend her Olympic discus title on Tuesday, winning with a best throw of a 69.21 metres.

The 26-year-old hot favourite fumbled her first two throws and was one foul away from early elimination in the final before hurling the medal-winning throw with her third effort.

Perkovic, who has dominated women's discuss since winning gold in the London Games, recorded five foul throws from six attempts but still won by 2.48 metres.

France's Melina Robert-Michon set a national record of 66.73 metres to take silver, while Cuba's reigning world champion Denia Caballero grabbed bronze.