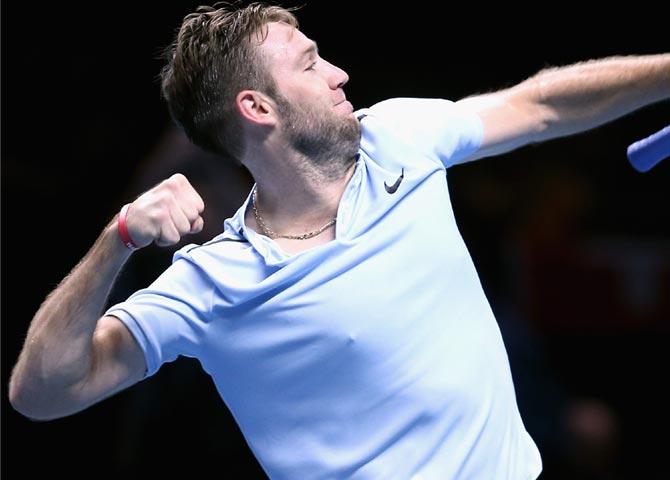 Roger Federer battled back to beat Marin Cilic earlier to post a perfect round-robin record at the event for a 10th time at the ATP Finals.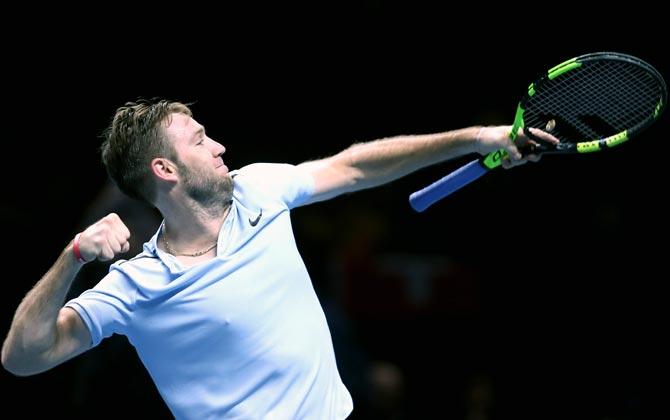 IMAGE: Jack Sock celebrates winning his match against Alexander Zverev. Photograph: Alex Pantling/Getty Images
Jack Sock became the first American to reach the last four of the ATP Finals in 10 years when he stunned world number three Alexander Zverev in a firecracker of a match on Thursday.

The world number nine, who barged through the back door to qualify for the London showpiece by winning the Paris Masters, triumphed 6-4, 1-6, 6-4 to prolong his London adventure.

Roger Federer had already won the Boris Becker group, having battled back to beat Marin Cilic earlier to post a perfect round-robin record at the event for a 10th time.
Six-times champion Federer won 6-7(5), 6-4, 6-1 leaving the stage set for Zverev and Sock to slug it out for the runners-up spot and a semi-final against Bulgarian Grigor Dimitrov.

Talk of a possible Federer-Zverev re-match in Sunday's final, after their high-quality duel on Tuesday, was doing the rounds but Sock, nicknamed 'Showtime', was not listening.

The 25-year-old from Kansas looked to have blown himself out when a 4-1 lead evaporated in the decider, but the 20-year-old Zverev admitted later he "choked" when serving at 4-5, double-faulting and then bunting a forehand wide to hand Sock victory.

"That was a rollercoaster of a match for sure, that's been the theme of my last few weeks, hang in there and keep fighting," Sock, who seemed to be imploding when he received a penalty point at the start of the third set, said on court.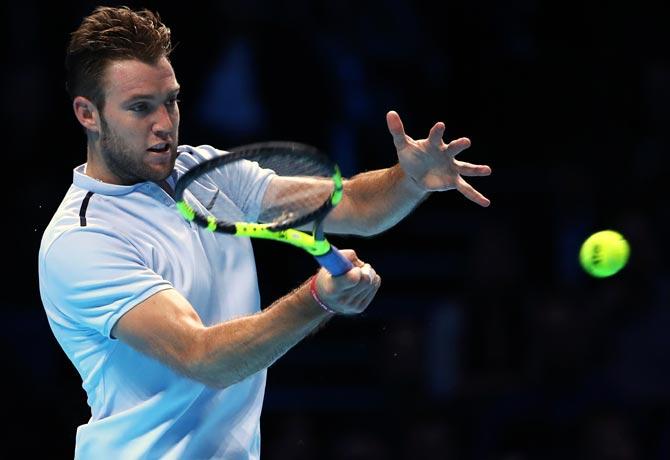 IMAGE: Jack Sock hits a forehand. Photograph: Clive Brunskill/Getty Images

Andy Roddick was the last American to reach the semis.

Sock mixes eye-watering power with a deft touch and it was that combination that disrupted Zverev's smooth power.

The American broke for a 4-3 lead in the first set but then almost gifted it straight back, recovering from 0-40 with five unanswered points to lead 5-3.

Two games later a nonchalant drop shot, one of the favourite tricks in his locker, gave him first blood.

Zverev took the second set in the blink of an eye, although Sock carried on entertaining the crowd, as he has done all week, and at one point attempted a lob played through his legs rather than dispatching a routine forehand.

When Sock dropped serve at the start of the third set after some incredible defence by Zverev, he launched a ball high into the upper tiers of the 02 arena.

The penalty point he incurred meant Zverev started the next game 15-0 ahead but the German lost focus and was broken.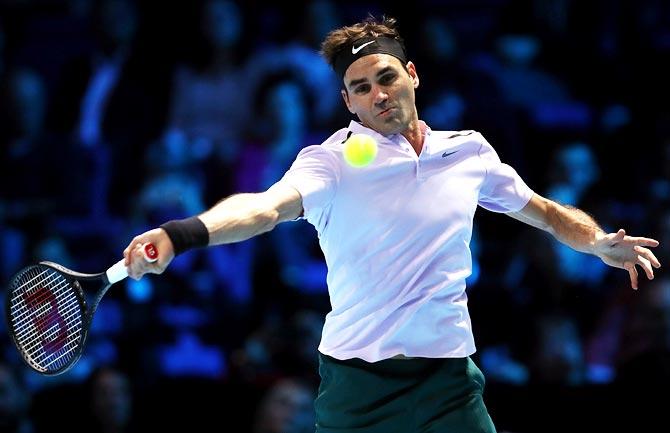 IMAGE: Roger Federer in action. Photograph: Julian Finney/Getty Images

Zverev double-faulted to gift Sock another break for a 3-1 lead and was staring defeat in the face at 4-1 down.

He battled back but it proved in vain as a season which earned him five titles came to a sudden halt.

"I choked. It's quite easy," said Zverev. "When I got back at 4-5 that's one of the worst games I think I played all year."

Federer had already booked a semi-final spot with his win over Zverev on Tuesday but there was no chance of him letting up on Cilic, who now has a 1-8 record in three visits to the 02.

World number five Cilic put up much more resistance than he did when blisters left him in tears against Federer in the Wimbledon final but it still was not enough.

Federer was in danger at 4-4, 30-30 in the second set, having lost the opening tiebreak, but turned on the style to win his 55th career match at the tournament.

The Swiss has reached the last four in 14 out of 15 appearances in the year-end tournament and will face David Goffin or Dominic Thiem for a place in the final.