The Hero Indian Super League Player Auction in Mumbai created a stir. Blame it on the Bollywood stars' presence in the cash-rich soccer league.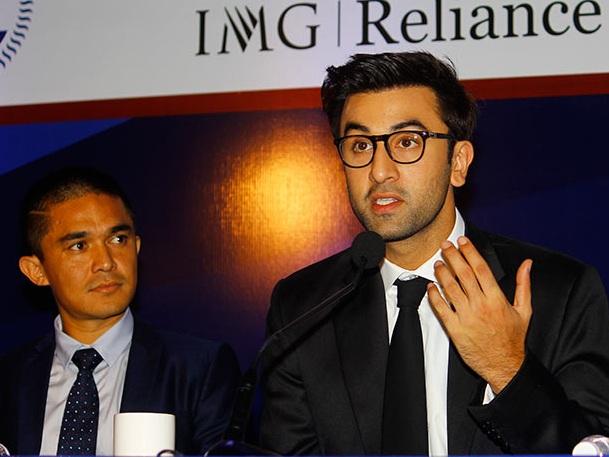 Mumbai City FC co-owner Ranbir Kapoor (right) with striker Sunil Chhetri. Photograph: Hitesh Harisinghani/Rediff.com
Sunil Chhetri could not trigger a bidding war among franchises in the first ever Hero Indian Super League Player Auction in Mumbai, on Friday, but the star player said he was not disappointed with the Rs 1.20 crore price tag he fetched from Mumbai City FC, as 'money was not his priority'.
ISL auction: Chhetri, Lyngdoh fetch a crore!
The 30-year-old Chhetri was bought by the Mumbai franchise, owned by Bollywood heartthrob Ranbir Kapoor.
Ranbir admitted that he never thought that his team would buy a player of the stature of Chhetri at such a low price.
"We have not in our dreams thought that we would get Chhetri at this price. He is such a great player, one of the best the country has ever produced. The level of a player he is, the leadership he has given to the clubs he has played and for the national team, I am shocked and surprised to buy him at Rs 1.20 crore," said Ranbir.
"It will be a dream combination of Chhetri and Anelka and I am really excited about that. I think we can a have a quality team this year, a team which the people of the city can be proud of. I was very disappointed at the performance of my team last year but I am looking for a turnaround this time," added Ranbir, whose team finished seventh last season.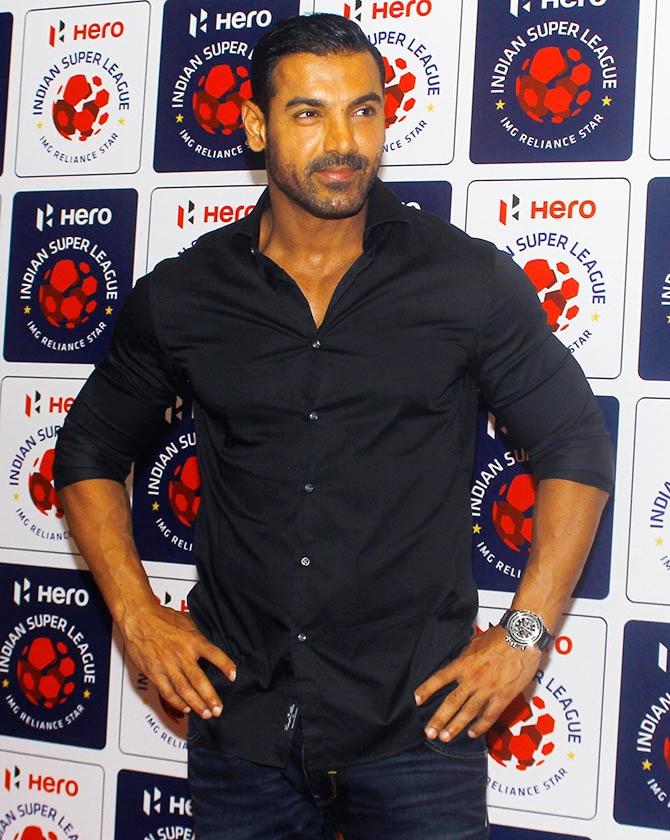 NorthEast United FC owner John Abraham. Photograph: Hitesh Harisinghani/Rediff.com
Another Bollywood star present at the auction was NorthEast United FC owner John Abraham.
He said he had come well-prepared to get midfielder Seityasen Singh, who was eventually bought for Rs 56 lakh.
"We would have gone to any extent to get Seityasen. We have come pre-determined to get him and it is a relief that we got him."
"We have identified the areas which we need to improve upon. Midfield is one area which is pivotal and which needs to be improved for a better performance. That is why we went for Seityasen," he added.
Asked why he did not go for another player from the the Northeast (four players out of the 10 at the auction were from the Northeast), Abraham replied, "The love for football in the Northeast and support from the people of the region to our team has been fantastic and we would have loved to have all the Northeast players in our team.
"But we could not have done bidding in an irrational manner. There is a cap on the amount that can be spent on bidding. We are not disappointed that we could not get more players from the Northeast, but we are happy that we could get Seityasen, who was our target," the Bollywood star said.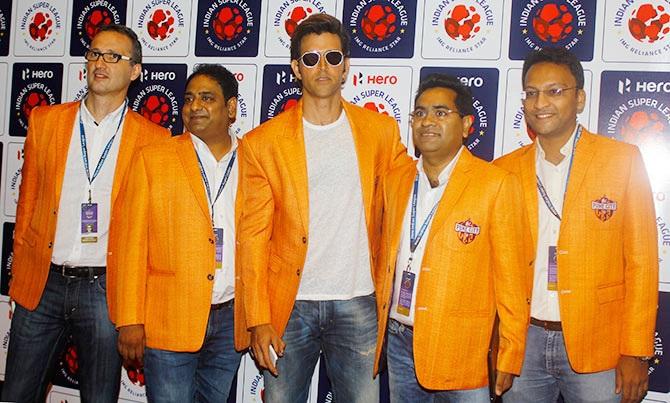 Pune City FC's Hrithik Roshan, centre, with his franchise co-owners. Photograph: Hitesh Harisinghani/Rediff.com
Central midfielder Eugeneson Lyngdoh led the bidding war.
Six teams wanted the I-League's top performer Lyngdoh, whose base price of Rs 27.50 lakh appeared to be far less than what he would fetch at the auction and it became true as he was bought for Rs 1.05 crore by Pune City FC, at more than three times his base price.
Winger Jackichand Singh was also purchased by Pune City FC, the clinching bid of Rs 45 lakh more than twice his base price of Rs 20 lakh.
Pune City team owner Hrithik Roshan said he was never happier to spend money for something than he did while buying Lyngdoh and later I-League Player of the Year Jackichand Singh.
"We got the players we want by having Lyngdoh and Jackichand. I have been in an auction for the first time and I was nervous initially. I know what to do acting in front of a camera but not in an auction. My heart was beating fast. But I think I have never been happier in spending money for something than I did today," said Hrithik.
"We would have gone to any extent to get these two players and we got them. The players get what they deserved. These two players are currently best in the country in their positions," he added.