NFL players, owners defy Trump on anthem protests as feud ramps up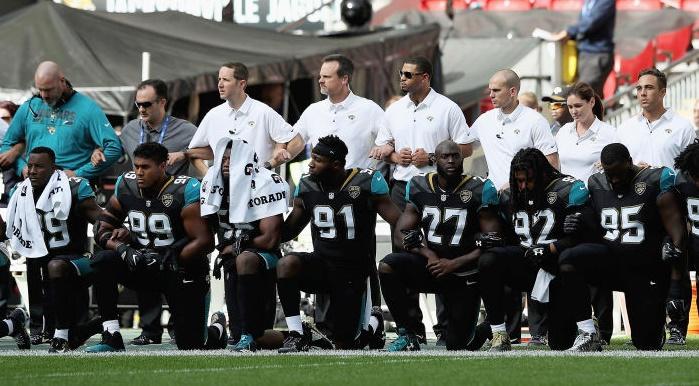 IMAGE: Jacksonville Jaguar players show their protest during the National Anthem during the NFL International Series match between Baltimore Ravens and Jacksonville Jaguars at Wembley Stadium in London, England. Photograph: Matthew Lewis/Getty Images
National Football League players sat out, knelt and linked arms during pre-game national anthems played across the country and in London on Sunday, hours after U.S. President Donald Trump called on fans to boycott teams that do not discipline players who protest.
In the first few games since Trump stepped up his criticism of NFL players, dozens of players and coaches of teams including the Baltimore Ravens, Jacksonville Jaguars, Philadelphia Eagles and Miami Dolphins did not stand for the anthem and took a knee, a gesture that began last year as a protest over police treatment of African-Americans and other minorities.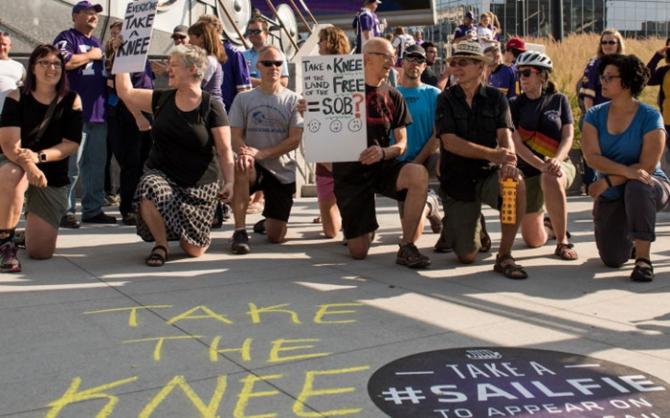 IMAGE: Protestors kneel outside US Bank Stadium before the Minnesota Vikings game in Minneapolis, Minnesota. The protest, in support of Colin Kaepernick, comes days after disparaging statements made by President Donald Trump about players taking a knee during the National Anthem. Photograph: Stephen Maturen/Getty Images
The Pittsburgh Steelers waited off the field during the national anthem before their game against the Chicago Bears in Chicago on Sunday afternoon to avoid "playing politics" in divisive times, coach Mike Tomlin said.
And in Philadelphia, city police officers joined with Eagles players and team owner Jeffrey Lurie to link arms during the anthem in a sign of solidarity.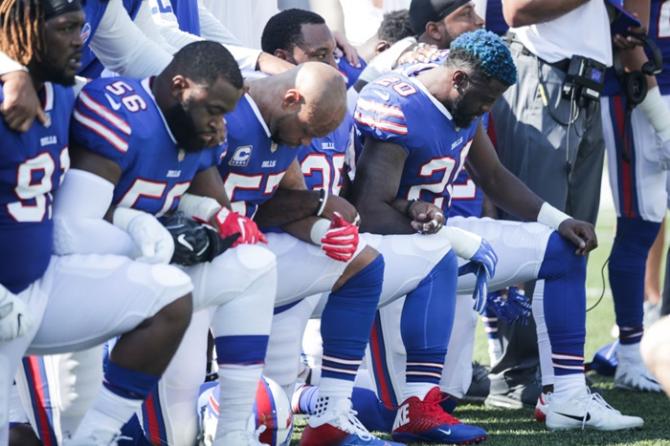 IMAGE: Buffalo Bills players kneel during the American National anthem. Photograph: Brett Carlsen/Getty Images
The defiant moves came in response to a series of comments made by Trump over the weekend criticizing players who refuse to stand for the national anthem.
"If NFL fans refuse to go to games until players stop disrespecting our Flag & Country, you will see change take place fast," Trump wrote on Sunday morning on Twitter. "Fire or suspend!"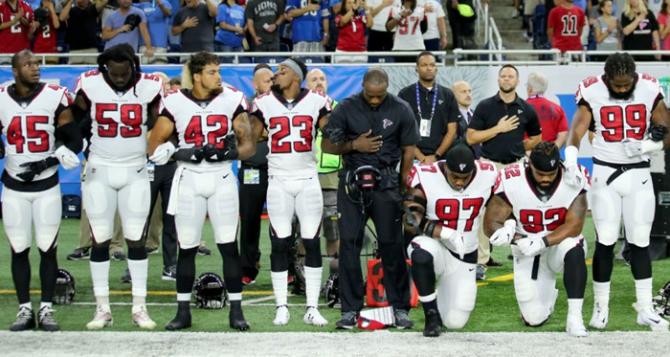 IMAGE: Members of the Atlanta Falcons football team Grady Jarrett and Dontari Poe take a knee during the playing of the national anthem prior to the start of the game against the Detroit Lions at Ford Field, in Detroit, Michigan. Photograph: Leon Halip/Getty Images
In a second tweet, Trump, who is spending the weekend at his golf club in Bedminster, New Jersey, said that the "league should back" fans who are upset about the protests.
The form of protest began in 2016 when then San Francisco 49ers quarterback Colin Kaepernick put one knee to the ground during pre-game renditions of the "Star Spangled Banner." Several players have since made similar gestures of protest before games.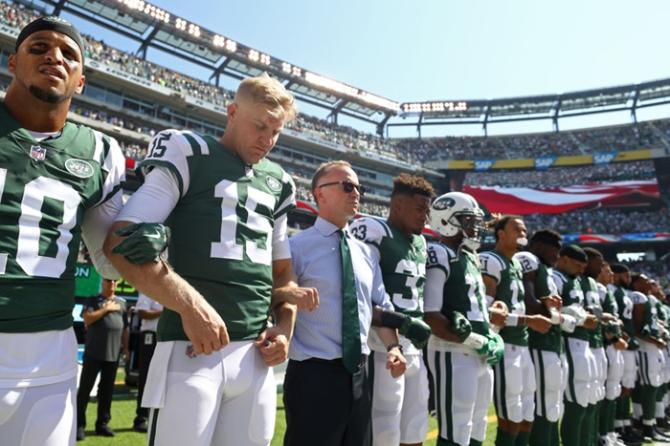 IMAGE: Josh McCown #15 and Christopher Johnson CEO of the New York Jets stand in unison with his team during the National Anthem prior to an NFL game against the Miami Dolphins at MetLife Stadium, in East Rutherford, New Jersey. Photograph: Al Bello/Getty Images
Kaepernick initially started his protests last year by sitting during the anthem but when critics said it was a sign of disrespect, he instead took to kneeling.
At a political rally in Alabama on Friday, Trump suggested any protesting football player was a "son of a bitch" and should lose his job.
On Sunday morning, NFL managers, coaches and owners began to weigh in on the escalating feud, criticizing the president for calling out players' political dissent.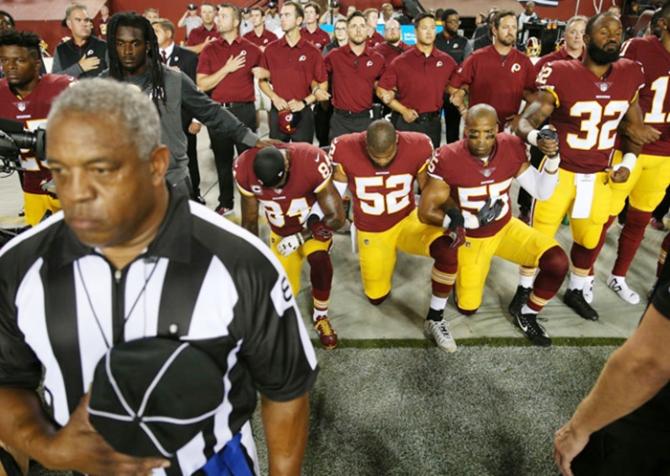 IMAGE: Washington Redskins players during the national anthem before the game against the Oakland Raiders at FedExField, in Landover, Maryland. Photograph: Patrick Smith/Getty Images
New England Patriots Chairman and CEO Robert Kraft, who has dined with Trump and who the president considers a friend, criticized Trump and defended players' right to protest.
"I am deeply disappointed by the tone of the comments made by the president on Friday," Kraft said on a statement posted on Twitter. Kraft said he supports his players' "right to peacefully affect social change and raise awareness in a manner they feel is most impactful."
Jaguars owner Shad Khan linked arms with team players in solidarity at the game against the Ravens in London's Wembley Stadium. Khan donated $1 million to the Trump inauguration fund.
And Robert McNair, chairman of the Houston Texans team, said that Trump's comments were "divisive and counterproductive to what our country needs right now." McNair also donated $1 million to Trump.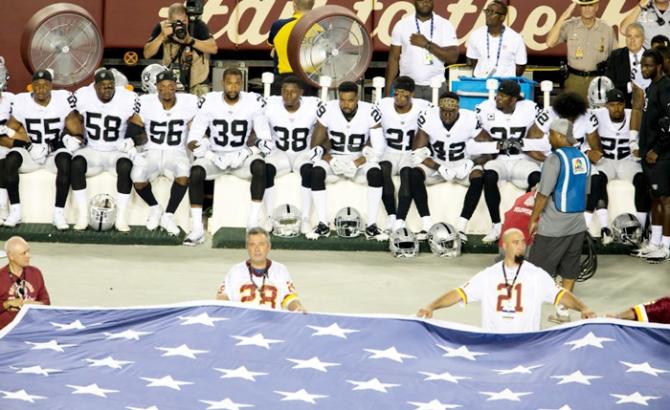 IMAGE: Oakland Raiders players sit during the national anthem. Photograph: Tasos Katopodis/Getty Images
NFL Commissioner Roger Goodell said Trump's comments in Alabama revealed an "unfortunate lack of respect" for the NFL and its players.
As commissioner, Goodell reports to NFL owners, some of whom have supported Trump. New York Jets owner Woody Johnson, a major Trump presidential campaign donor, was confirmed by the Senate last month as Trump's pick to serve as U.S. ambassador to Britain.
The union representing professional football players also rejected Trump's comments, saying it would defend their right to freedom of expression.
In Chicago, Trump's feud was the main topic of conversation at the South Loop Club sports bar.
"This is a first amendment issue and the president is supposed to uphold that right," said Sam Cunningham, 55, who was watching the game with his wife. "He should know better than anyone that to fire someone because of their opinion is not right."
National Basketball Association players also struck back against comments by the president on Saturday after Trump clashed with one of the biggest stars in the NBA, Stephen Curry. Then on Saturday evening, Oakland As rookie Bruce Maxwell became the first Major League Baseball player to kneel for the national anthem in protest.
In a Twitter message on Saturday, the president rescinded a White House invitation to Stephen Curry, who had said he would "vote" against the planned visit by the NBA champion Golden State Warriors.
Curry told a news conference in Oakland, California: "It's beneath the leader of a country to go that route."
Singer Stevie Wonder also appeared to evoke protests by Kaepernick and other athletes when he put one knee to the stage during a concert at the Global Citizen Festival in New York City on Saturday.