With a bilateral test series planned for March-April, the Pakistan Hockey Federation wants to enter into an agreement with Hockey India under which the party found to be defaulting will be liable to pay the other federation a compensation of $200,000 dollars.
Sources in the PHF have said that the federation has sent a draft copy of the agreement to Hockey India for the series.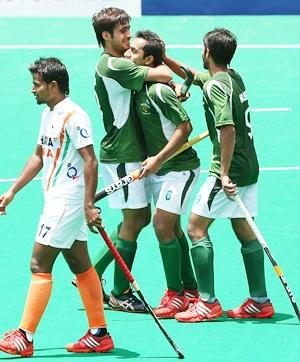 The PHF has proposed that the Indian hockey team first tour Pakistan, before they pay a return visit in April.
The PHF has, apparently, indicated that while it has confidence in Hockey India, the same does not apply for the Indian government.
"Basically, the PHF has said that while it has confidence in any agreement with Hockey India, which wants Pakistan to first play in India, it does not feel the same way about the government. It feels the Indian government could well come up with any reason for not permitting its team to go to Pakistan," a source said.
He said the PHF now wanted the International Hockey Federation to be a third party in the agreement between the two federations to ensure all clauses were met.
"The PHF has proposed a clause that in case any party fails to fulfil its commitment for any reason it will pay the other party a compensation of $ 200,000 (around two crore rupees)," the source said.
Hockey India secretary general, Narender Batra, visited Lahore last December and signed a Memorandum of Understanding with the PHF for the bilateral series, to be played on home and away basis in March-April.
The source said Batra had informed the PHF that it would like the series to be held on schedule despite the recent tensions between the two countries.
The PHF is desperate to play the bilateral series in March-April as it believes this could allow it to earn handsome revenues and boost its dwindling coffers.
Photograph: Paul Kane/Getty Images