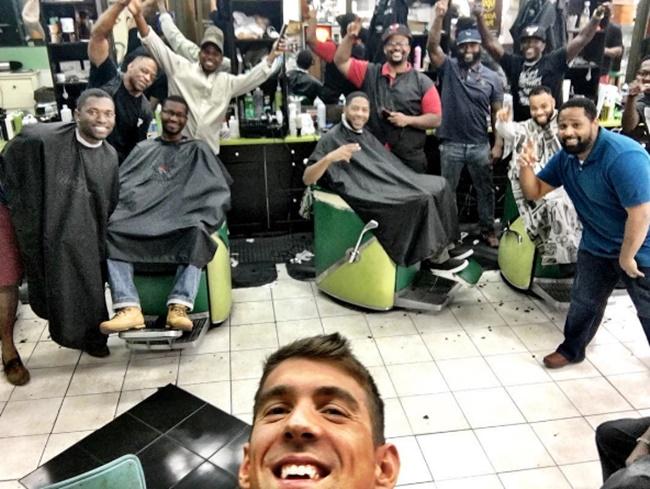 IMAGE: Michael Phelps takes a selfie at Atlanta barbershop. Photograph: Instagram.
Michael Phelps, poses with a crowd of smiling barbers and customers after getting a haircut on his way to the Olympics.
The shot has already gotten more than 60,000 likes since the record-setting swimmer posted it on Instagram on July 29.
Phelps' selfie has put the downtown Atlanta barbershop on the map and in the international spotlight.
The Baltimore native, in town for a training camp before heading to Rio de Janeiro, wandered into Vintage the Barber Shop after one of his coaches got his hair cut there a day earlier. Phelps walked in the following afternoon, unassuming, and went unrecognized until he took of his hat and glasses.
"Another barber recognized him first," said Raefus Cox, a barber at Vintage for about four years.
Phelps sat in Cox's chair, got his cut, and took several pictures before heading out. The caption on his Instagram post reads, "Thanks to the boys at #vintage barber shop for the nice trim before Rio!"
He also took a picture with his new barber.