Arsenal's Cech calls the shots in any language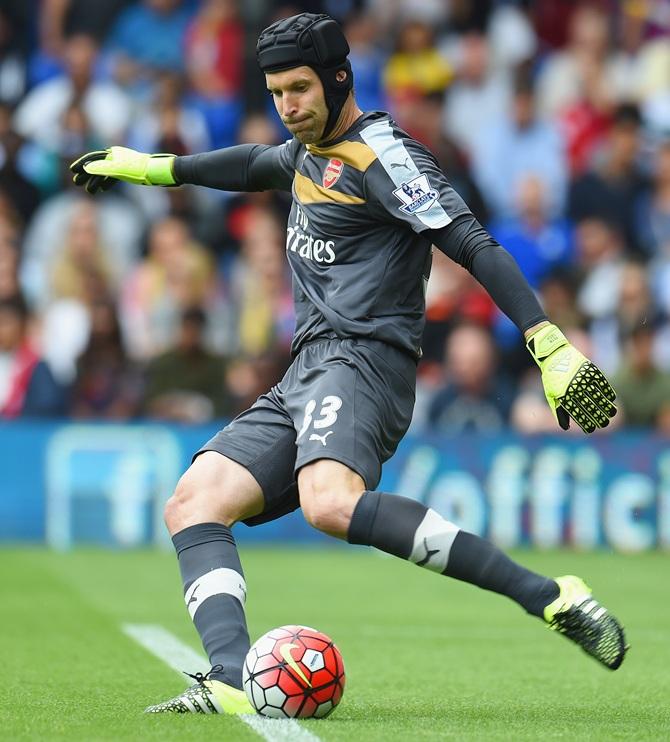 IMAGE: Petr Cech boosts Arsenal's defence. Photograph: Michael Regan/Getty Images
Arsenal goalkeeper Petr Cech has given an insight to the multinational shape of the modern Premier League by revealing he speaks to his defenders during matches in three languages.
Cech broke David James' record for Premier League clean sheets in Arsenal's win over Bournemouth this week and his calming influence has been a contributory factor to their impressive defensive displays this season.
Communication of course is key and Cech's ability to speak five languages -- his native Czech, English, French, Spanish and German -- has proved useful.
"I speak to the fullbacks (Nacho Monreal and Hector Bellerin) in Spanish, to Laurent Koscielny in French and to (German) Per Mertesacker in English, because for him it is the same as me," Cech told the Mirror.
"He organises people in English. Sometimes foreign players wouldn't know what you say.
"That's when you realise it's easier to say it in their language than hoping they will understand. It can happen."
Cech moved from Chelsea to Arsenal before this season after losing his starting berth to Thibaut Courtois and it looks a good decision with his former club struggling in the lower reaches and Arsenal top of the league as they seek their first title in 12 years.
"It was not an easy decision but I always wanted to go to a team which could win," said the 33-year-old.
"If I didn't believe that then I don't know why I would come.
"I play football, not to only enjoy it and I love the challenge of playing and competing with the best players, but I want to have the chance to win games."
Arsenal host Newcastle United on Saturday.