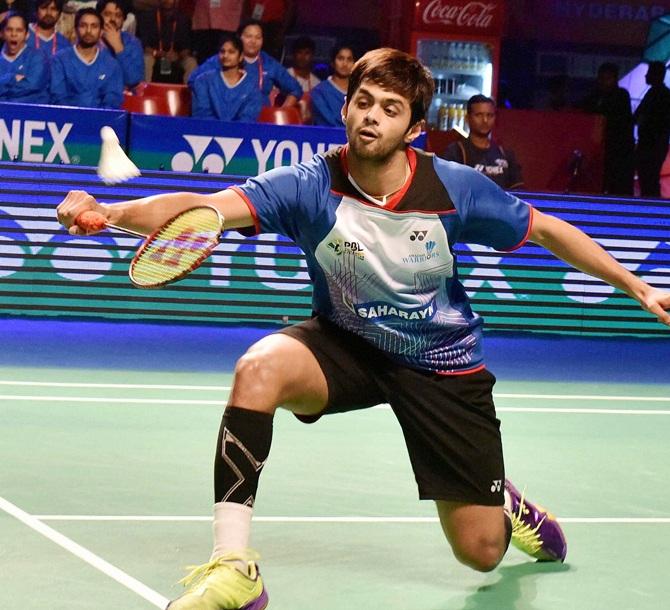 IMAGE: Awadhe Warriors's Sai Praneeth plays a shot against Hyderabad Hunters's P Kashyap during the men's singles match. Photograph: PTI
India's top shuttler Saina Nehwal was not part of the action but Awadhe Warriors still proved to be good enough for Hyderabad Hunters, as they eked out a 4-3 win in the Premier Badminton League (PBL) in Hyderabad on Saturday night.
Vrushali G gave a head start to Awadhe Warriors with a 2-0 victory over Supanida K in the women's singles, the first match of the day.
The 17-year-old Vrushali, an upcoming player from Andhra Pradesh and a product of Gopichand Badminton Academy, gave her experienced rival a run for her money and won the match 15-7, 15-11.
Awadhe consolidated their early lead by securing two points after a win in the Trump match of men's doubles against the Hyderabad team.
Bodin Issara and Cai Yun of Awadhe had an easy 15-10, 15-12 win over Carsten Mogensen and Markis Kido.
Hyderabad's star men's singles player and crowd favourite Parupalli Kashyap, too, went down fighting to his junior rival Sai Praneeth in the first of the two men's singles match.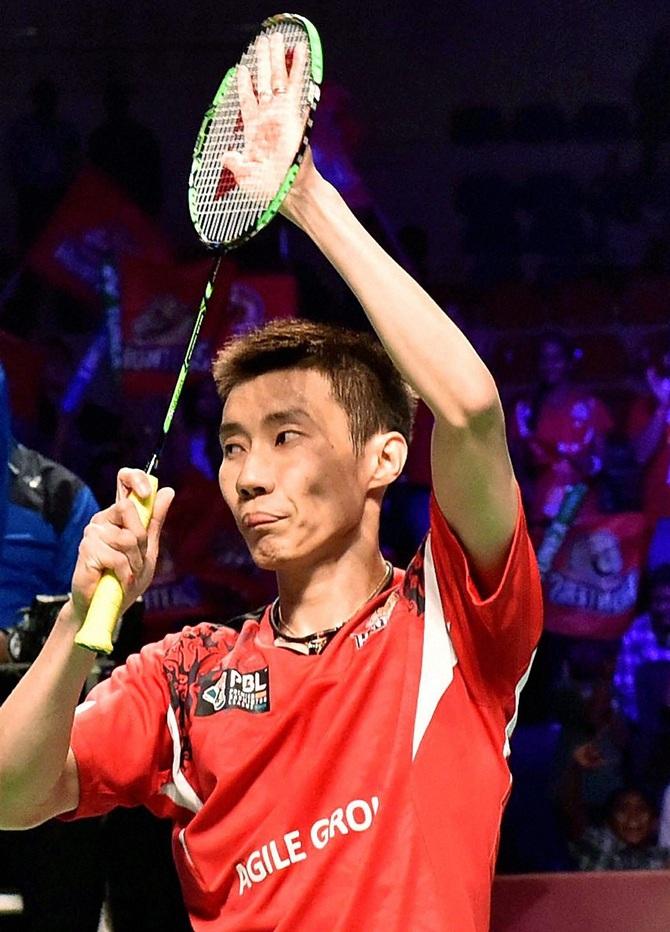 IMAGE: Hyderabad Hunters's Lee Chong wei. Photograph: PTI
Kashyap started off with a 15-6 win in the first game, but Praneeth proved to be a tough customer as he went on to pocket the next two games 15-8, 15-5.
The seasoned Kashyap, a Commonwealth Games medallist, struggled to come back into the game as the gritty Sai Praneeth put up a spirited show.
Former World No 1 and two-time Olympic silver medallist, Lee Chong Wei of Hyderabad, beat Tanongsak S of Awadhe 15-8, 15-9 in the second men's singles.
In the mixed doubles, the pair of Jwala Gutta and Markis Kido of Hyderabad defeated Bodin Issara and Christinna 12-15, 15-14, 15-9.