Parliamentary Standing Committee on Human Resource Development, headed by Satyanarayan Jatiya, has slammed the Sports Authority of India for not roping in sportspersons even 20 years after being told to restructure the "unwieldy and monolithic bureaucratic organisation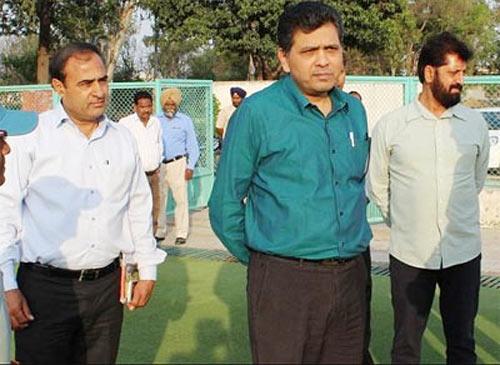 SAI DG Injeti Srinivas (centre, in green). Photograph: sportsauthorityofindia.nic.in
A Parliamentary Standing Committee has come down hard on the Sports Authority of India for continuing with its bureaucratic functioning by appointing people without a sports background at key positions.
In its 270th report, the Parliamentary Standing Committee on Human Resource Development expressed surprise at the fact that sportspersons were not being represented at any level in SAI's functioning even after another similar panel had asked for the restructuring of the "unwieldy and monolithic bureaucratic organisation" way back in 1995.
The Committee, headed by Satyanarayan Jatiya, also said that "a full time Chairman-cum-managing Director with good sports background should be appointed as the Director-General of SAI."
"...there has been no change in the situation till now. SAI continues to function in the same bureaucratic manner. Surprisingly, sportspersons were not being represented at any level in the functioning of SAI even today. Many of the sports institutes are headed or managed by persons not having any sports background. The Committee feels that the situation requires immediate corrective steps," the report, which was tabled in the parliament recently, read.
"Involvement of sportspersons in the functioning of SAI could go a long way in creating good infrastructure and sports facilities at every level as the sportspersons are familiar with the kind of facilities, infrastructure, coaching, diet, training and support service required for sportspersons," said the report of the Committee.
The Committee further noted that "each one of the nine regional centres of SAI -- at Bengaluru, Kolkata, Gandhinager, Bhopal, Sonepat, Chandigarh, Lucknow, Imphal and Guwahati -- should be headed by a regional director with full powers or two executive directors in Delhi could look after the administrative and coordinating works of the organisation as well as matters relating to the teams."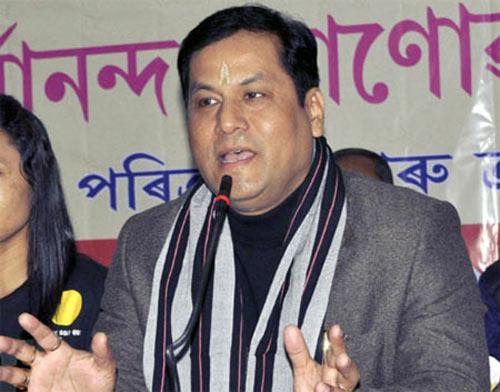 Sports Minister Sarbananda Sonowal. Photograph: PTI
The Parliamentary panel also riled the sports ministry for its "lack of commitment" in collecting and spending funds in the National Sports Development Fund which was established in 1998 to mobilise resources from the government and non-government sources, including private/corporate sector, for promotion of sports in the country.
"Since its inception, adequate funds could not be collected which indicates that the (sports) department did not make sincere efforts to approach the Corporate and the public sector for contribution to the Fund," it said, and mentioned that as of December 31, 2014 the NSDF has a corpus of Rs 113.14 crore.
"The NSDF corpus is still scarce, not many public and private organisations are coming forward to contribute to the Fund and there is a lot of overlapping in promotion of sports as respective organisations are following their own pattern so far as development of sports is concerned," said the report on 'Performance of NSDF and Recruitment and Promotion of Sportspersons'.
"...even the scarce resources available at NSDF, there is laxity on part of the department in spending the same which shows lack of commitment to promote sports in true earnest. The Committee recommends that the Department of Sports and SAI should take steps to evolve an effective mechanism for regular dialogue and coordination with sports boards and various organisations and federations so that duplication of efforts and wastage of scarce fund is avoided."
While deliberating on the subject of the Board of Control for Cricket in India giving pension to retired cricketers, the Committee said that "SAI should also devise a mechanism to provide pension to sportspersons from NSDF after they retire from active sports life and this would serve as a social security for sportspersons so that they would be able to lead their lives independently and with dignity."
It was also mentioned by the Committee that the BCCI gave maximum contribution to NSDF but the income tax exemption was denied to them for this.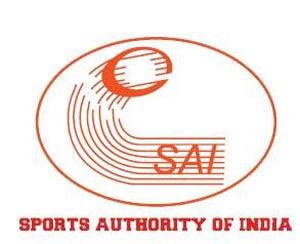 "Income tax authorities stated that BCCI was engaged in cricket, so their involvement in other sports is not justified. The Committee considers this the most bizarre justification to extract income tax. The Committee feels that Revenue Department has not understood the spirit of NSDF," it said.
The BCCI has contributed Rs 50 crore (Rs 15 crore in 2007-08 and Rs 35 crore in 2008-09) to the NSDF.
The Committee also said it was given to understand that foreign coaches engaged by various bodies/organisations were being paid higher remuneration vis-a-vis Indian coaches.
"This practice is uncalled for if we desire to promote sports in the country. The Committee would appreciate if grading of coaches is done and equal and uniform remuneration is paid to both foreign and Indian coaches," it said.
The panel also took serious note of the fact that organisations/departments, which recruited sportspersons, should avoid engaging them in day-to-day administrative work.
"...the recruitment of a sportperson in an organization is a value addition to that organisation and instead of engaging him/her in administrative work, he/she should be given opportunity to excel in sports and also train and mentor junior sportspersons," the report said.
The Committee felt that both recruitment and promotions of sportspersons were not being given due importance.
"Current guidelines prescribe that Boards of Banks/PSUs and other organisations set aside up to 5 per cent of posts to be filled by sportspersons. In the absence of mandatory minimum cap, the banks/PSUs and other organisations have been recruiting sportspersons in varying percentage. This is creating confusion. The Committee recommends that DoPT should make it compulsory for all the ministries/departments to recruit 5 per cent sportspersons," the report said.
"Job reservation for sportspersons may be made mandatory in central government, its subordinate officers and undertaking including banks and insurance companies. In pay band II and III reservation for sportsperson may also be allowed for Olympic medallist and equivalent; and SAI can function as a nodal agency and work as employment exchange for recruitment of sportspersons," it said.
"...most of the sportspersons were being recruited in pay bands I and II jobs only. The Committee feels that this practice should be rectified. While recruiting these sportspersons they should be treated at par with pay band III officers based on their sports achievement at national and international levels."