'The best bet for Indian tennis to win a medal at the Olympics would be having Leander and Bopanna together.'
Bikash Mohapatra/Rediff.com reveals how the AITA convinced Rohan Bopanna to partner Leander Paes in Rio.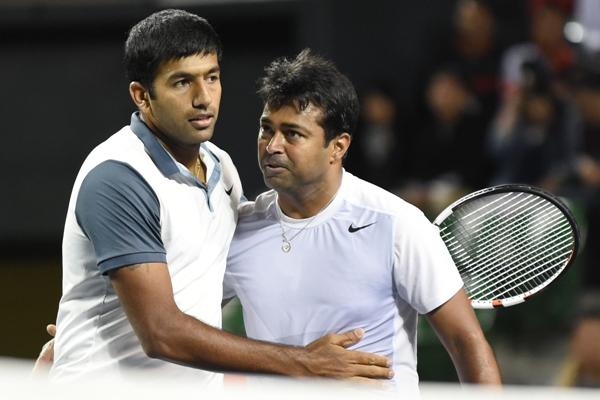 IMAGE: Rohan Bopanna and Leander Paes celebrate winning a Davis Cup match. Photograph: Atsushi Tomura/Getty Images
Thankfully, there wasn't much drama this time.
Having learnt a lesson from the events leading up to the London Olympics, the All India Tennis Association ensured things were under control vis-a-vis the selection process for the Rio Olympics.
"It went off very smoothly this time," Nandan Bal, part of the seven-member selection committee told Rediff.com, heaving a sigh of relief.
Things seemed to veer towards the complicated, with Rohan Bopanna, India's highest-ranked doubles player getting into the top 10 ahead of the cut-off date (June 6), and, as such, getting the opportunity to nominate his partner.
The 36 year old, definitely not on the best of terms with India's best tennis player ever -- Leander Paes -- named the unheralded Saketh Myneni as his preferred choice.
Ahead of the London Olympics, Bopanna had opted to partner Mahesh Bhupathi, leaving Paes form a makeshift combine with the unheralded Vishnu Vardhan. The decision had an adverse effect, both the teams bowing out early.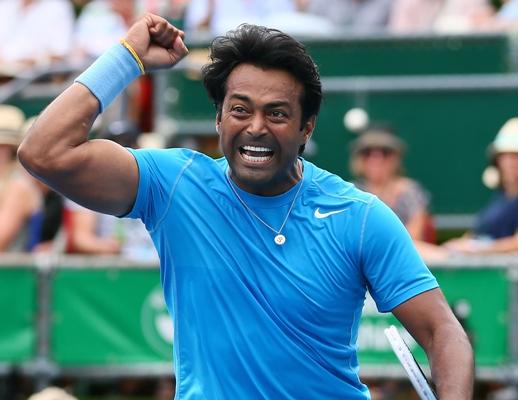 IMAGE: Paes celebrates a win. Photograph: Getty Images
The AITA, for once, put its foot down, keeping in mind India's best interests.
"He (Bopanna) gave reasons to the selection committee why he felt Saketh could be a better doubles partner. But the committee decided that the best bet for Indian tennis to win a medal would be having Leander and Bopanna together," AITA President Anil Khanna said, declining to elaborate further.
"Rohan gave his point of view, citing for game time (having played together more) and playing styles as some of his reasons for picking Saketh," added Bal.
"Besides, he had a choice by virtue of his ranking, and he exercised that option. But the committee felt otherwise," Bal added, "Statistics also pointed out the records of the Bopanna-Paes pairing was as good as that of the Rohan-Saketh pairing."
"Also, the chances of a medal are always bright if there's an 18-time Grand Slam winner on your side," Bal said. "Considering all these, we put forth our point of view and he accepted our decision."
"In fact, his response to our e-mail correspondence was almost immediate."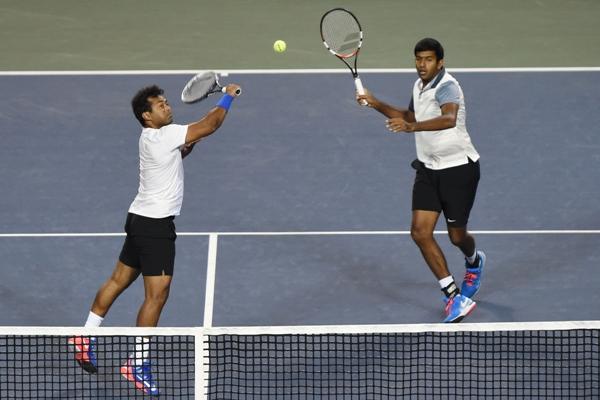 IMAGE: Bopanna and Paes in action. Photograph: Atsushi Tomura/Getty Images
Bopanna's equation with Paes -- rather the lack of it -- would have influenced his initial decision, Bharat Oza, secretary-general, AITA, said. However, better sense prevailed in the end.
"Leander and Bopanna have personal differences, and Bopanna used his ranking to make a nomination," explained Oza, also part of the selection committee.
"Rohan was of the opinion that he could do better with Saketh, that Saketh has a better serve (vis-a-vis Leander)."
"For events like the Olympics it is not that it is only the right of the player (in this case Bopanna) to nominate his partner, Oza said.
At best, Bopanna's top 10 ranking ensures he gets a direct entry to the competition and does not have to wait to qualify for the main draw.
"It is the nation who puts forth its best players at such events," Oza added, "with winning medals as the prime objective. This is the best team we could select."
"Rohan eventually understood our point of view."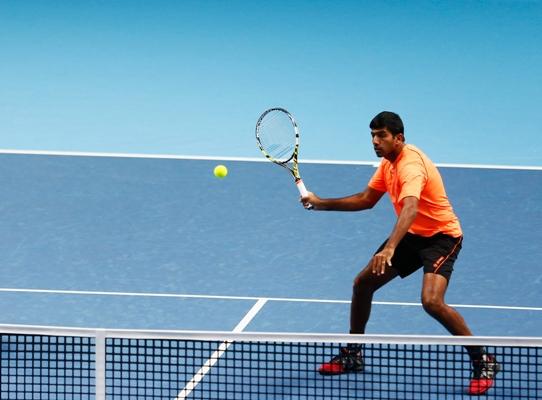 IMAGE: Bopanna in action. Photograph: Getty Images
"Obviously, he (Bopanna) has some personal issues with Leander," said Bal, a former Davis Cup captain.
"What it is, we don't know. But that didn't bother us. We were concerned about putting forth the best possible team for India," he added.
"To give him credit," he said, "Rohan was always very clear that if he is not in the top 10, he would have no issues playing with Leander."
"However, he did get into the top 10 before the cut-off date, and had the choice to nominate his partner. But we were able to convince him otherwise."