For someone who lost nine of his first 13 finals, Stanislas Wawrinka has turned failure to success, winning his last six, and that includes his three biggest titles – the Australian Open and the Monte Carlo Masters last year and now the French.
Bikash Mohapatra traces the rise of the Swiss, the first man to win multiple Slams in the 'Big Four' era.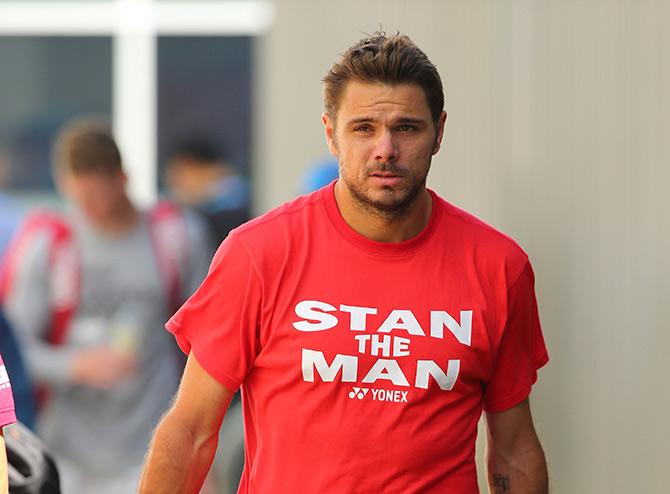 Stanislas Wawrinka arrives for a practice session. Photograph: Wayne Taylor/Getty Images
'Not now please… I have to practice. Will speak to you later,' said a 20-something, as he sauntered to the court with his gear.
This was at the Chennai Open, not long back.
The said player had, at the time, breached the top 10 - having turned pro in 2002 - but done little else. He was already 25, but with only one title to his name to command attention. So the possibility of getting to talk to him was bright.
(We all know how crazy we Indians, the media in particular, are about the big stars. Don't we?)
A couple of days later he duly obliged. (External link)
That was the first (of three) time I interviewed Stanislas Wawrinka.
'I always practice a lot and try to improve my game,' he said, adding, 'I try to be more aggressive with my game, but I am not changing it at all.'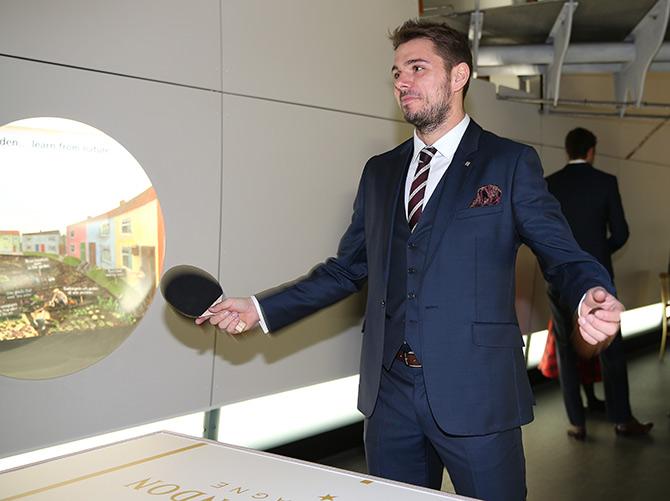 Stanislas Wawrinka plays table tennis at a gala charity dinner at the National History Museum prior to the start of ATP World Tour Finals at O2 Arena in London. Photograph: Clive Brunskill/Getty Images
Wawrinka lost in the final at Chennai that year (to Marin Cilic). Despite winning a second career title (in Casablanca) a few weeks later, his form slumped and the Swiss was forced to take drastic decision.
He parted ways with long time coach Dimitri Zavialoff and hired compatriot Roger Federer's former coach, Peter Lundgren.
The impact was instant. Wawrinka bested the then fourth-ranked Andy Murray en route to the quarter-finals of the US Open, the first time in his eight-year career that he reached the stage.
'Stan's win against Murray at the US Open was something to remember,' Lundgren told me later.
'That showed he can actually do it. Just like Roger (Federer) did against (Pete) Sampras at Wimbledon (2001), when he was 19.
'If you can beat a higher-ranked player on a big moment, at the biggest stage, in front of a big crowd, it gives a tremendous impetus to your self-belief. In any case, he hardly lost to players ranked below him.'
Stanislas Wawrinka poses with the Norman Brookes Challenge Cup at Melbourne University Boat Club, after winning the 2014 Australian Open. Photograph: Clive Brunskill/Getty Images
The following year Wawrinka returned to take the title in Chennai and made it to the last eight of the Australian Open, a tournament which earned him a maiden Grand Slam title last year.
'He called me and said 'I want you help me get back to the top 10.' That's what I liked about him, that's what you want to hear as a coach,' recollected Lundgren.
The Swede, who also coached the likes of Marcelo Rios and Marat Safin (besides Federer, of course), cherished his association with Wawrinka.
'He was an open-minded player and it gave me a bigger chance to help. We worked on the mental aspect, how he felt on court, what he thought during matches etc,' revealed Lundgren.
'Stan always knew how to play the game. He had good strokes, both in the backhand and the forehand side. He moved well on the court. Besides, he had a big serve.
'It was about improving it a little bit.'
It took time, but Wawrinka did improve, first with Lundgren and, thereafter, under the tutelage of another Swede, Magnus Norman.
Stanislas Wawrinka poses with the Coupe de Mousquetaires in his changing room after beating Novak Djokovic of Serbia in the French Open final. Photograph: Christophe Saidi- Pool/Getty Images
In more ways than one, 2014 was a watershed year. Wawrinka started with victory at Chennai and proceeded to beat Novak Djokovic and Rafael Nadal en route to the title in Melbourne. Not to forget the vital role he played in Switzerland's maiden Davis Cup win.
He carried forward the momentum and started this year with title wins in Chennai and Rotterdam, and a semi-final showing in Melbourne, before a good season on clay peaked with him taking out Federer, Jo-Wilfried Tsonga and favourite Djokovic to win the French Open, in the process becoming only the third junior champion (2003) ever - after Ivan Lendl and Mats Wilander - to win the men's singles title at Roland Garros.
For someone who lost nine of his first 13 finals, Wawrinka has won the last six, and that includes his career's three biggest titles – the Australian, the Monte Carlo Masters last year and now the French.
More importantly, having become the first man to win multiple slams in the 'Big Four' era, he is finally out of his illustrious compatriot's shadow.
At 30, he may not have too many years left in him, but the player, whom John McEnroe described as 'the best one-handed backhand in the game', has done enough to ensure his own legacy.