Indian hockey coach Michael Nobbs praised his defenders for playing a fine game despite the 0-3 loss to defending champions Australia in the semi-finals of the Champions Trophy in Melbourne on Saturday.
"The defence played another fine game today, and that too against opponents who pressed extremely hard," said Nobbs, acknowledging that India were pushed back by the dominant Australians.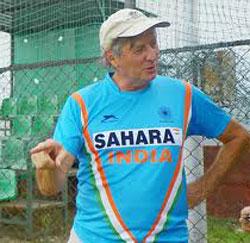 "We were pressed back as Australia played tough hockey and did not give us any space. The defenders did well to stand up to the top quality opponents. Australia are among the two best teams in the world and they were clearly the better team in the semi-finals, but we defended well," the coach said.
Nobbs said he was pleased with his team's semi-final finish in the tournament, which also helped the side qualify for the next Champions Trophy.
After finishing last among 12 nations at the London Olympics, India had come to the Champions Trophy as wild-card entrants.
The next Champions Trophy will be played in 2014 as the International Hockey Federation (FIH) is altering its tournament structure. It will now be played every two years, and the new World League will be played alternate years.
Nobbs said the Indian team was looking forward to give their best in the bronze medal encounter against Asian Games gold medallists Pakistan on Sunday, who lost 2-5 to Netherlands in the other semi-final.
"We're hoping to win the bronze tomorrow. It will be a good game between two Asian hockey rivals," said Nobbs, who felt the Pakistan team too had improved after the Olympics.
"The bronze medal match should be a classic encounter," he added.