'I think she played unbelievable and should have won the match'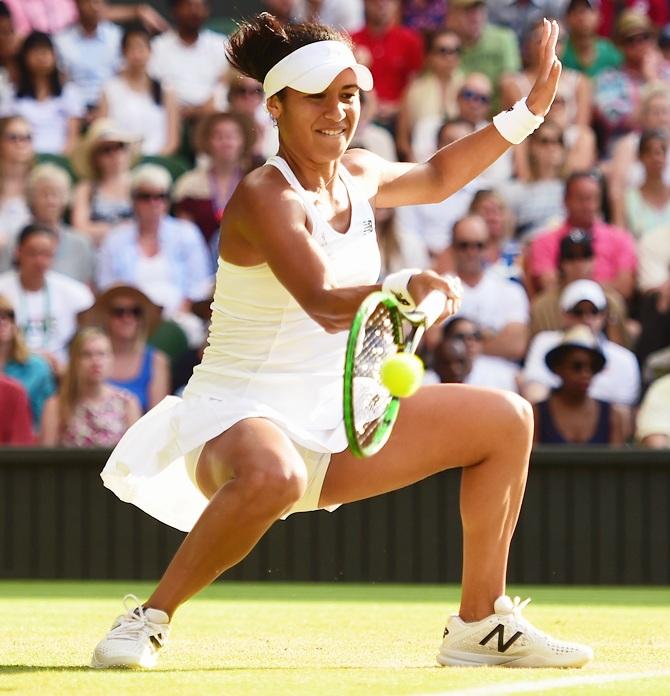 Great Britain's Heather Watson plays a forehand against Serena Williams. Photograph: Shaun Botterill/Getty Images
Serena Williams once featured among Heather Watson's bedroom posters but after the Briton almost ran her idol out of Wimbledon on Friday, the game's big hitters are now in her sights on court.
Djokovic, Sharapova restore order at Wimbledon
Watson, ranked 59th, was twice just two points away from sending shockwaves around the All England Club by knocking out the five-time champion in front of a rapturous home crowd but eventually came up short losing 6-2, 4-6, 7-5 in the third round.
The energetic, gutsy performance was the best of her career and won plaudits from 33-year-old Williams, who stays on course for a 21st Grand Slam title.
'I wouldn't call losing the greatest day of my career'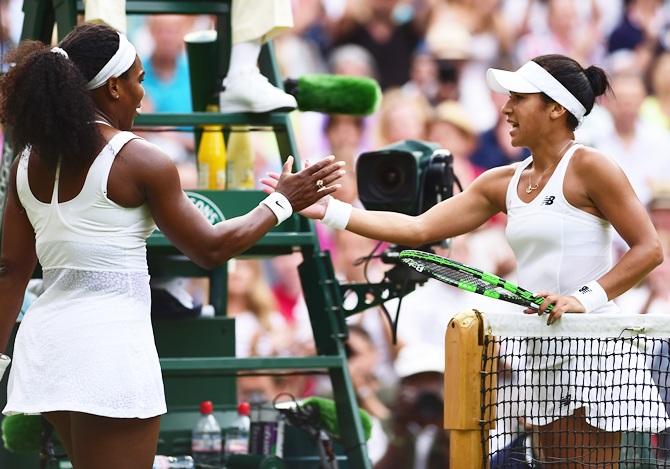 USA's Serena Williams shakes hands after victory with Great Britain's Heather Watson. Photograph: Shaun Botterill/Getty Images
"I think she played unbelievable and should have won the match. She could get beyond the top 20... She should set her sights higher as she can definitely do better," the World No 1 said.
For 23-year-old Watson, who was given little chance of advancing, there was no glory in defeat, despite a rousing ovation from the home crowd and a ringing endorsement from Britain's World No 3 Andy Murray on Twitter.
"I wouldn't call losing the greatest day of my career," said Watson, who reached a career high ranking of 38 earlier this year.
"I've learnt that I can compete with the best in the world and I can play really good tennis.
"I just need to use this to motivate myself for the future and know that I can be there, I can compete, and I can be at the top of the game."
'It was tough'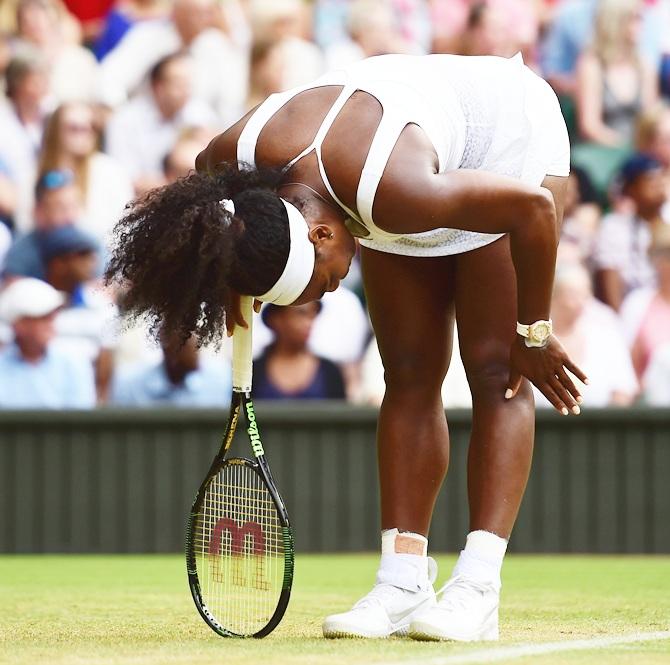 USA's Serena Williams reacts. Photograph: Shaun Botterill/Getty Images
While Williams once stared down at Watson from her bedroom wall, facing her idol across the net on Centre Court failed to faze her.
"All I saw today was an opportunity for me to make it to the second week of a Grand Slam... it didn't matter who it was on the other side of the net.
"It was a tough, tough ask today. But I was super, super close. I think that's what really hurts the most."