Gold medal-winning Olympic swimmer and party boy Ryan Lochte will get his own reality television series as he trains with one eye on the 2016 Summer Games and another looking for love, US network E! said on Monday.
"What Would Ryan Lochte Do?" will premiere in April and document the American swimmer's late nights clubbing and early mornings training in the pool all while building a fashion line.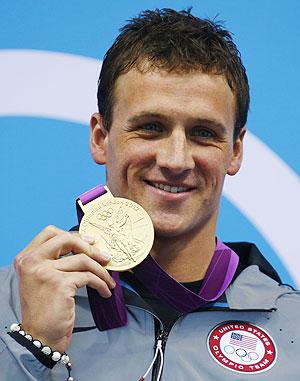 "Ryan Lochte captured everyone's attention at the Summer Olympics with his athletic prowess and his utterly unique and unaffected approach to life," E! President Suzanne Kolb said.
"Watching this show, I believe people will fall into three categories: they want to be him, sleep with him or mother him," Kolb added.
Lochte made his first acting role playing himself in a cameo appearance in the high-school TV series 90210 in October.
Lochte, 28, has won five gold medals, participating in three Summer Games: Athens in 2004, Beijing in 2008 and London in 2012. He is now training for the 2016 games in Rio de Janeiro.
The rakish bachelor is known for his telegenic and never-say-no personality.
He famously shared on US television a story about a late-night swimming race against Britain's Prince Harry at a Las Vegas hotel shortly after the Olympics.
Lochte's mother, Ike, caused a mini-stir last year by suggesting the swimmer preferred casual sex to dating because of his busy schedule.
Photograph: David Gray / Reuters