Golf's major championships threw their support behind the sport's return to the Olympics on Monday, offering exemptions for men's and women's gold medal winners this year to all grand slam events.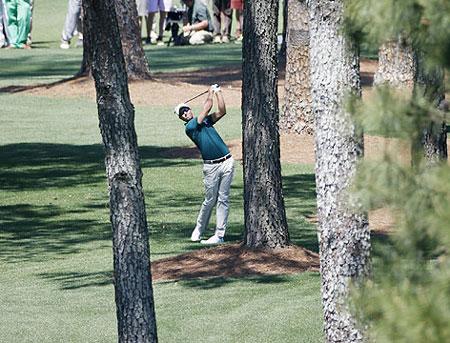 Augusta National chairman Billy Payne, who ran the 1996 Atlanta Games, told a news conference that the men's gold medal winner in Rio de Janeiro, where golf will make its return to the Summer Games for the first time in more than a century, would get an invitation to the 2017 Masters.
The Royal and Ancient and Ladies Golf Union will offer similar one-year exemptions to the men's and women's British Opens while the PGA of America and United States Golf Association followed suit with their two flagship events.
With the LPGA Tour giving the women's gold medal winner in Rio an automatic exemption into the 2016 Evian Championship and the 2017 ANA Inspiration, all nine majors (four for men and five for women) will be supporting the initiative.
"We believe our game's visibility will be dramatically elevated by the global platform that only the Olympics offer," said Payne, speaking on the first official day of Masters practice.
"New audiences from all over the world, some for the very first time ever, will be exposed to our great sport and come to know and appreciate the amazing athletes and heroes in golf.
"From this greater visibility, we believe will evolve greater participation in our game, and it will be a certain beneficiary."
Payne was joined on the podium by R&A chief executive Martin Slumbers, PGA of America CEO Pete Bevacqua and USGA chief executive Mike Davis, four of the most powerful men in golf united in their support of the Olympics.
LESS ENTHUSIASTIC
But some golfers, including former Masters champion Adam Scott of Australia, have been less enthusiastic about the prospect of winning an Olympic medal, ranking it well behind the four majors in importance.
Payne, however, said he fully expects that national pride will surface when golf's best find themselves in the Olympic cauldron while representing their country.
"My experience has been when looking at the joy and the happiness of kids competing all across the board in various Olympic endeavours, that there is nothing, nothing, more powerful than representing your country," declared Payne.
"So I suspect that you will see that take over and totally capture the enthusiasm of the players for golf.
"I think what you feel now, and what you hear now, as some of these individuals themselves become part of the Olympics, probably change their mind."
While the support of the major championships for the Olympics was welcome, the gold medal winners are likely to come from a small group of players who have already qualified for berths in golf's showcase events.
However, the four men rejected any suggestion that offering major exemptions as an incentive in Rio was an insignificant gesture, seeing it instead as a positive move that will grow further interest in the sport.
"From our perspective, whether it's someone that is in the top rankings of the world or someone who is that Cinderella story, in both ways it's a positive," said Bevacqua.
"It's a positive for golf, it's a great story for golf and it's certainly a positive for the PGA Championship, regardless of who comes out of that field, both on the men's side and women's side."
Image: Adam Scott
Photograph: Mike Segar/Reuters