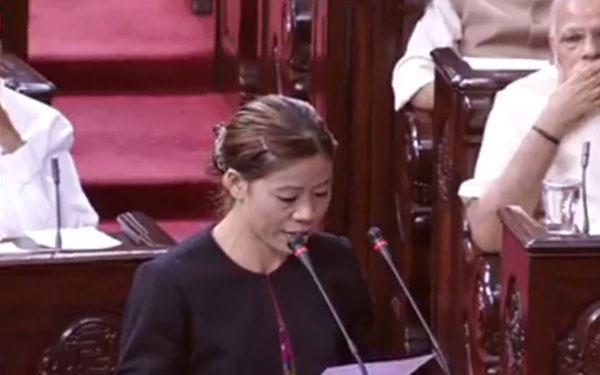 IMAGE: Olympian boxer MC Mary Kom during the oath-taking ceremony in New Delhi on Tuesday. Photograph: ANI/Twitter
It was a moment of pride for Olympian boxer MC Mary Kom as she took oath as a Rajya Sabha MP in New Delhi on Tuesday.
The 33-year-old was nominated as a member of the Upper House along with senior Bharatiya Janata Party leader Dr Subramanian Swamy, former cricketer Navjot Singh Sidhu, senior journalist Swapan Dasgupta, economist Dr Narendra Jhadav and Malayalam actor Suresh Gopi, in a list recommended by the BJP government, last week.
Left surprised by the Rajya Sabha nomination, star Indian woman boxer M C Mary Kom had, on Saturday, said she does not have the time to think about her new role right now as her focus is on qualifying for the Olympics.
London Olympics bronze-medallist Mary Kom said it was a great honour to be nominated for the Rajya Sabha but she would not put herself under pressure by thinking about the role she would play in the Parliament.
"It was a great honour to be nominated for Rajya Sabha. It was a sudden development and I was surprised. When I was told that I would be nominated for the Rajya Sabha, I started thinking what would I do as an MP," Mary Kom had told reporters on Saturday.
"I have not qualified for the Olympics yet and till I qualify for the Olympics, I am not going to think about what would be my role as a Parliamentarian. Doing that will put pressure on me in my effort for the Rio qualification. So, my sole focus is now to qualify for the Rio Olympics," said the five-time world champion.
The Rajya Sabha has 12 nominated members in its total strength of 245. At present, the Upper House has 10 nominated members.
On the government's recommendation, the President nominates members from those with special knowledge or having made their mark in literature, science, art and social service.