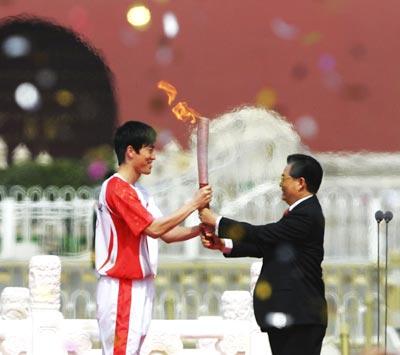 Chinese President Hu Jintao hands the Olympic torch to Olympic hurdler and gold medallist Liu Xiang during the welcome ceremony for the Olympic flame for the Beijing 2008 Olympic torch relay at Tiananmen Square on Monday.
- Beijing 2008 torch lit in Olympia
President Hu Jintao officially launched the torch relay amid dancing, acrobatics, waving pompoms and tight security on the capital's Tiananmen Square.
"The sacred flame is the symbol of the Olympic spirit," China's Olympic organising chief, Liu Qi, told the assembled officials, dancers, students and workers in the square, overlooked by the Great Hall of the People, festooned with red flags, and a giant portrait of Mao Zedong at the Gate of Heavenly Peace.
"It embodies hopes and dreams, light and joy and friendship and peace."
The first stop in the international leg of the 130-day relay is Kazakhstan on Tuesday. The flame returns to Beijing after travelling around all of China's provinces and regions on Aug. 6, two days before it is used to light the cauldron at the Olympic opening ceremony.
Photograph: Getty Images