The 2004 Olympic flame arrived in the Chinese capital on Tuesday for the fifth leg of a six-week 78,000-km-long global torch relay leading up to the Athens Games in August.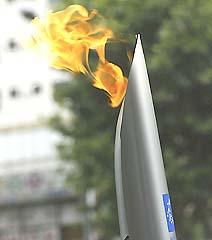 A small lantern carrying the flame arrived at the Beijing International Airport 6:23 a.m. (3:53 am IST) aboard a Greek chartered jumbo jet painted in Olympic colours and dubbed "Zeus" for a two-day stay in the host city of the 2008 Games.
Today will be a 'rest' day for the flame. Beijing had requested for a change in the schedule in view of the ongoing school examinations.
The lantern was officially received by Liu Jingmin, executive vice president of the Beijing Organising Committee for the 2008 Olympics (BOCOG), for a brief ceremony at the airport.
The flame was lit in ancient Olympia on March 25 and taken to Athens' marble stadium, where the first modern Olympics were held in 1896.
A total of 148 torchbearers, including dozens of Chinese sports celebrities such as NBA star Yao Ming, legendary table tennis player Deng Yaping and paralysed gymnast Sang Lan, have been selected for the relay.
Yu Zaiqing, a member of the International Olympic Committee (IOC) and vice president of the Chinese Olympic Committee, will set off the relay on Wednesday morning at the world famous Tiananmen Square.
After an eight-hour journey of more than 50-kilometres, the torch will reach the summer palace where the last torch bearer will ignite a ceremonial cauldron before a grand celebration.
Along the route, the flame will pass a host of some symbolic sites such as the Temple of Heaven, the Central Business District, Universities and construction sites of the Olympic venues built for the 2008 games.
From Beijing, the flame will be passed to New Delhi on June 10.