The 1984 Los Angeles Olympics were pure showbusiness and Carl Lewis made the perfect matinee idol.
Watching him in the Coliseum was an unforgettable experience. Poetry in motion, he seemed to glide across the track.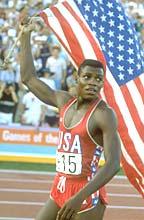 Nothing beat being there to watch that bewitching mixture of grace and power in full flow in the 100 metres.
The sheer thrill of his acceleration gripped everyone who was there as he streaked down the track in 9.99 seconds.
In Los Angeles, the American landed four gold medals under the huge weight of self-imposed pressure on his elegant shoulders, winning both sprints and the long jump and anchoring the 4x100 relay team.
Not since Jesse Owens in Berlin back in 1936 had an athlete so richly fulfilled the Olympic motto -- Citius, Altius, Fortius (Swifter, Higher, Stronger).
What a contrast to the drama and heartache suffered four years later by Lewis in Seoul when drug cheat Ben Johnson pulverised him in the 100-metre final but was then disqualified.
Lewis offered the ecstasy in Los Angeles. Idaho ski instructor Gabriele Andersen-Scheiss supplied the agony.
In the inaugural Olympic marathon for women, it was not the winner Joan Benoit who grabbed all the headlines but an exhausted also-ran staggering up the home straight.
Andersen-Scheiss, taking advantage of her dual citizenship to run for Switzerland, was poleaxed by the midday heat as she headed into the stadium.
Every step to the finishing line was excruciating to watch. Her left arm hung limply, her right leg dragged. The crowd did not know whether to cheer her on or beg her to stop.
It was a victory for pure willpower when she finally collapsed over the line into the arms of three medical staff, finishing 37th. Within two hours she was back on her feet, an instant heroine, with the media queuing to interview her.
SOVIET BOYCOTT
Forget the smog and the freeways; it was politics and commercialism that reigned supreme in Los Angeles.
After the United States boycotted the Moscow Olympics in protest at the Soviet invasion of Afghanistan, it was inevitable that the Kremlin would rain on Los Angeles's parade.
So it proved, with Moscow and 14 of its allies pulling out of the 1984 Games in retaliation.
The Soviet boycott may have deprived Los Angeles of the East European automatons of the track but heroes still abounded.
The fiercely partisan American crowds went crazy for Greg Louganis. Splash was not a word in the vocabulary of this exquisite diver.
He boasted the looks of a Greek god, dived like a swallow and hit the water with barely a ripple. That perfect precision won him two golds.
You had to be there to savour his daring on the high board. Television could never capture the sheer beauty of this man in flight as he twisted and plummeted into the water.
The on-track clash between home-town favourite Mary Decker and South African-born runner Zola Budd was also unforgettable.
Decker's Olympic hopes were over in an instant as she crashed out of the 3,000 metres after tripping on Budd's leg. Her shoulders heaved with sobs of despair.
After the heartbroken Decker fell, Budd was booed and jeered throughout the rest of the race and trailed in a dispirited seventh. Her fragile shoulders were the picture of abject failure afterwards.
FINANCIAL SUCCESS
Big bucks ruled in Los Angeles.
The first Olympics funded entirely by private enterprise were a huge financial success attended by 7,000 athletes from 140 nations.
Entrepreneur Peter Ueberroth was the hero of the day, raising more than 500 million dollars from 30 sponsors, prompting critics to mourn the passing of amateurism as the Olympics turned into a corporate giant.
Los Angeles was also determined to show the world a squeaky clean image as billions tuned in to watch the Games on television.
That gave me the chance to take a memorable look at the underbelly of Los Angeles.
Enter Lieutenant Dennis Conte, a figure straight out of central casting, who hit the streets with the Los Angeles police department nighthawks to sweep them clean of pimps, prostitutes and drug addicts.
Cruising the streets for six hours with him from Sunset Strip to Santa Monica Boulevard revealed a pathetic production line in human misery -- and a major journalistic challenge afterwards describing in tasteful terms who got up to what with whom.
Conte's running commentary was priceless as we went in search of low life.
"That over there is Leroy, your typical smalltime 'popcorn pimp' working the streets with a couple of girls," he said.
Then he spotted a stunning blonde hustling for customers on a street corner. You could hear the grudging admiration in Conte's voice: "She may have an IQ one point above plant life but that one sure is streetwise."
- - - -
**Paul Majendie joined Reuters in 1970 and worked as a correspondent in several bureaux -- five years in Paris, three in Hong Kong, three in Canada and seven in Dublin. In the London bureau, he has worked in parliament, as defence correspondent and covering arts and entertainment. He has worked as a reporter at every summer Olympics from 1984.