It was a frustrating experience for the first 24 hours after I landed in Athens, midway through the Olympics. The shocking news of two Indian weightlifters having tested positive came as a complete shock for every Indian present here. There was a strong feeling around that the Indian challenge in the Olympics had died a premature death.
I, too, was disappointed, but did not lose hope. I was looking forward to the athletics events and knew that Indian athletes would do something to lift our spirits. I was not far from the truth. While Bahadur Singh and Anil Kumar made mysterious exits, J J Shobha did enough to leave us satisfied at the end of the day.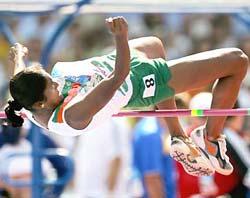 That Shobha would not win any medal was a foregone conclusion long before the Olympics. But the fighting quality she displayed in the 800m in the women's heptathlon earned the praise of everyone around. She was injured in the javelin throw, the penultimate event, and was carried out, yet returned to finish third in the 800m. She finished 11th overall, but sitting in the stands I felt proud for her. She proved that she was there to fight it out, not as a passenger like some of her better known teammates.
It was heartening to see that everyone in the stadium felt the same way. Carolina Kluft of Sweden and Lithuania's Austra Skujyte, who won the gold and the silver, respectively, were the first to congratulate Shobha for her effort. Even the Indian officials, who are otherwise famous for their indifference towards the cause of the athletes, rushed to look after Shobha. She deserved every bit of it.
Soma Biswas also did reasonably well, finishing 24th with 5,965 points. But I expected better from her as she is more experienced than Shobha in this event.
Equally praiseworthy was K M Binu's show in the men's 400m, though he could have done better in the semi-finals. He perhaps gave away his best in the heats. He could clock only 45.97s in the penultimate round and finished seventh. But I think he will be a force to reckon with at the next Olympics if he starts practising seriously from now. Binu is yet to find his right rhythm since he shifted from 800m to 400m not very long ago.
While Shobha and Binu made us proud, the performances of Bahadur and Anil were shameful. I couldn't believe my eyes when I saw such highly experienced athletes making so many foul throws. They either did it deliberately or there must be some mystery behind it. Those who are sitting at the helm of Indian sports should probe deep into what exactly went wrong in these two cases. Was Anil, who achieved his qualification mark in a meet somewhere in Belgium, fully fit for the Olympics? If yes, why did he perform so poorly?
At the moment I am eagerly waiting for Anju Bobby George's long jump event. I am sure that Anju will feel inspired after watching Shobha's great effort. I had a brief talk with Anju on Sunday. I advised her to stay focused and not get distracted by the pathetic show put up by some of her teammates. It is good to find that the temperature here is around 30 degree, which will be fine for Anju to give of her best.
While coming out of the stadium on Friday, I went through the wrong gate and lost my way. Some local people, however, helped me to get a taxi. The cab driver grabbed this opportunity and charged me double the actual fare, but I reached my destination. Next day I watched the Indian hockey team play New Zealand. The team, too, I thought, had lost its way like me, but there is no one around to guide it back to the right path.
Though I don't have much knowledge about the technical aspects of hockey, one thing I can say for sure is that some drastic changes are needed in the team as well as in the game's administration. Otherwise, we will keep getting humiliated in a game that was our pride once upon a time.
Earlier Column: Indians shell-shocked in Athens