Perfection was thought to be impossible in gymnastics until a waif-like Romanian stepped calmly up to the asymmetric bars in the team competition at the 1976 Montreal Olympics.
After a dazzling display by 14-year-old Nadia Comaneci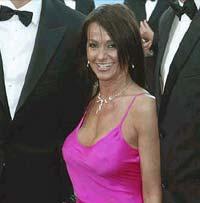 the astonished judges awarded her a perfect 10, the first in Olympic history.
Six more 10s were to follow accompanied by gold medals in the uneven bars, the balance beam and the all-around competition.
Comaneci's routines were so advanced that gymnastics critic Josef Goehler exclaimed: "From a bio-mechanic viewpoint this is hardly conceivable."
The first person to spot an extraordinary talent was coach Bela Karolyi who scouted kindergartens around Romania looking for future Olympians.
During one of his expeditions Karolyi saw two tiny five-year-olds pretending to be gymnasts in a school yard but lost sight of them in the confusion when the bell rang to signal the end of break.
He ran from classroom to classroom in increasing panic until he found Comaneci and her friend. "I knew I would never leave that school until I found those two little girls," Karolyi said.
At
Gymnastics High School, Comaneci alternated four hours a day in the gym with five hours classwork.
At nine she was the Romanian junior champion, two years later she was the national champion. The year before the Montreal Games she became at 13 the youngest gymnast to win at the European championships.
In Montreal she decisively upstaged Olga Korbut, the elfin Soviet gymnast who had entranced spectators four years earlier in Munich.
Unlike Korbut who won hearts with her charm, the impassive Comaneci impressed with sheer skill.
Four years later and several kgs heavier she competed in the Moscow Games, winning two further golds before retiring.
Under Nicolae Ceausescu's brutal regime, Comaneci led a privileged life as a member of the Romanian elite with cars, jewelry and a villa.
But in 1989, only weeks before Ceausescu was deposed and summarily executed, Comaneci had had enough.
On November 27 with six other people she trudged through mud for six hours across the border into Hungary. Four days later she was in New York.
"I come from a wonderful country with wonderful people. But we were living with a system telling us how to live," she said.