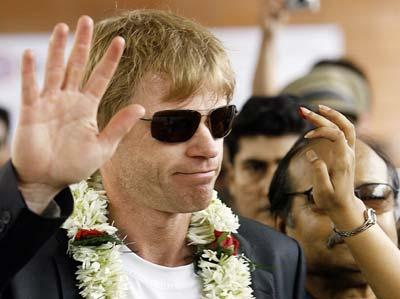 Two days away from playing his last competitive match for Bayern Munich, legendary German goalkeeper Oliver Kahn is excited as he looks forward to the D-day.
The German club will take on local giants Mohun Bagan in a friendly game at the Salt Lake stadium in Kolkata on Tuesday.
- Kahn of bittersweet memories
"I am happy to be in Kolkata. I'm looking forward to the match on Tuesday. I've been told there will be 1.20 lakh people. I'm very excited," Kahn told newspersons a little after landing in the city as part of the Bayern squad.
The golden ball winner of the 2002 World Cup said he had no knowledge of Indian football and has never heard of its greatest contemporary icon Baichung Bhutia.
"But I'm eagerly waiting for Tuesday when I hope to get some idea about Indian football," he said.
Asked about his post-retirement plans, Kahn said he would be working as an expert for German television channel Set F on international matches involving his national side.
"But at the same time, I need to be at a distance from soccer, after being involved with the game for 20 years as a professional. I need to take a break, and then let's see what happens," said the custodian, who will turn 40 next month.
He mentioned the Champions League final match between Bayern and Spain's Valencia as a glorious moment in his career.
Bayern won the title 5-4 on penalties after Kahn brought off marvellous saves during the tie-breaker.
"But it's also true that there were so many highlights in my career, that it is very difficult to pick one," he said.
Kahn appeared philospohical when asked to mention his most disappointing moment on the soccer field.
"As an athlete, you can't decide that. You will have some successes on one side, and some not so successes on the other," he said.
To a scribe's poser on then German coach Jurgen Klinsmann using his services for only one match in 2006 World Cup, Kahn said, "Certainly, I was disappointed, but I don't think I was deprived. Klinsmann had other plans. I had to adapt to the situation."
"It is certainly interesting that Klinsmann is coming to Bayern as coach. I don't feel any grudge against him. I wish him all the best," he said.
Kahn named his former goalkeeping coach Sepp Maier as the greatest custodian of all times.
He referred to Italian Gianluigi Buffon as among his favourite custodians to have done national duty in the last ten years.
When referred to his expressed wish to play as a striker once before he hung his boots, the celebrated player said, "I'm a goalkeeper in the classical sense of the term. I may choose to take a penalty. But my duty is to do well under the bar".
Piyal Roy Chowdhury, an artist from Santiniketan, presented Kahn a terracota statue of himself (Kahn).
Bayern General Manager Uli Hoeness said the team was relishing the chance of being able to see a part of the city.
He said the team was confident of doing well on Tuesday on the last leg of their post-season Asian trip after having won 5-1 in the previous match at Jakarta.
On teams like Manchester United and Arsenal overshadowing Bayern in recent years, he said, "These clubs spend more than they earn. We do not have so much funds. We could not make it to the Champions League this year. But we hope to return to the league next season."
Hoeness said the debate over foreign players versus indigenous players' tussle was more of "an English problem."
"We have seen Arsenal play the Champions League without any player from England. The Engish national side's performance is for all to see.
"But the German clubs like us maintain a balance between foreign players and domestic recruits. The good showing of the German national side in the World Cup and other tournaments is because of this. At the same time, it's true that in this era of globalisation, you cannot stop players from going abroad."
On why the club has not left any slot for practice in this city before the Bagan match, he said, "We've trained in the last few days, but we are here to fulfill our social responsibilities."
Photograph: Getty Images | Text: PTI