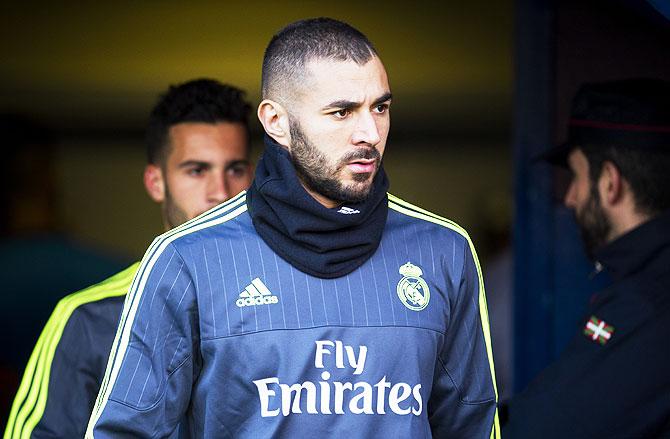 IMAGE: Real Madrid's Karim Benzema. Photograph: Juan Manuel Serrano Arce/Getty Images
France international striker Karim Benzema, who is embroiled in a blackmailing scandal, is not afraid of possibly missing the Euro 2016 finals on home soil, the Real Madrid player said on Sunday.
- France snub Valbuena, Benzema amid sextape scandal
- French football star Benzema ARRESTED in sex-tape probe
- Axing of scandal-ridden Benzema backed by France PM
Benzema was put under formal investigation last month in connection with an alleged attempt to blackmail fellow footballer Mathieu Valbuena over a sex video.
He has denied any wrongdoing but has been banned from contacting anyone linked to the investigation, starting with Valbuena.
It means that if the investigation drags on, as is possible, coach Didier Deschamps would have to choose between Benzema and the Olympique Lyonnais forward.
"It's my goal (to play again with Valbuena). It's what I want and it's what many people want," Benzema told French TV channel TF1 in the second part of an interview aired on Sunday.
"He's a good player, France needs him, and me."
IMAGE: Real Madrid's Karim Benzema. Photograph: Stringer/Reuters/Livepic
The first part of the interview, in which Benzema said he had done nothing wrong, was aired on Wednesday.
Asked if he feared missing out on the June 10-July 10 Euro finals in France, Benzema replied: "I am not afraid."
The scandal has been in the public domain since details of the investigation, as well as the transcript of Benzema's hearing with a judge, were leaked in the French media.
It prompted the French football federation to become a plaintiff in the case last week after Valbuena said in an interview with daily Le Monde that he was disappointed in his France team mate.
French Prime Minister Manuel Valls said on Tuesday that Benzema should not play for France before being cleared.