India's hockey coach Michael Nobbs has a problem of plenty after impressive debuts by youngsters in the ongoing Test series against South Africa and he says it will be difficult to select the best 18 for next month's Olympic qualifiers.
As many as four players -- Harbir Singh, SK Uthappa, Kothajit Singh, Chinglesana Singh Kangujam -- made their debuts in the series against South Africa and Nobbs said these young players deserve an India cap.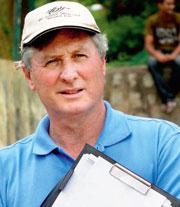 "In this series, we tested everybody, we deliberately designed it to see who can take a grip of the opportunities and win their position and some players did," Nobbs said.
"We have probably the best option now and there are around 25-26 players who can play for India.
"Uthappa was brilliant, Kothajit was good too, these are some of the players who have put themselves in the mix to be selected and it would be difficult to pick the best 18 Indian players for the Olympic qualifiers now," he added.
With the youngsters making the most of the opportunity, it will be interesting to see what happens when injured players like Rajpal Singh comeback in to the fold, and Nobbs agrees it would take a lot of hard work for them to earn back their place in the side.
"Rajpal will need to put a lot of hard work to replace someone who is ahead of him right now. In hockey, we have a saying 'never lend your stick to someone because you might not get it back'. He has time to do it," Nobbs said.
With the series already in India's pocket after the 4-3 victory on Friday, Nobbs said he will experiment in the fifth and final Test on Sunday.
"We have already won the series, so I will have the latitude to experiment and try out some new combinations. Danish Mujtaba, Manpreet Singh and Rupinder Pal Singh will play tomorrow," Nobbs said.
With little less than a month left for the Olympic qualifiers, Nobbs said defence is one area which India need to work on before the tournament kicks off on February 18.
"We are allowing our defence to be penetrated and I think, this is one area where we have a fair bit of work to do in the next four weeks," he said.
Asked if he was satisfied with the performance of the players in the Test series, Nobbs said a lot of combinations have come up and he has to figure out the options for the qualifiers.
"We played a lot of combinations and we have a good base now, we are looking at the patterns. Manjeet Kullu, Harbir, Ignace -- all are good options. We are looking forward and heading in the right direction," he said.
Nobbs said the series against South Africa was a tough one and a good preparation for the qualifiers.
"This was a tough series and a good drill for us. South Africa is a very good team, they are placed just below us. If we can beat them, I think we can beat teams like Canada, France, Poland, Italy and the United States, whom we are playing in the qualifiers," he said.
India, the highest-ranked team in the tournament at 10th, have been grouped with Canada, France, Poland, Italy and the United States in the men's section of the first of the six Olympic Qualification tournaments.