No pressure, Raducanu ready to have a swing at Australian Open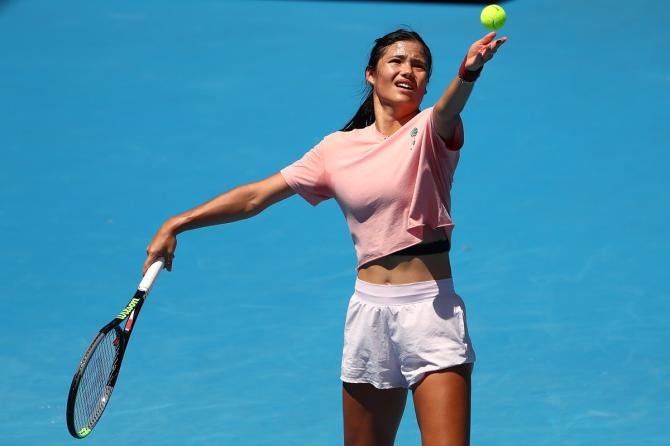 Emma Raducanu has struggled to live up to sky-high expectations since winning her maiden Grand Slam at Flushing Meadows last year but the Briton says she is not worried about her poor form and will play without pressure at the Australian Open.
Raducanu, who faces American Sloane Stephens in the first round at Melbourne Park, became the first qualifier to win a Grand Slam in the Open era when she defeated Leylah Fernandez in New York last September.
But she struggled to get close to that form in subsequent tournaments with a series of early exits prompting criticism, while testing positive for COVID-19 at Christmas also impacted her preparations for the new season.
"I feel, because of the last few months I've had, maybe I haven't played as much as I would have liked to and trained so much," said Raducanu, who is ranked 17th in Melbourne.
"I feel like there's actually no pressure on me. I'm just happy to be here and have a swing. I had to jump a few hurdles to play here, so (I) just want to go out there and have fun and enjoy on the court."
The 19-year-old played her first match of the year in Sydney last Tuesday and lost 6-0 6-1 to Kazakh Elena Rybakina, a defeat she put down to rustiness rather than any lingering effects of COVID-19.
"It was definitely a lack of practice," she said. "I think I played maybe six, seven, really not many hours at all.
"I wasn't tested physically in that match, the points were over so fast.
"It will be good to keep building and see. I'm currently feeling physically good."
Raducanu has been handed a tough opening round draw against 2017 U.S. Open winner Stephens, who is ranked 65th in the world but has been as high as number three.
"I watched Sloane win the U.S. Open," said Raducanu.
"I hit with her last year actually. Great opponent. Obviously you don't win a Grand Slam without being very capable.
"I think it's going to be a tough match for sure. I'm going to go out there and enjoy the match because just playing in this Grand Slam, I had to work so hard to be here."
Barty feels weight of home hopes at Australian Open
World number one Ash Barty will once again bear the brunt of her nation's hopes for a home champion at the Australian Open, promising only she will give her "best crack" at ending the 44-year drought.
Having claimed her second major title at Wimbledon last year, Barty will be under huge pressure to deliver at the year's first Grand Slam, where no Australian has won since Chris O'Neil claimed the women's title in 1978 at Kooyong.
"I can't do any more than I can try. That's all I can do. If it doesn't happen, it doesn't happen," the 25-year-old told reporters at Melbourne Park on Saturday.
"I just have to hope that everyone understands that I'm giving it my best crack. It doesn't always work out exactly how you want to.
"But you go about it the right way, you do the right things and try and give yourself the best chance, that's all you can do.
"That goes for all the other Aussies as well, everyone else in the draw. They're trying to do that thing over and over and over, do the right things and give themselves the chance."
Barty has sent Australia into a frenzy by going deep in the tournament over the past three years but ended up leaving them wanting more.
A quarter-finalist in 2019, Barty tore through the draw in 2020 but suffered a surprise semi-final loss to eventual winner Sofia Kenin.
She was in imperious form last year until overhauled in three sets in the quarter-finals by unheralded Czech Karolina Muchova, one of the bigger shocks of the tournament.
"I've had some pretty tough lessons, but also some incredible moments (in Australia)," said Barty, who faces a tricky opening round against qualifier Lesia Tsurenko, a former U.S. Open quarter-finalist.
"Hopefully that puts me in good stead, for another year, another crack here, and we just keep going."