'It's great fun. No coaches, no nothing, just the two of us on the court hitting balls'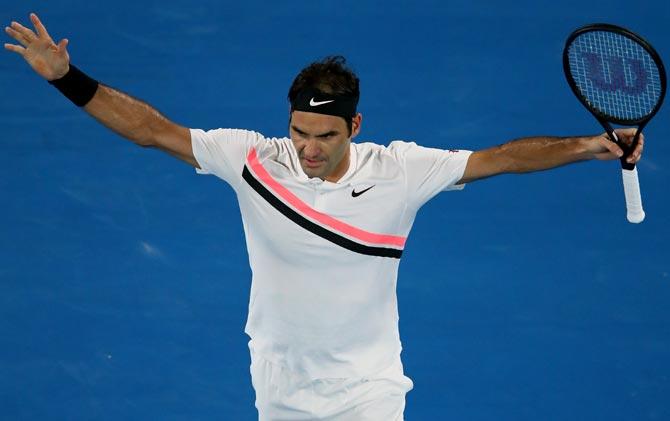 IMAGE: Roger Federer celebrates victory. Photograph: Clive Brunskill/Getty Images .
A family holiday in the Maldives might seem a good time for Roger Federer to put the racket down, but the Swiss master could not resist the offer of a hit when he found out Marin Cilic was also relaxing in the islands.
The pair will face off in Sunday's Australian Open final, having snuck off from their families for a couple of sessions while holidaying in the Indian Ocean nation in November.
"I was there first, I think, and (Cilic) arrived later on the island," Federer told reporters on Friday after Chung Hyeon retired hurt with foot blisters when trailing 6-1, 5-2 in their semi-final.
"I was told that Marin was coming. I was like, 'Oh, that's cool'."
"When he arrived, I didn't want to bother him. He didn't want to bother me."
"After two days, he wrote me: 'I'm here, too, in case you want to catch up and stuff, let me know'.
"I was like, 'Sure, let me know if you want to hit'."
Defending champion Federer thrashed Cilic in the Wimbledon final and will be favourite to beat him at Rod Laver Arena on Sunday as he bids for his 20th Grand Slam title.
Former US Open champion Cilic, the sixth seed, is going for his second.
Federer said the Croatian was eager to hit to stay in the rhythm even in the off-season.
"We also met up later for drinks, met his fiancée. We had cake together, my whole family and him. We had a good time," the Swiss master added.
"It's not like we're hanging out all the time, but our paths crossed a few times. We actually went to practice twice for 45 minutes."
"It's great fun. No coaches, no nothing, just the two of us on the court hitting balls."
"It was just nice and laid back. To get to know the man behind the tennis player, I guess."