AFC strategy to combat age-cheating bears fruit at AFC U-16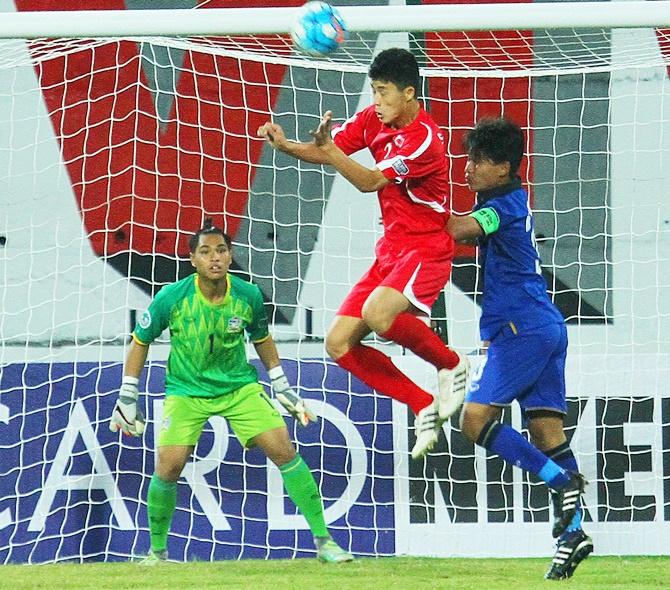 IMAGE: Action from the ongoing AFC Under 16 Championships in Goa. Photograph: AIFF Media.
Conclusive scientific testing carried out on the players competing at the Asian Football Confederation (AFC) U-16 Championship India 2016 has confirmed that there was no age-cheating at the tournament.
The AFC carries out age-testing using MRI scan technology and it takes place both during qualifying and at the final tournament, an official release said, in Panaji, on Monday.
AFC Medical Committee Chairman Dr Gurcharan Singh said, "The AFC takes age-cheating very seriously and has a comprehensive strategy in place to combat it through close monitoring, on-site screening, sanctions, and importantly, education.
"The AFC protocol for MRI scanning was devised by a panel of international experts and is also used by FIFA for the FIFA U-17 tournaments. And thanks to our consistent strategy we are seeing great progress, as witnessed at the ongoing AFC U-16 Championship," he said.
A total of 98 players from 11 qualifying groups were tested during the U-16 Championship qualification round in 2015. As a result of a failed MRI scan, Nepal was excluded from the championship.
Nepal's matches in the qualifying competition were forfeited and All Nepal Football Association (ANFA) was fined. At the final competition in India, 20 players who had not taken part in the qualifying round were tested.
The MRI tests found no age-cheating. The AFC approach to age-cheating and its adoption of medical testing in 2007 has placed it at the forefront on the issue in sport globally. The AFC's strategy to combat age fraud is based on medical tests, extensive document verification and educating players and officials on the issue.
The number of over-age players in AFC competitions has significantly decreased since MRI scanning was started as a means of age-verification by the AFC.
The established method of medical age testing in sport is the use of MRI scans in order to determine the state of fusion of the radial (wrist) bone, the release said.
According to medical scientists, the radial bone is usually completely fused by the age of 16.
The AFC regulations stipulate that a player with a completely fused radial bone is not eligible to participate in the AFC U-16 Championship.
In much the same way as doping controls, the AFC conducts checks on players prior and during tournaments.
The AFC regulations on player eligibility provide strong sanctions for age fraud and the AFC disciplinary bodies are consistent in delivering them when cases have been discovered.