- 'I think it means a lot, especially since I have been losing to Andy a lot.'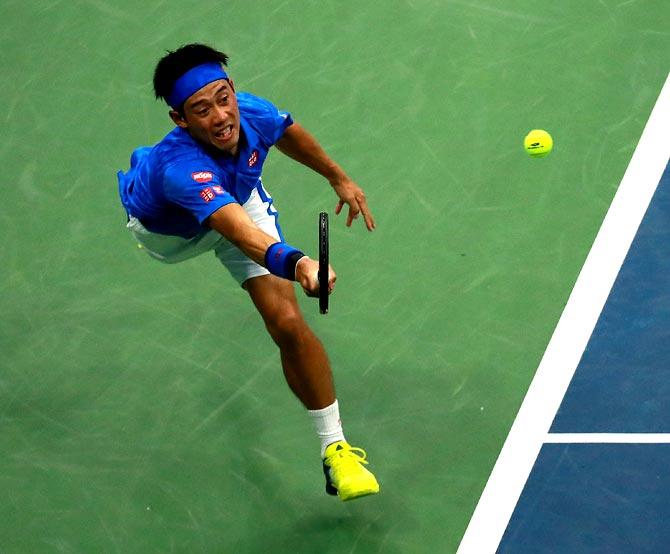 IMAGE: Kei Nishikori returns a shot during his quarter-final match against Andy Murray at the 2016 US Open. Photograph: Michael Reaves/Getty Images
Kei Nishikori is calm and quiet on court and a paragon of sportsmanship, but the Japanese enjoyed taking revenge against Andy Murray at the US Open on Wednesday.

Nishikori had lost seven of eight of their previous matches before his impressive 1-6, 6-4, 4-6, 6-1, 7-5 upset of the world number two Briton to reach the semi-finals.

"I think it means a lot, especially since I have been losing to Andy a lot," the sixth seed told reporters.

"And especially this stage. It's a big opportunity for me to play today's match."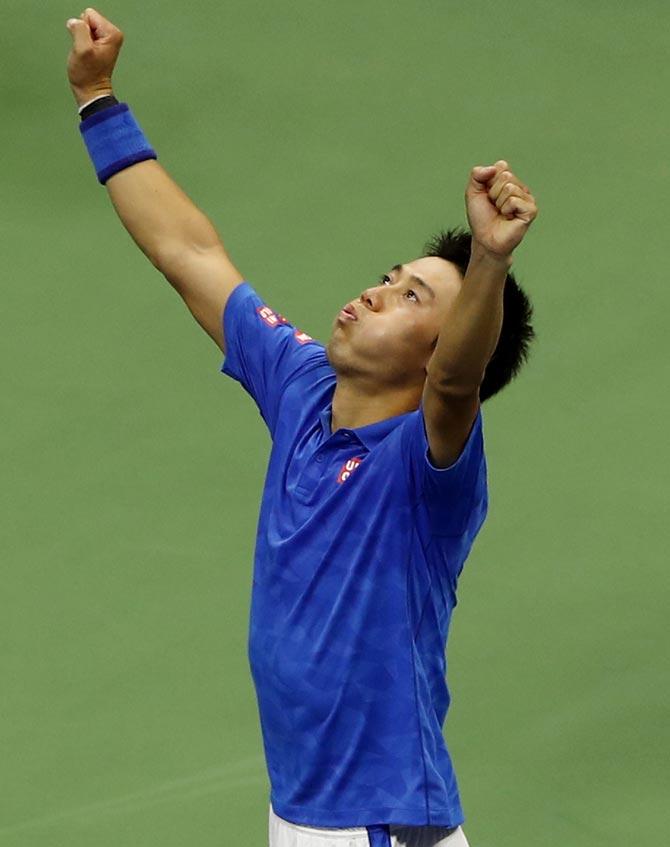 IMAGE: Kei Nishikori celebrates winning his quarter-final match against Andy Murray at the 2016 US Open. Photograph: Elsa/Getty Images
Nishikori ticked a lot of boxes with his grueling victory.

It was his first victory ever against a player ranked in the top two and it avenged the semi-final loss at the Rio Olympics where Murray went on to win gold and Nishikori settled for bronze.

Murray had also won in five sets in this year's Davis Cup.

"I was ready to play today's match," said Nishikori, who became the first man from an Asian country to play in a Grand Slam final when runner-up to Marin Cilic at Flushing Meadows two years ago.

"Actually, we just played this year a really long match. I think it was close to five hours in Davis Cup and I lost the match, so it was great to (get) revenge."

The 26-year-old was helped by a 20-minute rain delay in the second set as the Arthur Ashe Stadium roof was closed.

"Before the rain delay I think I was a little bit out of my concentration. I felt like I didn't know what to do," said Nishikori, who met with his coaches in the locker room.

"After the rain delay I think I was more focused and started playing better tennis, so I was getting more confidence."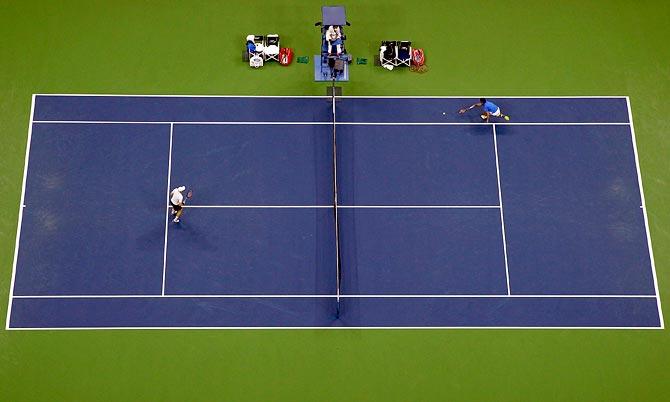 IMAGE: Kei Nishikori, right, returns a shot against Andy Murray during the quarter-final match at the 2016 US Open. Photograph: Michael Reaves/Getty Images
Nishikori, spurred on by many Japanese supporters in the stadium, played a more attacking game.

"I saw some opportunity to come in (to the net) today so I tried to be aggressive. I saw that's what I had to do. Especially against Andy. He has great defence," said Nishikori, who rushed the net 39 times, winning 27 points.

He also won five of eight points with serve-and-volley.

"I don't know why I did serve-and-volley so much today, but I felt like it was working ... I think it was a great mix-up, serve-and-volley and come to the net a lot today."

Nishikori said he gets a lift from the New York audience.

"I love the crowd. It makes me more motivated. It's a little bit different than other Grand Slams," he said. "I think it's more loud and it's more like a big party on the court."