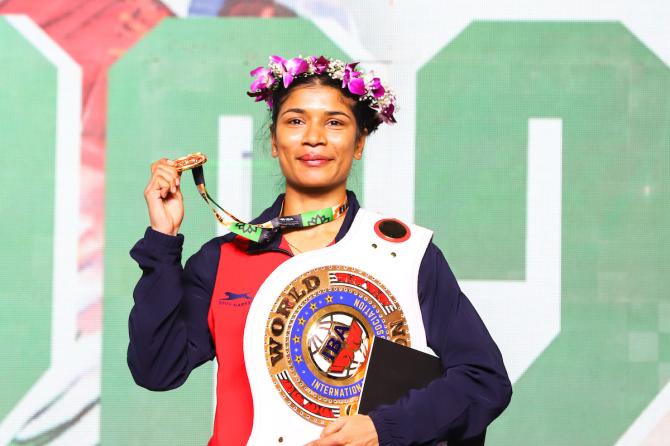 The appeal of a brand new Mercedes is not lost on anyone!
Following Sunday's historic win, India's star boxer Nikhat Zareen was left with a dilemma -- to buy or not to buy!
26-year-old Nikhat, who became only the second Indian after Mary Kom to win two World titles, had wanted to buy a Mercedes with the money she won at the tournament.
But after punching her way to the gold medal at the women's World Championship in New Delhi, the boxer said she had changed her mind about buying a Mercedes with the prize money.
Nikhat won the light flyweight title after defeating two-time Asian champion Nguyen Thi Tam of Vietnam by a 5-0 verdict on Sunday.
Not only did she receive the medal, the world champ picked up the winner's cheque for $100,000 along with a Thar, presented by the sponsors Mahindra and Mahindra.
Asked what she would do with the prize money, Nikhat said, 'I haven't thought about it. Last time I said I will get a Mercedes, but since I have got a Thar as a gift so now I'm thinking of not getting a Mercedes.'
'I want to send my parents for Umrah because Ramazan is going on. I will talk to them about this at home,' Nikhat.
The Umrah is a pilgrimage to Mecca and Medina.
Meanwhile, talking about her win and her success mantra, Nikhat said, 'Everyone has a success mantra. I visualise things. I like to think positive. I have written 'champion' and drew a gold medal on a sticky note and pasted it on my bed.
'Every day when I wake up, I see that when I go to sleep I see that. It motivates me to do well. I did that for the last world championships, the CWG and this time too.'